Singapore No. 1 out of 157 countries in World Bank Human Capital Index
SINGAPORE — Singapore has emerged top among 157 countries in the inaugural World Bank Human Capital Index (HCI), which measures the human capital that a child born today can expect to attain by the age of 18.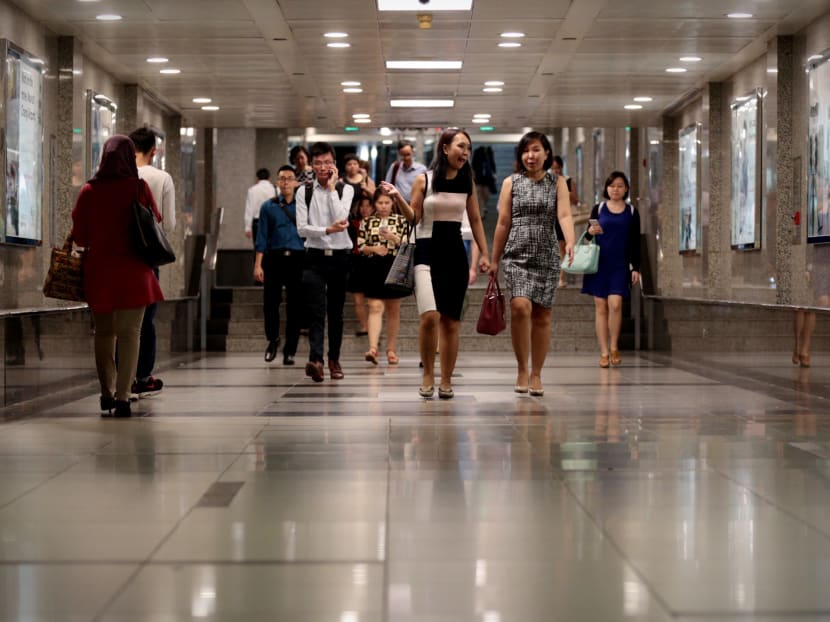 SINGAPORE — Singapore has emerged top among 157 countries in the inaugural World Bank Human Capital Index (HCI), which measures the human capital that a child born today can expect to attain by the age of 18.
The index defines human capital as the knowledge, skills, and health that people accumulate over their lives.
The report was released on Thursday (Oct 11) by the international financial institution at the World Bank-International Monetary Fund Annual Meetings in Bali, Indonesia.
The HCI comprises three components: Survival of children to school age, the quantity and quality of education, and health (adult survival rates, healthy growth among children under the age of five).
According to the World Bank, the HCI "reflects the productivity as a future worker of a child born today, compared with what it could be if he or she had full health and complete, high-quality education", which is measured on a scale of zero to one — one is the best possible score.
For instance, a country score of 0.5 means that individuals, and the country, are forgoing half their future economic potential. If calculated over 50 years this translates to a 1.4 per cent annual loss in Gross Domestic Product growth. Individual returns to human capital add up to large benefits for economies, and countries become richer as more human capital accumulates, said the report.
The index ranks where each country is now in terms of productivity of the next generation of workers.
Singapore's score of 0.88 is the highest among the 157 countries on the HCI for 2018, with South Korea and Japan second and third respectively with their scores of 0.84.
Four Asian countries are among the top five, with Hong Kong (0.82) placing fourth, while Finland (0.81) is the top European nation in fifth spot. Ireland is sixth with a score of 0.81, while Australia, Sweden, the Netherlands and Canada are ranked seventh to 10 with identical scores of 0.80.
The United Kingdom (0.78) is15th, while the United States (0.76) and China (0.67) are 24th and 46th respectively.
Over in South-east Asia, Vietnam (48th spot) is the second highest ranked country after Singapore with a score of 0.67. Malaysia (0.62) is third in the region at 55th.
North-central African nation Chad (0.29) is ranked the lowest among the countries at 157, with four countries from the continent among the bottom five: South Sudan (156), Niger (155), Mali (154), and Liberia (153).
The World Bank said the HCI showed that 56 per cent of children born today will lose more than half of their potential lifetime earnings because governments are not making "effective investments in their people to ensure a healthy, educated, and resilient population ready for the workplace of the future".
It added that human capital has been the "key factor for sustained economic growth and poverty reduction rates" in many countries in the 20th century, particularly in East Asia.
"For the poorest people, human capital is often the only capital they have," said World Bank Group President Jim Yong Kim.
"Human capital is the key driver of sustainable, inclusive economic growth, but investing in health and education has not gotten the attention it deserves.
"The bar is rising for everyone. Building human capital is critical for all countries, at all income levels, to compete in the economy of the future."
The HCI is part of the World Bank's Human Capital Project, a programme of advocacy, measurement, and analytical work aimed at raising awareness and increasing demand for interventions to build human capital. The other two components are: a programme of measurement and research to inform policy action, and one to support country strategies to accelerate investment in human capital.
INVEST WISELY IN HUMAN CAPITAL TO REDUCE INEQUALITY
On the issue of inequality, the report noted that without "interventions early in life" – in terms of access to quality education – it is more likely that "a spiral of increasing inequality will ensue". Subsequent public investments in education and health are more likely to benefit people who start out better off, it added.
A global index released on Tuesday by United Kingdom-based charity organisation Oxfam had ranked Singapore among the bottom 10 countries in the world for its efforts to reduce inequality. The Commitment to Reducing Inequality Index showed that Singapore was ranked 149 out of 157 countries, below Bangladesh, and above Laos.
The report said that Singapore's low ranking was due to a number of its "harmful tax practices", and that while it has raised personal income tax for the rich by 2 per cent, the maximum income tax rate remains very low for the highest earners at 22 per cent.
This was rebutted by Social and Family Development Minister Desmond Lee, who said in a statement on Tuesday that although the income tax burden on Singaporeans is low, they "benefit more than proportionately from the high quality of infrastructure and social support that the state provides". He added that the report assumed that high taxation and high expenditure showed commitment to combating inequality, but Mr Lee said it was "more important" to look at the outcomes Singapore has achieved.
In response, Oxfam on Wednesday rejected Singapore's defence of its low tax regime, as its head of inequality policy, Mr Max Lawson, told Reuters that the impact of the country's tax policy went beyond its borders, serving as a tax haven for rich and big corporations.
"Singapore's harmful tax practices mean that they are eroding the revenue of other countries in the region and globally, revenues that those countries could be investing in schools and hospitals," he said.
World Bank Human Capital Index 2018 rankings:
Singapore, 0.88 (score)

South Korea, 0.84

Japan, 0.84

Hong Kong, 0.82

Finland, 0.81

Ireland, 0.81

Australia, 0.80

Sweden, 0.80

Netherlands, 0.80

Canada, 0.80
Sign up for TODAY's WhatsApp service. Click here: