Singapore residents working fewer hours since 2010: MOM report
SINGAPORE — The number of hours worked by residents in Singapore has been on a steady decline since at least 2010, said the Ministry of Manpower (MOM) in its report released on Thursday (Dec 13).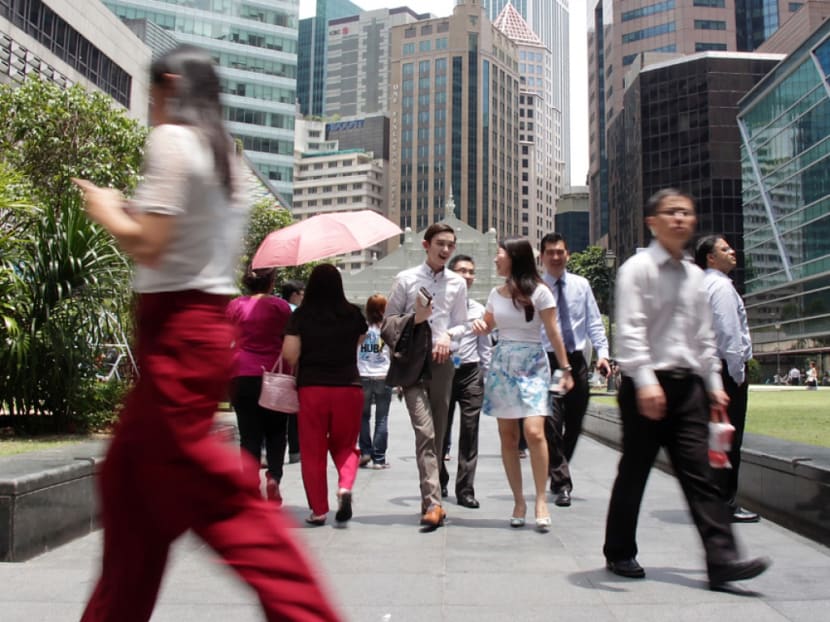 SINGAPORE — The number of hours worked by residents in Singapore has been on a steady decline since at least 2010, said the Ministry of Manpower (MOM) in its report released on Thursday (Dec 13).
Each employee worked an average of 44.9 paid hours weekly in September this year, as compared with 46.3 hours in September 2010. This works out to an average of 8.98 hours a day for a five-day work week in September, and 9.26 hours a day for the same month in 2010.
Two other measurements which the MOM looks at — usual hours worked and the actual hours worked — also show a similar downtrend.
MOM said that this is a result of the growing prevalence of part-time work, shifts in job composition with an increasing number of employees working as professionals, managers, executives and technicians (PMETs), and productivity gains made through technological advancements.
ABOUT THE DIFFERENT MEASUREMENTS:
Paid hours worked: This refers to standard work hours as well as paid overtime.

Usual hours worked: This refers to the hours an employee typically works in a week, including unpaid overtime and hours spent checking work emails or carrying out other regular tasks at home.

Actual hours worked: This includes all forms of overtime hours, regardless of whether they are regular in nature or whether they are paid for. The International Labour Organisation regards this indicator as a reflective measure of the amount of labour being input into the economy.
HOW DATA WAS COMPILED:
Data on paid hours worked was captured from the Labour Market Surveys (LMS), which were conducted on a representative sample of private establishments with at least 25 employees and the public sector. 

Statistics for usual hours worked were from the Comprehensive Labour Force Surveys (CLFS) conducted on a representative sample of households here.

The annual actual hours worked were estimated using information on usual and paid hours worked from the CLFS and LMS respectively, with the data adjusted to take into account paid leave and holidays.
The usual hours worked declined from the recent peak of 46.6 hours a week in 2010 to 43.2 hours in 2017, according to statistics from the MOM. 
Actual hours worked also dropped, from a high of 45.6 hours in 2010 to 43.0 in 2017. The 2018 figures for usual hours and actual hours worked are not available yet.
Based on MOM's latest labour report for the third quarter of 2018, those working in insurance services worked 40.1 paid hours a week on average in September — the lowest among all the industries.
Employees in transport equipment manufacturing worked the longest hours, with 51.3 paid hours a week on average. 
Human resource analysts whom TODAY spoke to said that the decline in expected average working hours in Singapore was not a surprise.
Aside from the reasons cited by MOM, Mr Grant Torrens, business director at recruitment firm Hays Singapore, said that companies have had to come up with initiatives to attract employees due to the tight labour market.
"They are offering flexi hours, reduced hours, or part-time, for instance," he said.
The phenomenon of presenteeism — where employees stay in the office even after their work is done to wait till their bosses leave — is also less prevalent, said Ms Karen Blal, regional director of CIPD Asia, the professional body for human resource and people development.
She added: "There was a bit of fear around (leaving after finishing your work). Now there are more millennials in the job market. The younger generation are clear about what they want and don't want out of work."
While MOM's official figures show that Singaporeans are working fewer hours, there were other previous reports that suggested otherwise.
A Working Hours Survey conducted by recruitment consultancy Morgan McKinley in 2016 showed that the majority of Singaporeans worked longer than their contracted hours, and nearly 90 per cent of them were not paid for working overtime.
Another survey in the same year by the people-sector council, Families for Life, found that one in 10 respondents spent six hours or fewer with their family a week. The main reason was due to their long working hours.
According to MOM, Singapore residents worked an average of 45.1 hours per week in 2017. That translated to 2,345.2 hours that year. This meant that Singapore residents worked longer hours than all the other countries in the Organisation for Economic Co-operation and Development (OCED). For example, workers in Mexico worked the longest hours among OECD countries and chalked up a total of 2,257 work hours in 2017.
Workers in Germany recorded the lowest number of hours at 1,356. Looking at other Asian countries, workers in South Korea put in a total of 2,024 hours, compared to 1,710 hours in Japan.
Ms Blal said MOM's statistics look at Singapore as a whole, including tech-based industries which usually give their staff better control of their working time, as well as industries where people work longer hours.
MORE MOM STATISTICS
Fewer workers retrenched
2,860 workers were retrenched in the third quarter of this year compared to 3,030 in the previous quarter

8,220 people were retrenched in the first nine months of 2018, a decline from the 11,040 who were retrenched over the same period last year.

Business restructuring and reorganisation were the top reason for retrenchments
Fewer retrenched workers who found another job
62 per cent of residents retrenched six months ago found another job in the third quarter, lower compared to the 64 per cent who re-entered employment in the previous quarter

The decline came from those who were previously in clerical and production-related jobs
Labour market not as tight
The ratio of job vacancies to unemployed persons dropped from 1.10 in June to 1.05 in September, due to an increase in the number of unemployed and a decline in vacancies

There are still more job vacancies than job seekers

Half of the vacancies in September were for PMETs