S'porean undergrad from top UK uni jailed 1 year, fined S$2,500 for secretly filming friends, taking upskirt photos
SINGAPORE — A 24-year-old voyeur, who made headlines after prosecutors and his defence lawyers tussled over whether he should be publicly named, was on Wednesday (June 22) sentenced to 12 months' jail and a fine of S$2,500.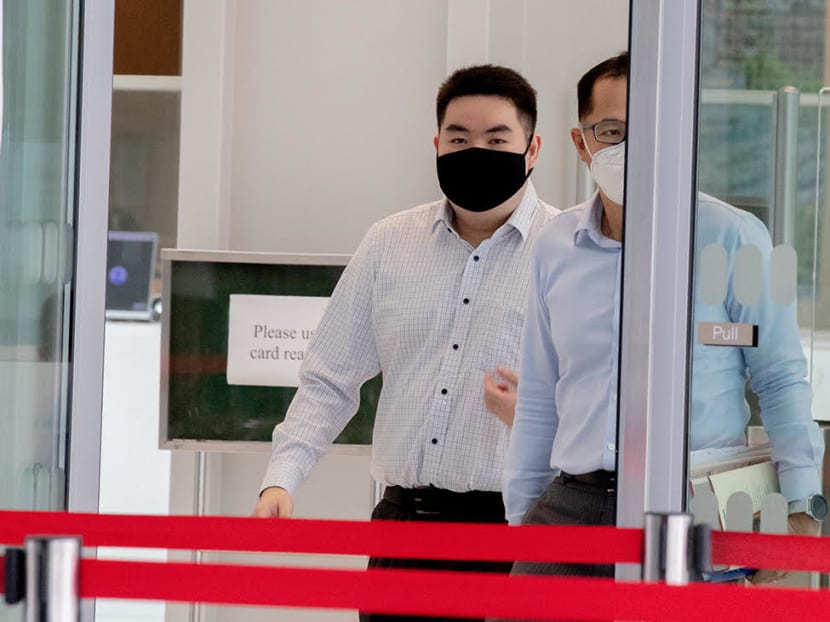 Colin Chua Yi Jin pleaded guilty in July 2021 to taking voyeuristic videos of several female friends from 2015 to 2018
His appeal against a district judge's decision to lift the gag order over his identity was dismissed in September 2021
This came after prosecutors successfully stopped him from leaving Singapore for his studies abroad
The prosecution spoke again on June 22 of the shame and guilt his victims felt upon discovering what he had done
Chua's lawyers said he has sought treatment and was "deeply apologetic"
SINGAPORE — A 24-year-old voyeur, who made headlines after prosecutors and his defence lawyers tussled over whether he should be publicly named, was on Wednesday (June 22) sentenced to 12 months' jail and a fine of S$2,500.
Colin Chua Yi Jin's 11 victims had asked for his identity to be revealed, saying that a gag order imposed by the courts would do more harm than good. 
The courts then agreed to lift the gag order on his identity. However, the identities of his victims, their relationship to him, and the names of the schools they attend are still protected under the order.
In July last year, Chua pleaded guilty to several offences of taking upskirt videos and photos, as well as filming his victims showering, from 2015 to 2018.
He began targeting his female friends when he was about to graduate from junior college at age 18, escalating his acts throughout his National Service and undergraduate days.
He was found unsuitable for probation when the court called for a report to assess his suitability for the community-based sentence.
Shortly after he was first charged in October 2019, the prosecution and defence locked horns over whether Chua — then an undergraduate from a top British university — should be allowed to return to the United Kingdom for his studies.
He was ultimately banned from leaving Singapore in January 2020.
VICTIMS SPOKE OF SHAME
On Wednesday, Deputy Public Prosecutors (DPPs) Tan Zhi Hao and Ng Shao Yan sought a 13-month jail term and a S$3,500 fine for Chua whom they described as a serial offender.
They pushed for three charges of insulting a woman's modesty — one for each year Chua committed the offences — and one of possessing obscene films to run consecutively.
"This is arguably one of the most premeditated cases of voyeurism to come before the courts," they said.
The prosecutors argued that Chua had inflicted "severe pain and trauma" on the victims, who had spoken of "shame and the loss of purity as a result of being filmed".
They also wrote in victim impact statements about how their friend had betrayed them and of the fear of being filmed again in the future. 
DPP Tan noted that Chua has shown no remorse and "shows a lack of insight into his own condition and root causes of offending".
The prosecutor told the court: "He was uncooperative during investigations, tried to abscond from Singapore, portrayed himself as the victim of a government conspiracy, blamed his girlfriend, and mounted an unmeritorious criminal motion (in relation to the gag order) that was criticised in the High Court."
For example, Chua retracted his admission to the police and claimed not to recognise the toilet in his own residence as well as his own friends, some of whom he had kept in contact with even after he was charged.
There may also be many more unidentified women given that he had admitted to filming "maybe three digit(s) worth of voyeuristic videos", the prosecution said.
Chua's defence lawyers, Mr Kalidass Murugaiyan and Mr Chua Hock Lu from Kalidass Law Corporation, asked for nine months' jail instead.
They countered the prosecution's argument that Chua had not seen a psychiatrist or taken medication, noting that he is now on medication and has been regularly attending sessions with a psychologist from September last year up till this month.
His family is "fully supportive" and prepared to care for him after he is sentenced, having spent a lot of money and time on his treatment, Mr Murugaiyan said.
He added that Chua had a "troubled childhood" with his parents divorcing when he was 10 and that his family has a history of mental health conditions.
He was diagnosed with dyslexia at age nine and had also suffered from an adjustment disorder with depressed mood when he was serving National Service.
As for how he has addressed his voyeuristic tendencies, Mr Murugaiyan said that Chua has installed parental control software.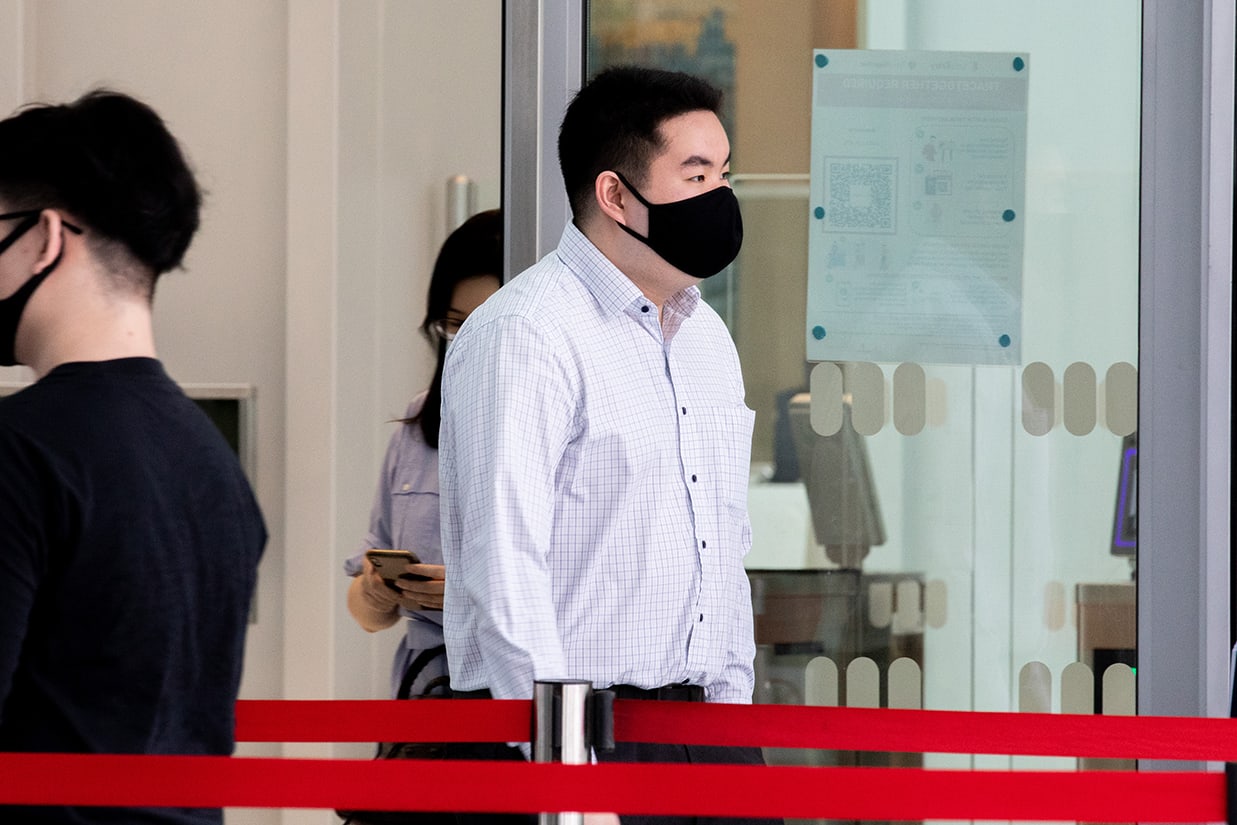 GOOD FUTURE AHEAD: DEFENCE
The lawyer also stressed that Chua was "not aware" of how some of the voyeuristic videos he had taken eventually circulated online.
DPP Tan acknowledged that the prosecution has no direct evidence that Chua himself uploaded the clips, but said this did not detract from the harm he had caused the victims.
In December 2015, he and several friends had booked a hotel room after their junior college's prom night.
He placed a recording device in the toilet and took a 14-minute video of his friend showering. As of August 2020, the video could still be found on pornographic websites and has been viewed at least 177,000 times.
A year later, Chua filmed another victim who went to his house for a Christmas gathering.
The clip of the 19-year-old in his toilet circulated on a pornographic website and has been viewed at least 38,000 times.
As for the prosecution's submission that Chua's plea of guilt was tactical in nature, the defence counsel said that most of the delays in the matter were because the prosecution needed time to complete investigations.
"He has a good future ahead of him. He has got the propensity and interest to further his studies. He may still yet be able to contribute to the community at large when he grows older."
Mr Murugaiyan added that his client is "deeply apologetic for the hurt caused to the victims" and has learned his lesson.
"He intends to take a long-term view of this problem. He knows he has a problem and he wishes to deal with it."
In sentencing Chua, District Judge Tan Jen Tse told him that the sentence should strike a good balance between his relative youth and the severity of his offences.
While the judge generally agreed with the prosecution's submissions, he gave more credit for Chua's "apparent remorse and steps taken towards rehabilitation".
For each offence of insulting a woman's modesty, he could have been jailed for up to a year or fined or both.
For possessing obscene films, he could have been jailed for up to six months or fined up to S$20,000, or punished with both.