'Close to 90%' of Singaporeans involved in terrorism-related activities successfully reintegrated into society after rehab: PM Lee
SINGAPORE — Of the approximately 140 Singaporeans dealt with for terrorism-related activities since 2002, close to 90 per cent have made good progress in their rehabilitation and successfully reintegrated into society.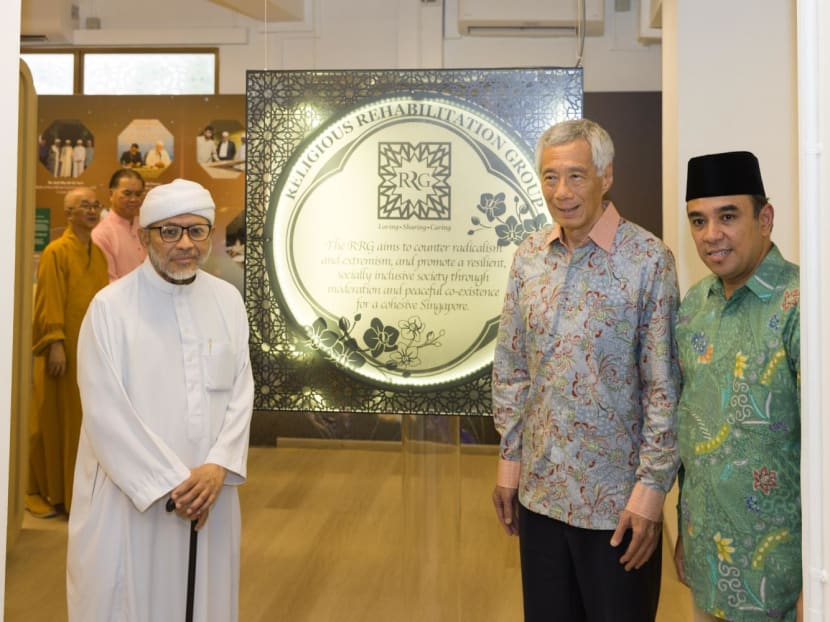 Around 140 Singaporeans have been dealt with by the authorities for terrorism-related activities since 2002
Close to 90 per cent have made good progress in their rehabilitation and been successfully reintegrated into society
With the terrorism threat still around, Prime Minister Lee Hsien Loong said that Singapore cannot afford to let its guard down
He highlighted the "indispensable role" that the Religious Rehabilitation Group plays in rehabilitation
He also said that there is a worrying number of young people who have been self-radicalised and dealt with under the Internal Security Act since 2015
SINGAPORE — Of the 140 or so Singaporeans dealt with for terrorism-related activities since 2002, "close to 90 per cent" have made good progress in their rehabilitation and successfully reintegrated into society, Prime Minister Lee Hsien Loong said.
Most of them are gainfully employed, with some running their own businesses. Other younger Singaporeans have resumed their studies.
However, he also said that as the terrorism threat still exists and "continues to morph into new forms", Singapore cannot afford to let its guard down.
Terror groups such as the Islamic State in Iraq and Syria (Isis) remain active and influence followers worldwide to mount attacks.
"Singapore is seen as a prize target by terrorist groups and continues to be mentioned in their propaganda," Mr Lee added.
Previously, the authorities had said that the majority of Singaporeans nabbed for terrorism-related activities were successfully integrated, without giving a figure.
Mr Lee was speaking on Wednesday (May 3) at the launch of the new Majulah Gallery by the Religious Rehabilitation Group (RRG). The gallery is located at Khadijah Mosque along Geylang Road.
Formed in 2003, the RRG is made up of a group of volunteer Islamic scholars and teachers in Singapore. The group's aim is to rehabilitate detained members of terror group Jemaah Islamiah, as well as their families, through counselling. The group also seeks to counter misinterpretations of Islam.
The new gallery features information on the role of RRG in combating terrorism and extremism.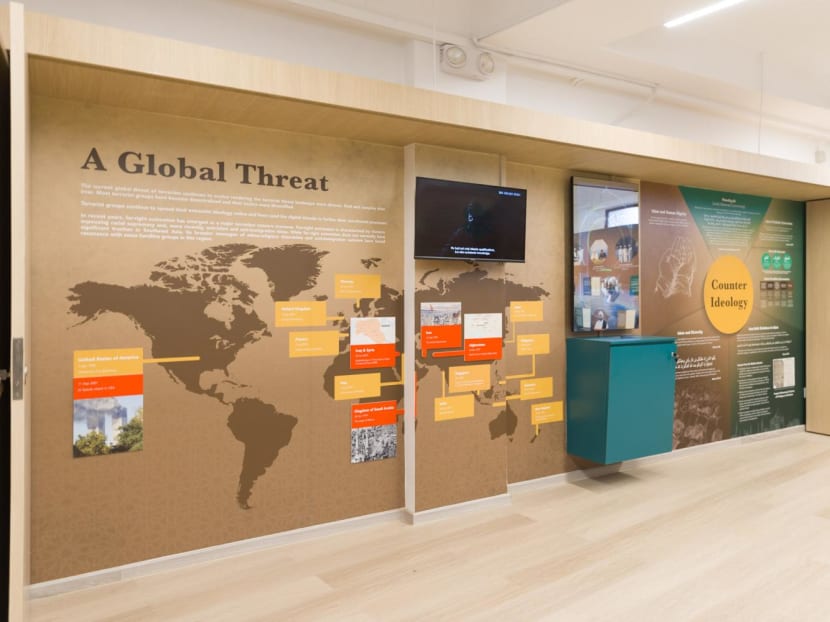 'WORRYING' NUMBER OF SELF-RADICALISED YOUTH
In his speech at the event, Mr Lee noted that Singapore has picked up a growing number of self-radicalised individuals in recent years.
Since the rise of Isis in 2015, Singapore has dealt with 49 self-radicalised individuals under the Internal Security Act.
This figure is four times more than the number of cases from 2007 to 2014.
Out of the 49 individuals, 37 are Singaporeans.
There was also a "worrying" number of young people among the self-radicalised Singaporeans, Mr Lee said.
"Eleven are aged 20 or younger. Five of the youths even wanted to mount attacks in Singapore."
REHABILITATION AND OUTREACH
To tackle the threat of extremist ideologies in society, the authorities here take up various approaches, including rehabilitation. This is where the RRG makes its contributions.
Mr Lee said that the group works "unremittingly" to rehabilitate terrorism-related detainees by partnering other community groups such as the Inter-Agency Aftercare Group, to encourage and motivate detainees.
"Some RRG volunteers have also become mentors and tutors to the young detainees, providing them with social support and equipping them with useful life skills."
Besides rehabilitation, the RRG has also stepped up its outreach efforts to sensitise the public to the terrorism threat and strengthen the Muslim community's resilience against extremist ideas, Mr Lee added.
For example, the group set up the Resource and Counselling Centre in 2014 to educate the public about radical ideology and violent extremism.
It has also widened its reach by raising its online presence during the Covid-19 pandemic. It organised virtual events and put out educational videos and articles to sustain its outreach during the pandemic.
Lastly, the RRG also works with other religious groups to promote better understanding among different faiths and tackle the terrorism threat together, Mr Lee said.
He gave an example of how, two years ago, the Internal Security Department detained a 16-year-old boy who wanted to attack Muslims in Singapore after being radicalised by far-right extremist ideologies.
The RRG shared its experience with the National Council of Churches in Singapore to help rehabilitate the boy, who is a Protestant Christian.
Thanking the group's members and volunteers for their contributions, Mr Lee said that the RRG has played "an indispensable role" to not just counter extremism in Singapore for the last two decades, but also to promote interfaith bonds in society.
'COLLECTIVE VIGILANCE' THE STRONGEST DEFENCE
While the Government is making every effort to neutralise the threat of radicalism, such as increasing outreach to counter extremist ideologies, everybody in society also has a role to play, Mr Lee stressed.
"Our strongest defence against terrorism is our collective vigilance. We must stay constantly alert against extremist ideologies."
Singapore must also strengthen its racial and religious harmony. The country's diversity makes it susceptible to being exploited by extremism along racial and religious fault lines.  
"We must do our utmost to stay united and cohesive across the various racial and religious groups in our society."