Singapore's first national surfing team hopes to make waves at SEA Games
SINGAPORE — A fitness trainer, a veterinarian and a warehouse assistant: On their shoulders rest Singapore's hopes of glory in the sport of surfing at the Southeast Asian (SEA) Games in the Philippines this December.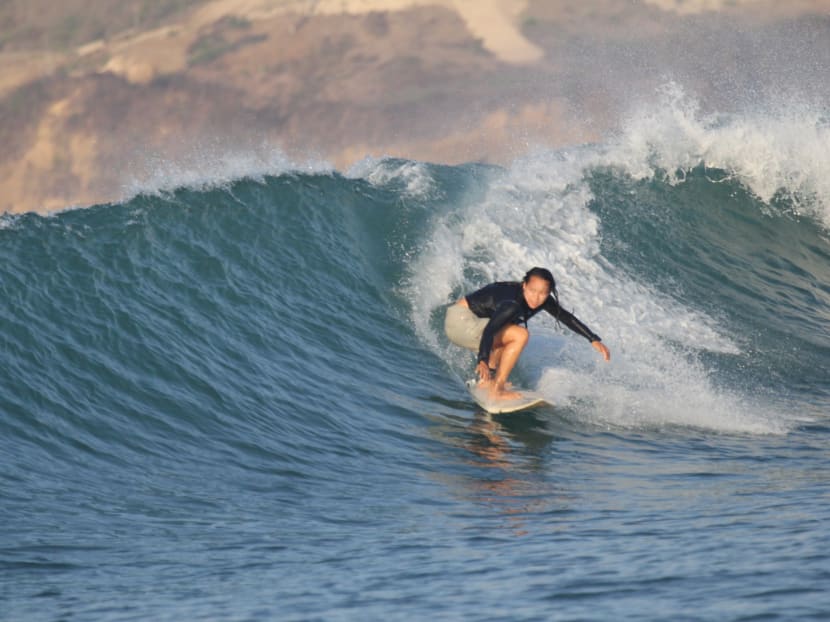 SINGAPORE — A fitness trainer, a veterinarian and a warehouse assistant: On their shoulders rest Singapore's hopes of glory in the sport of surfing at the Southeast Asian (SEA) Games in the Philippines this December.
They, along with another three members of the national surf team, all of whom hold full-time jobs, will be going up against regional powerhouses such as Indonesia, Philippines and Malaysia in the surfing competition at the biennial Games.
It is the first time surfing is being contested at the SEA Games, but the team of four men and two women are quietly confident of their prospects.
"We are the underdogs, but I will give my best to the team and to the country," said Mr Nurimran Jaafar, 31, who works as a warehouse assistant and will be competing in the men's shortboard category.
"The competitors are tough and well known, but in the water, we will all be fighting for our nation."
The six have already made history just by being part of the first national surfing team.
But the odds of them coming back with anything are stacked against them. For a country that is surrounded by water, Singapore's biggest handicap is the fact that its waters lack the giant waves that are integral to surfing.
Mr Arfian Abu, the president of Surfing Association Singapore (SAS), said that he and his friends used to drive up to Desaru in Malaysia during the monsoon season to surf back in the early 2000s.
At that time, they would try to improve their skills as they surfed alongside the Malaysians.
In 2006, Mr Arfian and his friends decided that more had to be done for local surfers.
"There was nothing for our local surfers to look forward to (when they go to Desaru) for them to gauge their standard… so we started this competition for them to feel like there's something in it for them to achieve and to win," said the 39-year-old.
Paying out of their own pockets, Mr Arfian and his friends started the "Monsoon Mayhem International Surf Challenge" in Desaru which was open to Singaporean and Malaysian surfers to participate.
"Slowly we started to see our standard getting better, becoming on par with the Malaysians who had more exposure to natural waves," said Mr Arfian.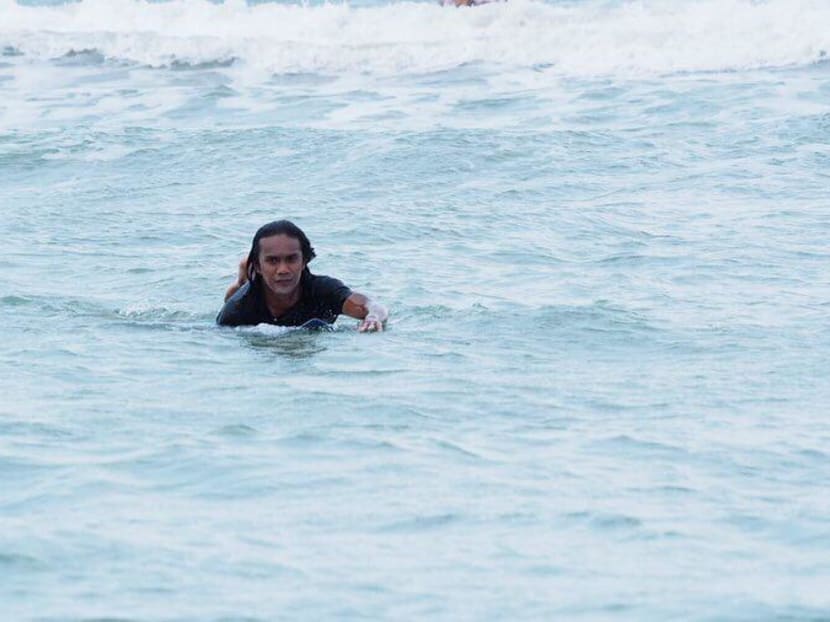 THE EXPERIENCE FACTOR
A lack of competitive experience is another disadvantage for the Republic's surfers.
To select Singapore's representatives for the SEA Games, qualifiers were held in June this year at the Rast Bali competition in Bali, Indonesia, and the Pearl of the Andaman Surfing Contest in Phuket, Thailand.
One of those who participated was 30-year-old veterinarian Michelle Ooi Siew May. She had picked up surfing in 2010 while studying in Australia but, before the qualifiers, had never surfed competitively before.
"I was just going surfing on my own and I never had a team or friends who also competed in surfing," she said.
"So when I saw the notice (about the qualifiers) online, I thought why not give it a shot… It was an opportunity to get better."
Ms Ooi is an accomplished free diver, having swept several free-diving medals at international competitions over the years, but she admitted feeling nervous in her first surfing competition.
"It was scary because the first time round, there were a lot of other really good competitors who were so experienced."
She will be taking part in the women's short board category at the SEA Games.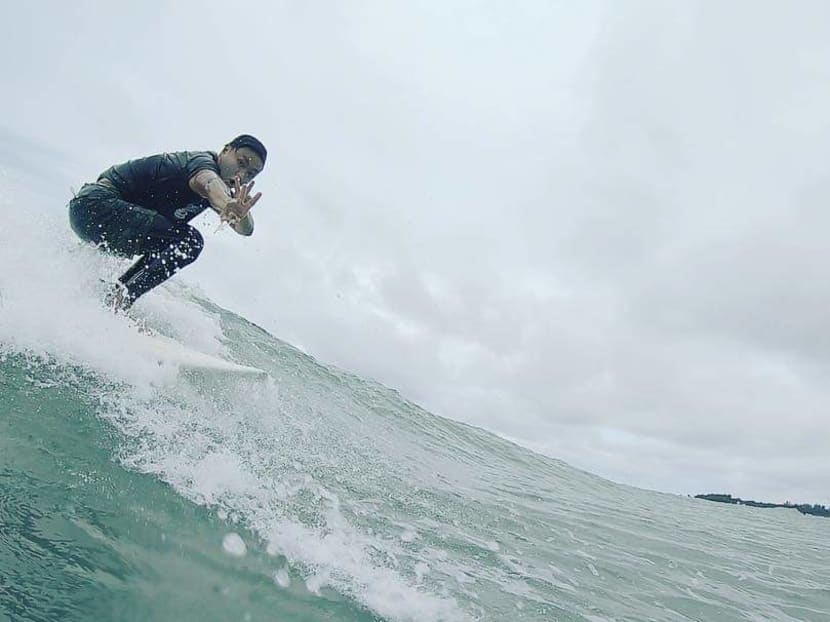 Another Singaporean who made the cut, despite having had no prior competitive surfing experience, was Mr Arthur Kor Kim Hock, 36.
For the man who as a teenager had to work at a fast food restaurant to save money to buy a second-hand surfboard, taking part in the SEA Games is "like a dream".
"I'm a Singaporean living in a country without waves. I never thought this would happen," he said.
In preparation for the SEA Games, the personal fitness trainer trained up to six times a week in the gym, and mimicked surfing manoeuvres on his skateboard.
The other members of the team are Mr Mohamad Nazir Salleh, 47, Mr Michael Lim Chee Siong, 43, and Ms Beckie Liu, 24.
With five months left until the SEA Games, the team will be increasing the intensity of its training. There are plans to ramp up their training schedule from twice a week to almost daily.
The SAS has also arranged for the team to travel to Indonesia in September to train under professional surfer Dede Suryana, who won the Asian Surfing Championships in 2016.
Despite the fact that they are going up against big guns like the Philippines and Indonesia at the SEA Games, Mr Arfian is confident that the team stands a shot at winning.
"We're not just there to make up the numbers," he said. "We also want to aim for a medal."
He hopes that the team will be able to make a lasting impression at the Games and inspire Singaporeans to take up the sport.