Singapore's population growth slows
Singapore's population grew by 1.6 per cent in the past year, the slowest growth rate in the past nine years, according to a government report published today.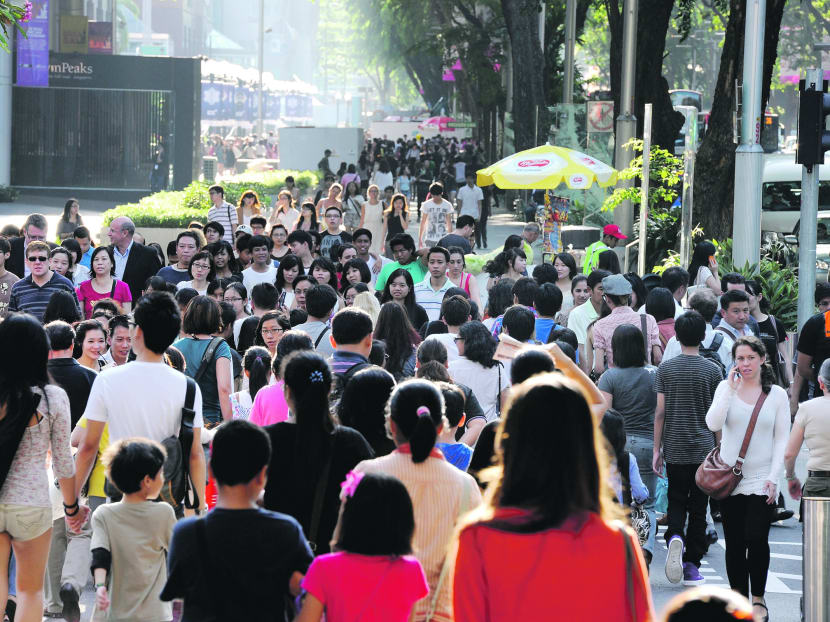 SINGAPORE - Singapore's population grew by 1.6 per cent, the slowest growth rate in the past nine years, according to a government report published today.
As of June this year, Singapore's total population stood at 5.4 million, said the National Population and Talent Division (NPTD). The citizen population grew by 0.9 per cent to 3.31 million - and continued to grow older, with 11.7 per cent aged 65 and above. In 2002, those aged 65 and above comprised 7.8 per cent. The median age of the citizen population also rose to 40 years in 2013, up from 35.3 years in 2002.
The ethnic profile of the citizen population continues to remain stable. Meanwhile, the permanent resident (PR) population remained stable at 0.53 million. Most of the PRs here are in the prime working ages of 25 and 49 years old, according to the NPTD.
Noting that 20,000 new citizens were granted citizenship, it added, "We plan to continue this calibrated rate of immigration of between 15,000 and 25,000 new citizens each year to keep our citizen population from shrinking."
New citizens are drawn from the pool of existing PRs, except for overseas-born children of Singapore Citizen parents.
Calling permanent residence "an intermediate step" through which suitable foreigners and spouses take up citizenship in Singapore, the Government said it will grant about 30,000 PRs each year – down from the average of 58,000 between 2004 and 2008 – to keep the PR population stable at between 0.5 million and 0.6 million and to ensure "a pool of suitable candidates for citizenship".
The NPTD said the growth in the non-resident population slowed, mainly due to slower foreign employment growth as result of tightened foreign manpower policies and weaker economic conditions. Growth in foreign employment in the non-construction sectors slowed to 3.5 per cent - about half compared to the year before - with the bulk of foreign employment growth driven by the construction sector to support key infrastructure projects such as housing and transport.
More Singaporeans are getting married, and the birth rates here have improved. Singapore's resident Total Fertility Rate (TFR) increased from 1.20 in 2011 to 1.29 in 2012, with improvements seen across all ethnic groups.
The Chinese experienced the largest increase in TFR – possibly driven by the Dragon year – while that of Malays continued to be the highest among all major ethnic groups.
"Nevertheless, the overall TFR has remained below the replacement level of 2.1 for more than three decades. We need to continue our efforts to provide a supportive environment for Singaporeans to achieve their aspirations of getting married and having children," the NPTD added.