Singapore's 'second CBD' could see 24-hour business operations: Analysts
SINGAPORE – The upcoming Jurong Lake District, which is slated to be the second central business district (CBD) here, could be more bustling than the first, said property analysts on Friday (Aug 25).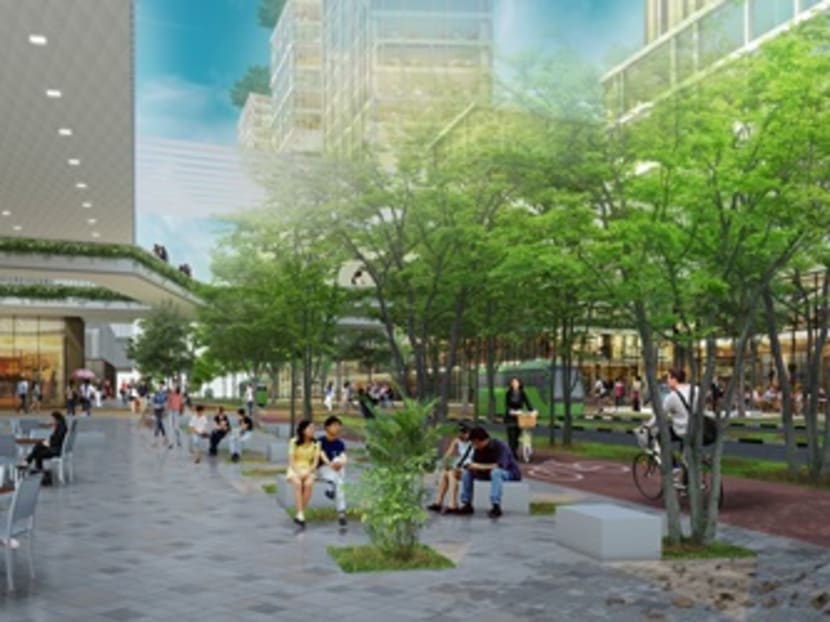 SINGAPORE – The upcoming Jurong Lake District, which is slated to be the second central business district (CBD) here, could be more bustling than the first, said property analysts on Friday (Aug 25).
Businesses within the new district – which also includes the future Singapore-Kuala Lumpur High-Speed Rail (HSR) terminus – could include tour agencies, dining establishments, offices, banks and businesses in information technology.
Mr Colin Tan, director of research and consultancy at Suntec Real Estate Consultants, pointed out that businesses could operate around the clock, unlike the CBD area at Raffles Place, which becomes "quite dead at night".
He said the 24-hour operation is possible due to the lake district's population density and catchment area, something which the Raffles Place area lacks.
Mr Tan also pointed out that there could be tour agencies to organise day-trip packages to Malaysia, as the HSR promotes tourism and dining establishments which cater to a different audience, such as budget tourists.
Mr Wong Xian Yang, head of research and consultancy at real estate firm Orange Tee, said that businesses which have headquarters in Singapore with satellite offices in Malaysia, such as those in medical or education, could also set up offices in Jurong Lake District.
"(The) HSR could enable these businesses (to) expand their research into Malaysia by providing a convenient and fast mode of transport between (the two) countries," he added.
As the HSR terminus is the focal point in Jurong Lake District, analysts also expect office rents to increase overtime.
"If Jurong Lake District manages to position itself successfully as a credible commercial hub, I would expect office rents (and home prices) to rise in the long run," said Mr Wong.
However, Mr Tan pointed out that whether businesses are sustainable in the long-term would depend on the HSR's attractiveness.
"In the initial stages, I'm sure (due to the novelty)... everybody wants to take (the HSR), but at the end of the day it got to make commercial sense (and) economic sense," he added.
Meanwhile, other initiatives to make Jurong Lake District a more attractive place include having the district adopt a regular grid structure for land parcels. By doing so, land parcels can be adjusted through sub-division or amalgamation, and allows for flexibility to provide large land parcels for larger floor plates, for example.
The bulk of the mixed-use business area will be zoned "white" to allow for flexibility in uses.
Ms Christine Li, research director of Cushman & Wakefield Singapore, said the grid structure is a right move to respond to challenges of the fast-evolving real estate industry".
"As real estate development tends to have long 'gestation' periods, landlords need to be much more flexible in order to future-proof the development," she added.
Agreeing, Mr Chris Koh, director of property firm Chris International, said that this would give the Government the flexibility to adjust the land parcel sizes and usage.
As for white zoning, Ms Li felt that this "laissez-faire approach may backfire as developers who opt to fully fill their developments with the traditional residential, office and retail components will be able to outbid those developers who incorporate non-traditional spaces".
This is because traditional spaces "command higher rents and capital values" than non-traditional spaces, she said.
"Therefore, URA (Urban Redevelopment Authority) should consider tendering the sites using a two-envelope system, or imposing a requirement that a percentage of the white space be allocated for non-traditional uses," said Ms Li.