Singapore's total population inches up to 5.64 million, after flat growth last year
SINGAPORE — After posting the slowest growth in more than a decade last year, the Republic's total population size has rebounded slightly, based on government statistics released on Thursday (Sept 27).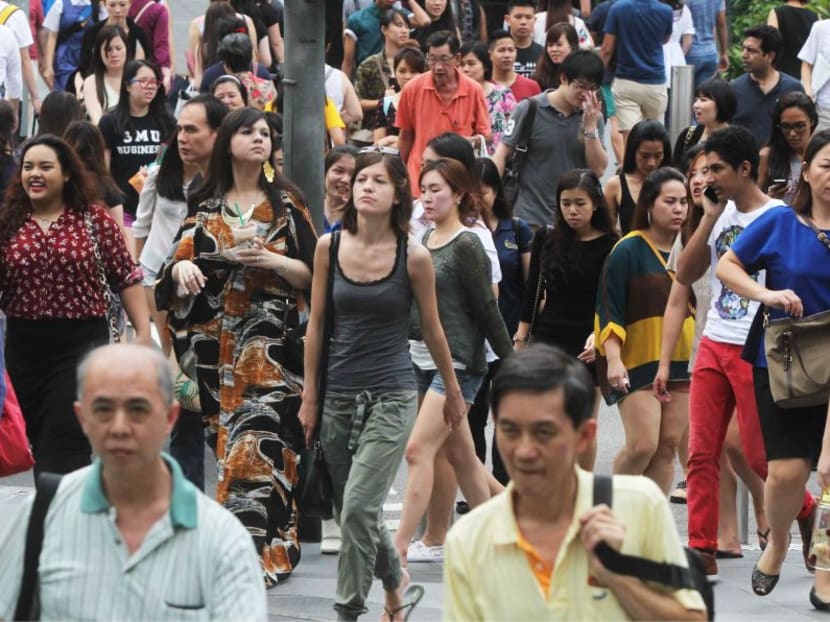 SINGAPORE — After posting the slowest growth in more than a decade last year, Singapore's total population size has rebounded slightly, based on government statistics released on Thursday (Sept 27).
As of June, Singapore's total population stands at 5.64 million — inching up by 0.5 per cent over the past year. The population growth was almost flat (0.1 per cent) between June 2016 and June 2017.
The slight increase this time was "mainly due to stable growth in the citizen population", said the latest annual population brief issued by the Prime Minister's Office Strategy Group, in collaboration with partner agencies.
The citizen population grew by 1 per cent, to reach 3.47 million as of June. Both the number of permanent residents (PRs) and the non-resident population remained "relatively stable" at 0.52 million and 1.64 million respectively.
However, the citizen population continues to age, with 15.2 per cent aged 65 and above compared with 14.4 per cent last year.
Source: Department of Statistics
The flat growth between June 2016 and June 2017 was because of fewer citizen births and a drop in non-resident population driven by a decline in foreign employment.
Over the past year, foreign employment continued to fall, but at a slower rate. Excluding foreign domestic workers, foreign employment shrank by about 10,000 — mainly due to a drop in the number of work-permit holders in the construction and marine shipyard sectors. In comparison, foreign employment fell by about 36,000 between June 2016 and June 2017.
RISE IN SINGLEHOOD, FALL IN CITIZEN BIRTHS
The report also highlighted a growing proportion of singles among citizens across most age groups last year, compared to a decade ago. The biggest increase was among female citizens aged 25 to 29, where the proportion of singles rose from 60.9 per cent to 68.1 per cent.
For male citizens in the same age group, the proportion increased from 77.5 per cent to 80.7 per cent. For most other age groups, a similar trend of rising singlehood was observed.
As for the number of citizen births last year, it fell about 2.4 per cent to 32,356, compared with 33,167 in 2016.
This was still higher than the average of the past decade of about 32,200 citizen births.
In March, Mrs Josephine Teo, Minister in the Prime Minister's Office, revealed that Singapore's total fertility rate (TFR) dropped to 1.16 last year — the lowest since 1.15 in 2010.
The population brief attributed the fall partly to "a larger cohort of young Singaporeans (aged 19 to 29 in 2017) — many of whom are children of baby boomers — who are entering the peak childbearing ages, but have not yet had children".
The TFR has fallen in recent years: It stood at 1.25 in 2014, and fell to 1.24 and 1.2 in 2015 and 2016 respectively.
Speaking on population strategies at the Committee of Supply debate then, Mrs Teo said in Parliament that at the current TFR and if there was no immigration at all, Singapore's citizen population will shrink in the long term. "At around the current rates of immigration, we are close to achieving the same effect as if we had full-replacement TFR. Therefore, we do not expect any major changes to our immigration policy presently," she said.
OTHER KEY STATISTICS
IMMIGRATION 
Last year, there were 22,076 new Singapore citizens and 31,849 new PRs. In comparison, the figures were 22,102 and 31,050 in 2016.

The number of citizenships granted includes children born overseas to Singaporean parents. Last year, such children made up 7 per cent (or about 1,600) of the new citizens.

The Government noted that since the tightening of the immigration framework in late 2009, there have been about 30,000 new PRs a year. "This keeps the PR population size stable, and provides a pool of candidates who may be suitable for citizenship. The majority of our PRs are in the prime working ages of 25 to 49 years," it said.
MARRIAGE
Last year, there were 24,417 citizen marriages, up from 23,873 in 2016. In the past decade, this has averaged about 22,500.

More than one in three citizen marriages last year involved transnational couples. Over the past 10 years, there is also a steady increase in inter-ethnic marriages, with about one in five citizen marriages being between persons of different races.
Sign up for TODAY's WhatsApp service. Click here: