Singing, dancing, wine tasting: Businesses take services online during the circuit breaker
SINGAPORE — With the lights dimmed and music still blaring, she took a swig from her water bottle and wiped the sweat off her forehead. Her instructor protested; they were only halfway through the workout.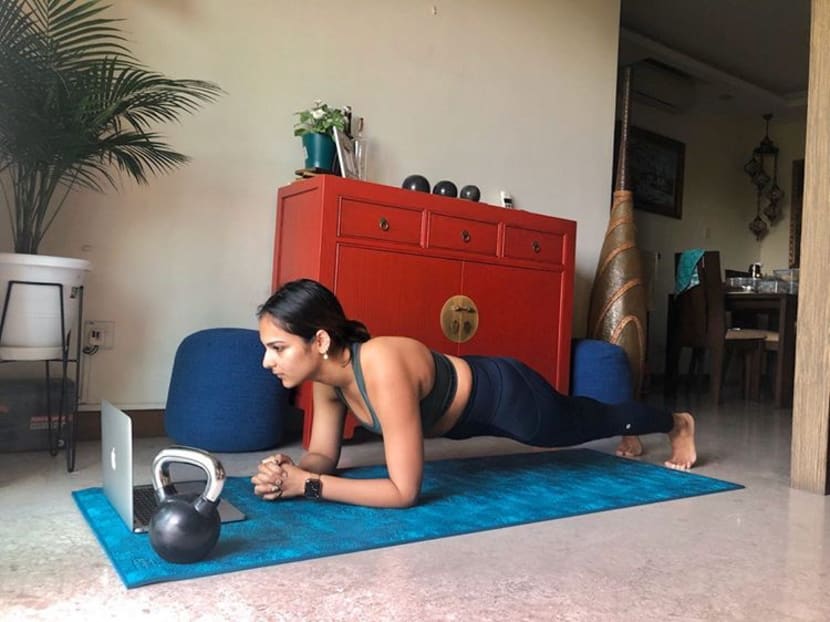 SINGAPORE — With the lights dimmed and music still blaring, she took a swig from her water bottle and wiped the sweat off her forehead. Her instructor protested; they were only halfway through the workout.
So Ms Aashna Agarwal assumed her boxing stance and carried on, until a phone call interrupted the fitness video she had been following on Instagram.
Ms Aashna, 24, has been following online workouts on Boom Singapore's Instagram page since the fitness studio closed on March 23 due to safe distancing measures. The studio offers 45-minute boxing, high intensity training and strength training classes.
Many businesses like Boom Singapore have taken their services online since the circuit breaker measures were announced. Besides home workouts which are popular during this time, enthusiasts or people looking to pick up a new hobby can now attend singing or dance lessons, or even wine-tasting sessions, online.
"Even though I am not actually punching a real bag at home, the instructors have come up with exercises that help you get that same intensity that you do in the studio, just in the comfort of your own home," said Ms Aashna who works in communications.
Ms Victoria Martin-Tay, 30, the co-founder of Boom Singapore, told TODAY that while she did consider the idea of a members-only or paid portal, she ultimately decided to post these workout routines for free on Instagram.
"The situation is so grim and people seem so down, the least we can do to contribute to the wider community is to make them free. We hope it can bring some cheer to them, and give them something healthy to do," she said.
Six new workout programmes are uploaded on Boom Singapore's Instagram page a week. This includes four videos, which consists of two live sessions and two pre-recorded ones, and two Instagram posts that explain a prescribed programme that followers can do at their own pace.
While Boom Singapore's classes can be accessed by the masses, some studios are keeping their programmes exclusive to their members.
Fitness studio Haus Athletics is starting online classes using the Zoom video platform from Monday. Its high intensity training, core and strength classes will take place three times a day and cost from S$10 to S$12. Its in-studio classes cost between S$26 and S$45.
The workout programmes allow participants to carry out exercises with minimal equipment, said Mr Reagan Kang, the studio's 31-year-old director.
"Our members will book the Zoom class through our website and this ensures they have a spot with their preferred instructor," he added.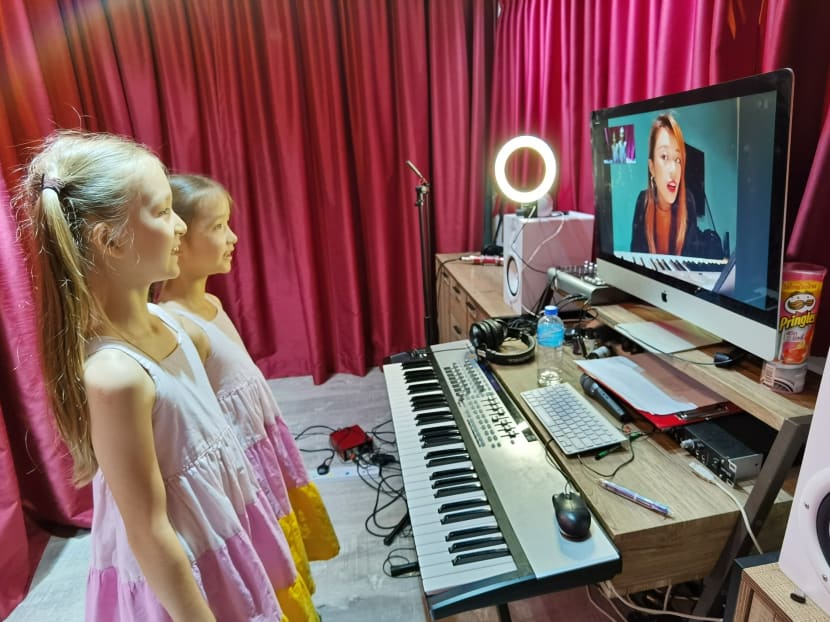 SONG AND DANCE
Ho Mei Xuan, 12, has been going for weekly vocal lessons at MADDspace — School of Music, Art, Drama & Dance for three years but had to stop when the centre closed on March 26.
However, she has never missed a lesson as they were immediately taken online. Instructors at MADDspace hold an average of 55 classes a week online, which include both private and group singing and dancing classes for children and youth between three and 21 years old, which last from 60 to 90 minutes.
"The only difference is that online singing lessons require us to be more independent. For example, when we do warm-ups and singing exercises, we need to be trusted to do our warm-ups properly," said Mei Xuan.
"For singing lessons, there are many areas like breathing techniques that might need to be corrected which are harder for the teacher to correct online. For group lessons, it is also harder to practise harmonisation as we cannot sing at the exact same time."
When using Zoom for the online classes, sometimes there is a lag, said Emma Chong, a 14-year-old MADDspace student who has been taking private vocal lessons, K-Pop and contemporary dance classes online.
"We will miss out on what the teachers are saying, and they will have to repeat what they just said or did, and sometimes it happens quite frequently and this takes up a bit of the lesson time," she said.
For dancers who are looking to learn a new routine or for those wanting to give dancing a try, Converge Studios, a commercial dance school and performing arts company, has started an online store of dance tutorials.
"Home audiences can view our catalogue, preview the trailers, and rent our dance class videos for a small fee of S$3.60 each for 72 hours. This is a good opportunity for people to give dance classes a try, especially if they have been afraid to do so physically in person," said Mr Nash Tan, 34, the firm's co-founder and managing director.
The videos, which vary in genres from contemporary to hip hop, are from 10 to 12 minutes long.
"Our dance instructors have been advised to choreograph the dance pieces to suit the available space within a living room or bedroom. They have also been told to be extra detailed, since home audiences are unable to ask questions and clarify, unlike in a normal dance class," Mr Tan said.
WINE TASTING ONLINE
Wine lovers can attend a virtual wine-tasting session on April 18 with winemaker Steven Raidis from Raidis Estate who will be interacting with an online audience from his winery in Coonawarra, South Australia. They will be taken on a live tour of his winery and vineyard all from the comfort of their homes.
"Coonawarra has this very unique special soil called terra rossa, which is very rich in iron, that allows the wine to display expressive notes of the dark fruits, plus some minty notes which will be explained during the session," said Mr William Seah, 42, the managing director and cofounder of The Wine & Gourmet Friends restaurant, which is behind this session.
Mr Seah said that he had been planning to launch an online portal for all things wine-related in two years.
"Because of Covid-19 and everyone being at home, we figured we'd trial it now and have our first session on Zoom," said Mr Seah.