Skin disorder pushed Young Scientist Award winner to take up research
SINGAPORE — Having battled eczema in her teenage years — scratching herself until she bled — Dr Guo Huili decided to look for some answers, only to realise there was no known cure for the skin disorder.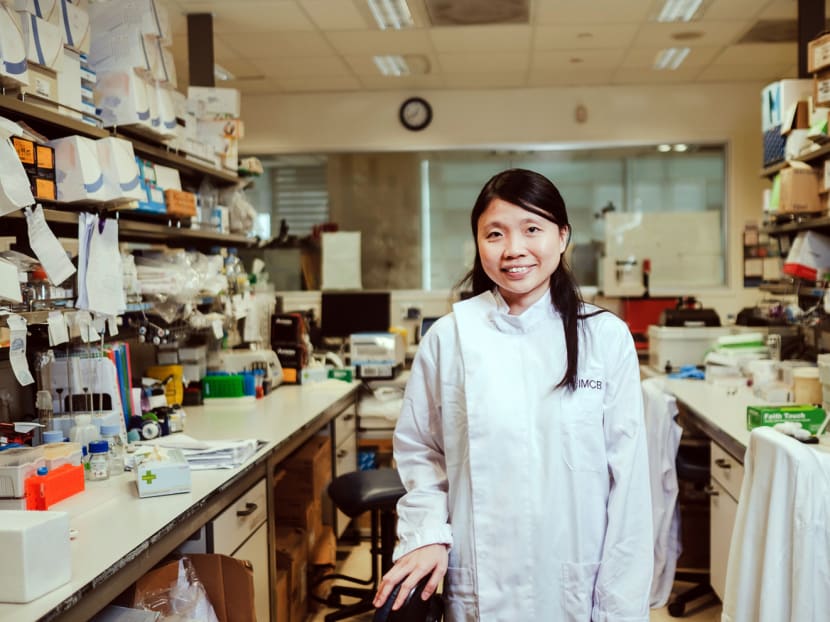 SINGAPORE — Having battled eczema in her teenage years — scratching herself until she bled — Dr Guo Huili decided to look for some answers, only to realise there was no known cure for the skin disorder.
"It's only a matter of managing the condition," she said. "I thought it was a very unfair thing to happen to people ... But in the end, I couldn't find anything much, other than that it was an immune-system disorder. That particular episode was a big motivator for me to want to go into science research."
Fast forward to the present, she is now a junior investigator with the Institute of Molecular and Cell Biology at the Agency for Science, Technology (A*Star), where she is a rising star recognised for her research in ribonucleic acid (RNA) translation, which produces protein to regulate the body's functions.
Yesterday at the Istana, the 33-year-old received the Young Scientist Award for her research and development work. She is one of three winners of the award given to scientists aged 35 and below with "great potential to be world-class researchers".
While her original impetus for going into science — eczema — does not feature in her work today, Dr Guo hopes to apply her expertise in RNA translation to do research on the skin condition one day.
Right now, her research covers sperm cells in fertility treatment, and virus infections linked to hand, foot and mouth disease (HFMD).
Explaining her work on viruses, she said: "When a virus infects a cell, they shut down most of the processes in the cell. We want to identify all the RNA that escapes this shutdown by the virus. Because if they can escape, it means the virus needs them. This will be the weak point of the virus which we can then target."
If successful, the findings could be applied to many viruses, including the one that causes HFMD. Dr Guo, who has a three-year-old son and a 10-month-old daughter, said: "Living in Singapore, we know that (HFMD) is endemic and there's no vaccine. We thought this would be a good way to start, and it'll have a big impact on people's lives if we find something."
Another project of hers is the development of a diagnostic toolkit to assess sperm fitness in fertility treatment. For now, sperm fitness is evaluated based on appearance under a microscope, but Dr Guo believes that more can be done to study sperm cells at a molecular level, and thereafter allow doctors to recommend the appropriate in-vitro fertilisation treatment.
Outside the lab, she gives talks at schools and invites students to shadow her at work. "It's helpful for them, so they know what doing lab research is like ... (Most) people don't have a chance to go into the lab," she said.
Apart from Dr Guo, the other two Young Scientist Award winners are also from A*Star: Scientist Benjamin Tee from the Institute of Materials Research and Engineering, and Assistant Professor Lim Xinhong, principal investigator at the Institute of Medical Biology.
Dr Tee, 34, is known for his research in artificial electronic skin. The electrical engineer by training said that he was drawn to this line of work because of science-fiction movies.
"One of the movies I watched was Star Wars, where Luke Skywalker lost his hand and a robot managed to fix his hand back, complete with a sense of touch. One way or another, that somehow inspired me to work on this topic."
He used non-traditional materials such as plastic and rubber, leaving the artificial skin flexible and sensitive to touch. "We hope that it can be useful in prosthetics. Currently, prosthetic devices don't have 'skin'. We hope that our electronic version can enable people who use prosthetic devices to regain their sense of touch."
During the award ceremony yesterday, four other winners received the President's Science and Technology Awards as well. They include Professor Bertil Andersson, Nanyang Technological University's president, and Associate Professor Liu Xiaogang from the National University of Singapore's chemistry department.