S.League footballers eyeing exit amid funding cuts to clubs
SINGAPORE — Already plagued by poor attendance and financial woes, the ailing S.League could be dealt yet another blow next season, as the professional league could see an exodus of its top footballers due to the impending funding cuts to the clubs.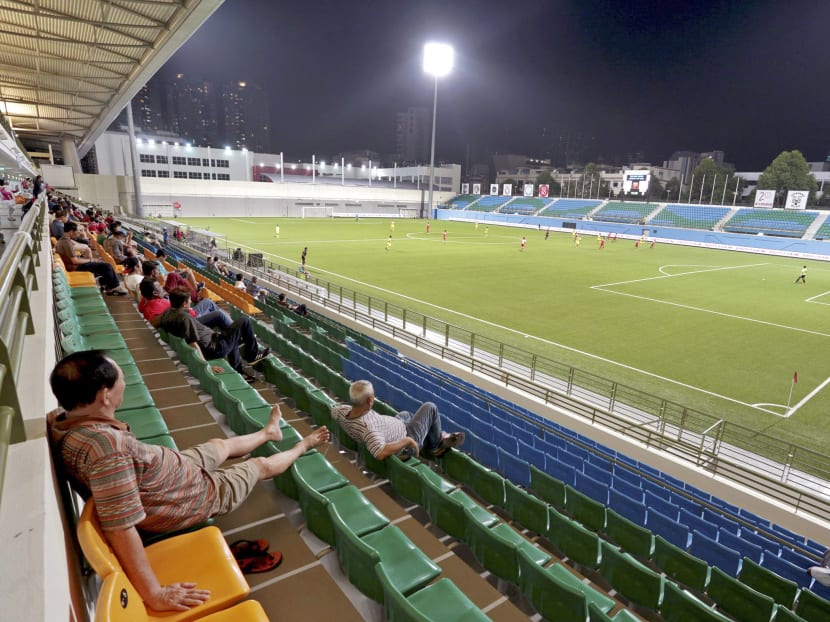 SINGAPORE — Already plagued by poor attendance and financial woes, the ailing S.League could be dealt yet another blow next season, as the professional league could see an exodus of its top footballers due to the impending funding cuts to the clubs. 
TODAY has learnt that five national team players - who are currently playing in the S.League - are looking to leave Singapore to ply their trade overseas, and several more have expressed their interest in moving abroad. Local football agent Abdul Halim Abdul Shukor told TODAY that some footballers here are worried that their salaries could be slashed next season due to the S.League's potential budget cuts, and five players have entrusted him to help them find a foreign club in Malaysia or Thailand. 
"Some of these players are currently earning over S$10,000 a month, so they're worried that a drastic drop in their salaries could affect their livelihoods," said Halim on Monday (Oct 2).
While Halim declined to name his clients, citing confidential negotiations. TODAY understands that the clients in his stable have each earned more than 30 caps for Singapore, with the most experienced player chalking up over 100 international appearances. 
Halim said he expects to close deals for two of the footballers in "a few weeks". He is eyeing clubs in Malaysia and Thailand for his clients, taking advantage of new rules in the two countries' leagues that will require clubs to sign at least one South-east Asian footballer if they wish to fill their foreign players quota. He is confident of securing clubs for the other players by the end of the year, which is usually when contract negotiations for the Malaysian and Thai leagues begin. 
He added: "With the new regulations, the Malaysian league is definitely a good prospect for Singapore footballers...The Thai players are already less likely to go there since the contracts in their domestic league are already very high.
"Of course it'll be a bit harder for these players, as they'll be living and working in a different culture, and they must work harder than what they're used to now. But I believe they're ready."
If Halim is successful, the exodus of some of the S.League's top footballers will almost certainly have a significant impact on a league that is struggling to attract fans to the stadiums. While the S.League saw huge crowds in its early years when it was launched in 1996, crowd attendances have been dwindling for years, with an average of just hundreds turning out for games.
News of funding cuts to the S.League - the Republic's only professional sports league - next season had emerged last month, with media reports stating that Tote Board funding would be slashed by almost half from S$16 million to S$8.5 million. Six local clubs in the nine-team league will be affected as a large portion of their annual budgets of between S$1.2 and S$1.5 million come from the Tote Board. The subsidies, which amount to S$800,000 a year for each club, go towards paying the players' salaries and other operating expenses. The drastic cuts will further impact the clubs financially after the Ministry of Home Affairs annnounced in July measures to tighten the regulation of jackpot operations in sports clubs. 
Despite the gloom facing the S.League clubs, members of the local football fraternity told TODAY that the players' move abroad can only be a boon for Singapore football. 
"Of course you want your league to have the best players, but then our players can get more exposure playing overseas, said former Malaysian Cup winner Steven Tan. 
"Getting to play under different coaches, learning different playing styles and observing different players in training… it will ultimately improve the national team."
Hougang United head coach Philippe Aw said the impending moves by the senior players will also provide the younger ones with more opportunities in the league. 
"The thing is, if we want to improve local football, we need to have a bigger base of players," said Aw, who was Home United's youth coach from 2007 to 2012. 
"There are a lot of young players who fall out of the system as they never get the opportunity to play in the S.League...this could be a chance for the younger players to step up, prove their worth and make a name for themselves."
Richard Bok, who coached SAFFC to four titles during his tenure, agreed with Aw's assessment, as he added: "Yes, the S.League will definitely see a drop in its standard for one to three years...but revamping the league and unearthing more young talent will be better for local football.
"The salary of one national player could maybe pay for two or three younger players... and with a larger talent pool, in the long term, the quality of Singapore football and the S.League will rise again."
Ex-national goalkeeper Lionel Lewis told TODAY that some of his friends are waiting to hear more about the potential budget cuts before deciding on whether to leave the S.League. He too agreed that the local football scene would benefit if more players plied their trade overseas.
"If they get an opportunity to play overseas, of course they should as it would help them to be better players," said Lewis.
"Of course, now you have to tell the S.League to reboot and think of new ways to improve our local footballers to draw back the fans.. and I believe that if measures are in place, over time, the S.League and local football will see better days."