Smaller supply of new private homes may not mean prices will rise, say analysts
SINGAPORE — The supply of new private homes in the second half of 2019 has been reduced to the lowest level in over a decade amid falling demand from home hunters, and an upcoming glut of new homes.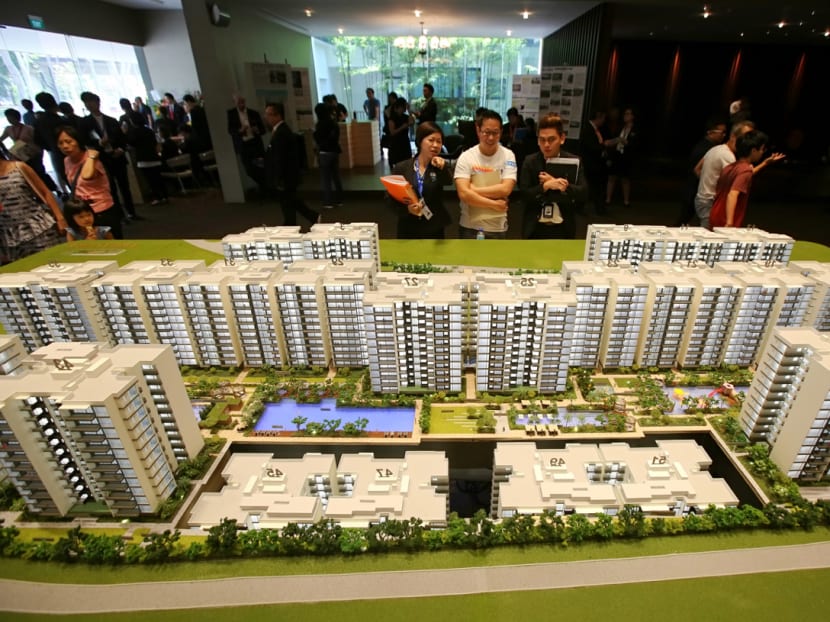 SINGAPORE — The reduction in the supply of new private homes in the second half of 2019 could, in theory, mean higher prices, but analysts told TODAY that this depends on the level of interest from developers in a fairly flat market, kept tepid by last year's cooling measures.
A couple of well-located, attractive sites being released could lead to competitive bidding, they added.
The five confirmed sites and eight reserve list sites in the second half-year government land sales (GLS) programme can yield an estimated 6,430 private homes, the Ministry of National Development (MND) announced on Thursday (June 6). This is a little lower than the expected supply of 6,475 units from 14 sites offered in the first half-year's programme.
But Associate Professor Sing Tien Foo, director of the Institute of Real Estate and Urban Studies at the National University of Singapore, noted that the number of homes that can be yielded from the five confirmed list sites — 1,715 units — is markedly lower than for the five confirmed sites in the first half year, at 2,025 units.
Under the GLS, confirmed sites go on the market directly, while reserve list sites are put to tender only if a developer indicates it is willing to pay an amount that meets the Government's minimum expected level. A total of seven residential sites and two mixed-use "white" sites from the first half GLS have not been sold, and have been carried over to the second half.
WHY CUT THE SUPPLY OF PRIVATE HOMES?
A large supply of around 44,000 private housing units is in the pipeline. Out of these, 39,000 come from previous land sales and collective sales' sites with planning approval, said MND.
While the vacancy rate of private residential units has steadily fallen to 6.3 per cent at the end of the first quarter this year from its 2016 peak, there are still about 24,000 existing private housing units vacant today.
Meanwhile, demand has continued to fall with the introduction of property cooling measures last July, said the MND. The number of transactions fell in the past three quarters, while developer demand has also slowed.
"Given these factors, the Government has decided to reduce the supply of private residential units on the confirmed list for the GLS programme. Together with the supply in the pipeline, the supply for the second half of 2019 will sufficiently cater to the housing needs of our population," said MND's statement.
Mr Wong Xian Yang, senior manager of research at real estate firm Cushman & Wakefield, said the glut of upcoming and existing housing units was caused by the collective sale fever that gripped the market in 2017 and 2018. However, the en-bloc sales trend tapered off after the property cooling measures were implemented.
Even after the new measures kicked in, developers continued buying up land, albeit at a slower pace as market sentiment took a hit, he said.
Mr Wong added: "There is also economic uncertainty because of the US-China trade tensions which have affected manufacturing output and also (consumer) sentiment. Taking all these factors, the Government is cognisant of these headwinds and lowered the amount of supply that is coming out in the GLS."
Another property market watcher, who declined to be named, also noted the pipeline of units set to hit the market.
He said: "It is a good signal to the market that the Government is being cautious and trying to tell the market to be more prudent."
HOW WILL THIS AFFECT CONDO PRICES?
As the supply of land dwindles, the cost of the land should theoretically rise, which should also mean higher private residential prices. But this depends on the bids put in by developers for the land parcels, as well as the prevailing demand for new homes, analysts told TODAY.
From January to March this year, prices of private residential properties fell by 0.7 per cent, compared with a 0.1 per cent fall in the previous quarter, according to statistics released by the Urban Redevelopment Authority. Prices of landed property rose by 1.1 per cent, while the prices of non-landed units fell by 1.1 per cent in the first quarter of 2019.
Real estate analyst Nicholas Mak said the bids for the latest GLS should be bullish since some of the sites will likely be attractive to developers. The two private residential sites of Canberra Drive and Irwell Bank Road, in particular, could attract high bids, he said.
"On the whole, the confirmed list of the GLS programme consists of a wide variety of different properties, from entry level homes such as executive condominiums to condominiums in prime districts," said Mr Mak, adding that high bids by developers could help maintain private home prices at their current level, or push them even higher.
But some analysts warned that while estate agents could cite the possibility of a price hike as a reason to buy private property now, higher condo prices are not guaranteed and homeseekers should not overreact to these claims.
This is especially so in light of the property cooling measures implemented in July last year, which were designed to create a stabilising effect on home prices, they said.
National Development Minister Lawrence Wong said last November that if the Government had not stepped in to moderate prices, private homes could have jumped by 10 to 15 per cent last year.
As these interventions reduce demand for new private homes, Mr Chris Koh of real estate agency Chris International told TODAY that the reduced supply of land would likely result in no net change to private home prices.
"We have seen this before from the Government to try to pull the handbrake on land supply and control prices sustainably, so home prices should still remain quite steady in the future," said Mr Koh.
NOTEWORTHY LAND PARCELS UP FOR SALE
CANBERRA DRIVE
Described by analysts as an up-and-coming neighbourhood, it is walking distance to the new Canberra MRT station on the North-South Line, which is set to be open on Nov 2.
Mr Desmond Sim, head of research in South-east Asia at real estate services firm CBRE, said: "On the back of the growing unsold inventory, developers are observed to be restrained on high-unit yielding sites... The site dissection has made the sites (Parcel A and B) more palatable for developers to consider."
Site Area: 1.33ha (Parcel A) and 2.77ha (Parcel B)
Estimated number of dwelling units: 220 (Parcel A) and 455 (Parcel B)
Estimated launch date: November 2019 (Parcel A and B)
IRWELL BANK ROAD
Just a 15-minute walk from Somerset MRT and the Orchard Road shopping belt, Irwell Bank Road is a sizeable development within the prime district.
Associate Professor Sing said: "Located close to Great World City, this site will likely attract keen interest and could be developed into high-end residential projects. This segment of the market is also more resilient against recession and economic uncertainties."
Site Area: 1.27ha
Estimated number of dwelling units: 445
Estimated launch date: October 2019
KAMPONG BUGIS
Envisioned as a car-lite waterfront residential precinct and the site of the former Kallang Gasworks, Kampong Bugis will be released under the reserve list for sale under the Master Developer model. This model will give the developer more autonomy in planning and design.
Dr Sing said this will be the most watched site as it is the first time the Government is adopting the model for residential projects. "The master developer will have more flexibility and discretion in planning and development strategies, which may allow them to develop the site into a more seamless and integrated residential development, and they could also experiment various new urban systems and also introduce car-lite features to the site," he said.
Site Area: 9.20ha
Estimated number of dwelling units: 1,000
Estimated launch date: December 2019