Smart towns need common standards for data transfer: HDB CEO
SINGAPORE — As Singapore pushes ahead with its Smart Nation drive, standards and protocols for developing smart towns are being worked on, Housing and Development Board (HDB) chief Cheong Koon Hean said on Wednesday (June 7).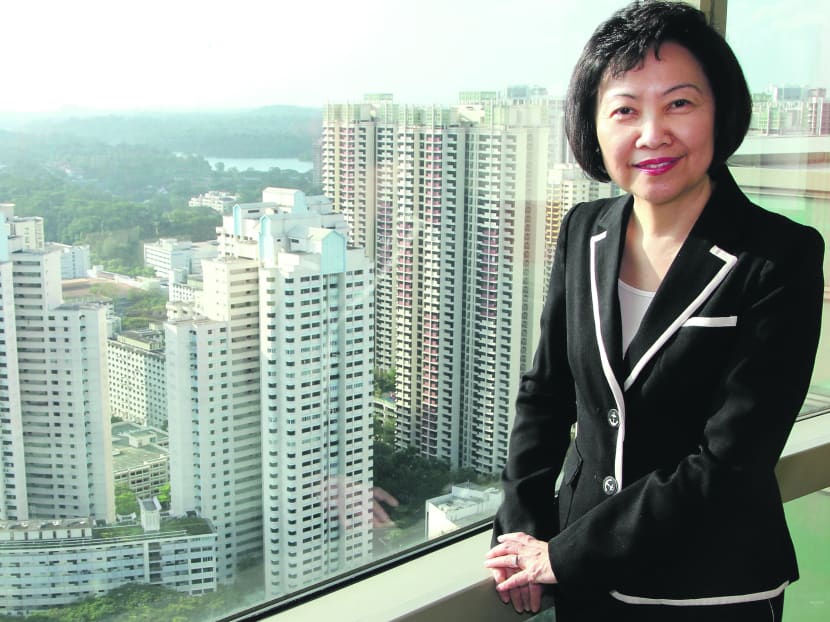 SINGAPORE — As Singapore pushes ahead with its Smart Nation drive, standards and protocols for developing smart towns are being worked on, Housing and Development Board (HDB) chief Cheong Koon Hean said on Wednesday (June 7).
Since collecting data to respond to citizens' needs or to improve services will be a main objective of the Smart Nation drive, common protocols must be put in place to enable data from any number of smart systems to be sent to the command centre at the Government's end. For instance, data could be sent to the relevant authorities from high-tech rubbish bins when they need to be emptied, analysts said.
Then there are standards for Internet of Things (IoT) devices — or devices connected to the Internet — that need to be set with regard to inter-operability and cyber security, the experts added.
Speaking at the annual Urban Land Institute Asia Pacific Summit, which discusses urban development challenges and opportunities, Dr Cheong said that the "one very important thing we need to do ... is to develop a protocol standard".
"As we try and develop some of these smart towns, we are working to develop standards with the industry ... so that all manufacturers will know that if you follow these standards, there's inter-operability of all gadgets."
She added that once these are in place, even if technologies change, there would be a basic set of protocol for people to follow.
She also set out the benefits which can be achieved if smart initiatives are rolled out at an average public housing precinct.
For instance, households could enjoy a 60-per-cent saving in energy costs for lighting or a 66-per-cent saving for annual potable water use. Using smart waste systems could also reduce the manpower needs by 70 per cent.
Mr Clement Teo, principal analyst at research firm Ovum, said that there are varying standards and protocol right now for different smart systems, from street-light management to power meters to home sensors for smart lighting or fridges.
"It is quite chaotic right now, (so a common protocol) would mean easier data collection, as well as in managing the security of these devices and systems."
Security for IoT devices has been flagged among the industry as a weak link, given the recent spate of cyber attacks. One problem is the lack of a common standard for these devices.
Mr Gerald Wang, head of government and education at research firm IDC, pointed out that the data from the devices, for one, needs to be in a similar format to be read.
Smart-home trials are already being done in three estates, namely, Yuhua, the new Punggol Northshore, and the future Tengah estate.
On whether smart initiatives are transferable to older estates,
Dr Cheong said that even there, the rubbish collection system, for example, could be optimised.
Analysts noted that this is certainly possible if, let's say, homes could be retrofitted for smart systems to work on wireless technologies.
However, Mr Wang of IDC pointed out that the biggest challenge would be to seek buy-in from homeowners. "If people are already living in the homes, then it could be hard to convince them that sensors, for instance, need to be installed. Some homes also might not have broadband. Perhaps rolling it out in the common areas for old or existing estates would be easier."
Mr Teo also said that it would be costlier to roll out the initiatives in existing estates, since old fittings need to be torn down to fit the new systems.
Earlier during the summit conference, Minister for National Development Lawrence Wong spoke about the Government trying out a master-developer concept for the Kampong Bugis area.
The authorities had announced in March that it would adopt such an approach for the 17.4ha residential site — where a single developer for a precinct develops a master plan for the area to achieve various development outcomes. This strategy has been used in places such as Canary Wharf in London, and differs from the typical practice of carving out individual plots on a site and putting them on sale by Singapore's Urban Redevelopment Authority.
Mr Wong said that future sites could be mixed-use, with master developers possibly given the flexibility to vary the types of usage. The Government is open to feedback from developers and other stakeholders as it develops the rules, he added.
For short-term home rental arrangements provided by platforms such as Airbnb, Mr Wong said that the Government would "soon" put out some regulatory guidelines. These will ensure the playing field is levelled to some extent with hotel and other operators, and provide some assurance to residents who want to prevent their homes from "becoming a hotel". ADDITIONAL REPORTING BY NEO CHAI CHIN