Socialite daughter of The Hour Glass founders pleads guilty to drug consumption
SINGAPORE – Three years ago while dining at a Thai restaurant in Orchard Towers, socialite Audrey Tay, 45, met a transsexual called 'Jeri' who offered her "something to relax" in the female toilet.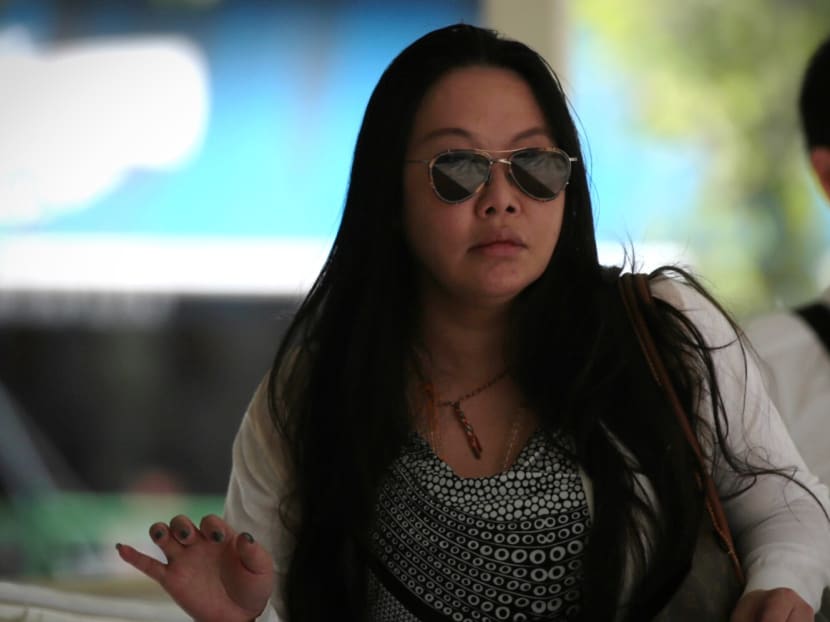 SINGAPORE – Three years ago while dining at a Thai restaurant in Orchard Towers, socialite Audrey Tay, 45, met a transsexual called "Jeri" who offered her "something to relax" in the female toilet.
Jeri created two lines of a powdery substance, which turned out to be ketamine, and snorted one of them using a straw.
Tay, the daughter of the founders of luxury watch retailer The Hour Glass, knew what the drug was and snorted the other line of ketamine.
She later left Orchard Towers and drove to meet a friend, but ended up mounting her car – a Toyota Vellfire – on a kerb along Newton Road, colliding into a central divider and hitting a traffic light. She caused the lamp post near the traffic light to fall, blocking the opposite side of the road. The cost of repairing the traffic light and central divider amounted to more than S$3,000.
When the police interviewed Tay at the accident site, one of the officers noticed she had slurred speech and was informed by the paramedics that her pupils were dilated. When she was questioned, Tay admitted she had earlier consumed ketamine and a glass of wine. She was arrested at about 1.37 am on Aug 28, 2015, and taken to Tan Tock Seng Hospital for a medical examination, where she also submitted urine and blood samples.
An analysis by the Health Sciences Authority found that Tay's blood sample contained 0.50 micrograms of ketamine per milliliter of blood. Her urine also contained the drug.
For the offences committed on Aug 28, 2015, Tay was charged with five counts of consuming ketamine and methamphetamine as well as driving without due care, among others.
While she was on S$30,000 bail, Tay went on to commit another set of drug consumption and possession offences about two years later.
She pleaded guilty to four charges at the District Court on Monday (Aug 27) for consumption and possession of ketamine as well as for driving without due care.
Five other charges, which include consumption and possession of drugs such as methamphetamine and ketamine, were taken into consideration. Currently out on bail, she will return to court on Oct 11, when she is expected to be sentenced.
On Oct 10 last year, Tay had showed up for a psychiatric appointment at the Institute of Mental Health (IMH) in an intoxicated state, with her urine testing positive for ketamine and benzodiazepines.
She was arrested near IMH by Central Narcotics Bureau officers at about 5.30pm that day. The officers found that Tay had three packets of ketamine in her possession as well as drug-taking utensils in the form of three stained straws.
Her urine tests also showed traces of norketamine, which is the product of metabolised ketamine. Norketamine is a banned substance under the law.
During investigations, Tay admitted she had relapsed and started consuming drugs again two months prior to the arrest, and would take drugs twice a week.
She last consumed ketamine a day before the psychiatric appointment, taking the drug in the toilet of a petrol kiosk along Bukit Timah Road when her chauffeur stopped to refuel.
On Monday, Tay was accompanied to court by her mother Jannie Chan, 72, who had started The Hour Glass in 1979 with her ex-husband Henry Tay, 73.
Ms Chan herself has an ongoing court case. She is appealing against a two-week jail term for contempt of court imposed by the High Court in April, after she was found to have disobeyed a court order preventing her from defaming and harassing her former husband.
If found guilty of each charge of consuming ketamine and norketamine, Tay could face a maximum 10-year jail term or S$20,000 fine, or both. She faces the same maximum punishment for possessing ketamine.
If convicted of driving without due care as a first-time offender, she could face a fine of up to S$1,000 or a jail term of up to six months, or both.