Socially conscious smart thinking
SINGAPORE — When three friends started a tuition centre 13 years ago, they had modest aims: To help students pass their General Paper (GP) exams, and to gain a better understanding of the society they grew up in.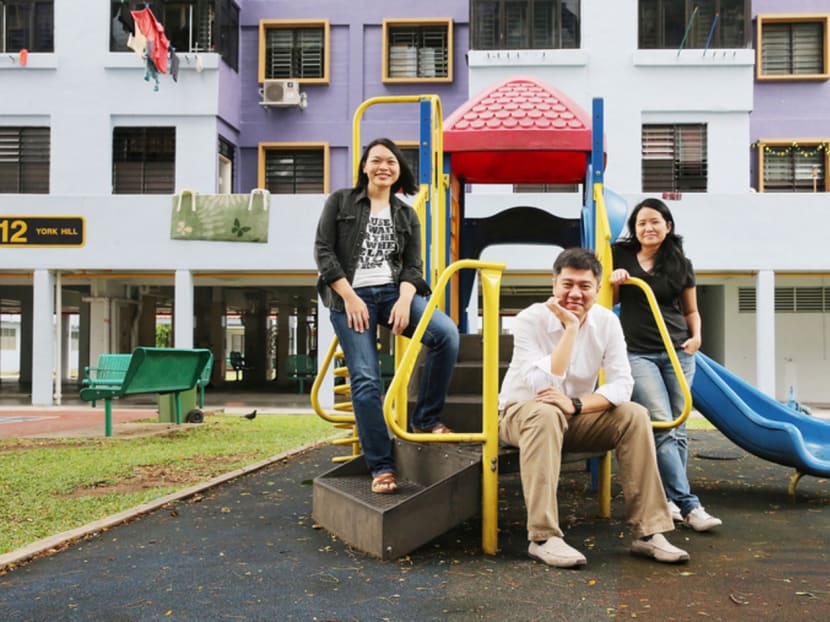 SINGAPORE — When three friends started a tuition centre 13 years ago, they had modest aims: To help students pass their General Paper (GP) exams, and to gain a better understanding of the society they grew up in.
"Then, it became work," said Ms Kuik Shiao-Yin, drawing laughter from her fellow founders of The Thought Collective, Mr Tong Yee and Ms Elizabeth Kon.
The Thought Collective is today more than a tuition centre — it has grown into a social enterprise that not only prepares students for exams, but also matches them to community projects in need of support. Its ultimate aim: To create a new generation of socially-minded Singaporeans.
The trio, who have been friends since their university days, set up The Thought Collective after Mr Tong, 41, and Ms Kon, 40, who taught GP at junior colleges, realised students were completing their A-Level exams without having a good understanding of their home country.
"(There was a) social gap (as) lots of kids were coming out of the (education) system and ... were generally very centred on their own success or failure. They weren't actually thinking of the success or failure of society as a whole," said Ms Kuik, 38, who had been a web-design entrepreneur before co-founding The Thought Collective.
In 2002, the trio started giving GP tuition outside their full-time jobs. Starting with only 20 students, they now have 900 under their care.
Their social enterprise has also grown, with five brands now under its umbrella: School of Thought, which still offers GP tuition; Think Tank; Thinkscape; Common Ground and Food For Thought.
Each brand fulfils a different part of what the founders call a value chain. For example, School of Thought and educational magazines by Think Tank aim to reshape students' perspectives, while Food for Thought's restaurants introduce people to social issues through regular events.
Thinkscape offers learning journeys to help students explore and form opinions on issues critical to Singapore's survival and success.
Ms Kuik, who is also a Nominated Member of Parliament, said the company's success was partly due to this "ecosystem of brands that support one another", such as through higher revenues, garnering public awareness, or strengthening ties with stakeholders.
"All our brands benefit from this multi-pronged, multidisciplinary approach. It has allowed us to share a diversity of resources, experiences and expertise across the companies," she added.
The final link in the "value chain" is The Thought Collective's new brand Common Ground, a platform through which the founders hope to start community children centres and children's bookshops in low-income neighbourhoods.
The centres will provide empathy-building community activities to address issues in the area and provide employment opportunities for mothers in the neighbourhood who need flexible work options.
Mr Tong said they are looking at Jalan Kukoh — a small, low-income housing estate nestled behind Hotel Miramar on Havelock Road — as a location for Common Ground's first centre. The project, which is still in the works, has the potential to not only help residents in the neighbourhood, but also empower youth volunteers who work with the collective, said Mr Tong.
Noting that a significant number of the 6,000 residents in Jalan Kukoh have been incarcerated or are looking for employment, or both, he added: "The idea is, how do I get a young person in this space and have him or her see the context of what is also happening in Singapore?"
The trio's desire to raise youth's awareness of issues affecting Singapore is a factor that has kept them going, even as they grapple with the challenges of managing a social enterprise.
"I worry about whether there is an understanding that social harmony is something you cannot take for granted," said Mr Tong, adding that messages about social harmony are often dismissed as a National Educationcliche. "When they (youth) go through classes, experiences, then they get it," he said.
Besides the satisfaction of seeing their charges develop a greater sense of civic responsibility, the collective's founders are sometimes inspired by their students' personal triumphs.
Ms Kuik recalled the case of a junior-college student who, during her first class at the tuition centre, opened up to Ms Kuik about her problems and the abuse from her family that she had suffered.
When Ms Kuik asked her why she chose to confide in a stranger, the girl replied that she had grown up reading Ms Kuik's articles in Think Tank's Broader Perspectives magazine.
"She said, 'I know what you stand for, I know what your values are. You've heard my story — I don't trust any adult, but I chose to trust you'," said Ms Kuik. "That's why I continue to do what I do, because I don't know what are the one million stories out there that I don't know about."
Mr Tong said listening to students in this way was something he had not had the time to do as a school teacher. "It was the first time I really began to hear empathetically what (students) were going through," he added.
Ms Kon has another motivation to reach out to Singapore's youth — to promote the spirit of innovation and problem-solving that the nation's founding fathers were known for.
"It's not just (a question of) intelligence, it's the drive … The courage and innovation in (Singapore's) early years don't come up enough," she noted. Ms Kon hopes to pass on such values to the next generation. "I think that's the greatest thing I could ever do."
The trio, who wear their patriotism on their sleeves — and good-naturedly teased one another about it during the interview — are determined to keep The Thought Collective focused on Singaporean issues.
"Singapore is a miracle," said Mr Tong, citing the fact that the island state with few natural resources has not only survived, but also thrived. "You don't squander a miracle," he added.