Socio-political site The Middle Ground to shut after 2.5 years, cites lack of funding
SINGAPORE – The Middle Ground, one of a rash of local socio-political websites that sprang up after the 2011 General Election, will be "winding down", its founders announced on Saturday (Oct 28).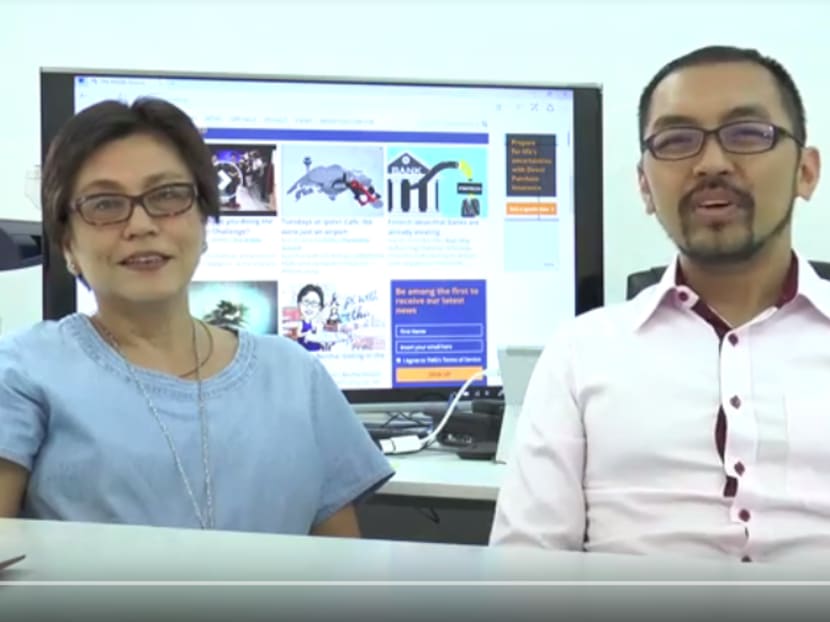 SINGAPORE – The Middle Ground, one of a rash of local socio-political websites that sprang up after the 2011 General Election, will be "winding down", its founders announced on Saturday (Oct 28).
Helmed by former Straits Times associate editor Bertha Henson and publisher Daniel Yap, The Middle Ground (TMG), is the latest of several such portals to shut down.
In an article posted on the site in the early hours of Saturday (Oct 27) morning – and also shared on their Facebook page with the short, wistful caption "Bye" – Mr Yap said the difficult decision was one "that the TMG team has been dreading for some time".
But "it was the only decision that made sense" to them, in view of the costs of maintaining a credible news website.
"I want to let you know… that we've decided to start the process of winding down our publication," wrote Mr Yap, a process that "one and three months, because of some of the obligations we have to our clients and suppliers".
Although TMG had just over 200 patrons who contribute about S$3,000 each month, " the choices we made meant that we were not as attractive as other platforms when it came to sheer traffic and viral content – the lifeblood of ad campaigns", Yap wrote.
Late last year, the website launched a fundraising drive on Patreon to raise S$15,000 per month to cover a portion of its expenses.
"Unfortunately, the overheads for a solid news editorial team run into the tens of thousands, and TMG wasn't an operation we could sustain long term, not without departing from the core values that we hold dear," Mr Yap added.
"I'm sorry that we've not been able to make this work in this form. There are things we could have done better, and in many ways we were too optimistic about the sustainability of this project."
Speaking to TODAY, Ms Henson added that it was difficult to maintain a professional news outfit, given that people expect news for free.
"People should not expect professional work for free. If it's going to be free, then it should be more of a hobby, than something of a professional level." She said it was impossible to "survive on love and fresh air". "If you don't pay for news, it means somebody else must pay for it."
Ms Henson revealed that there has been a gradual scale down of news operations since January this year. At the "peak" of operations, there were "about eight full timers, at least three reporters, two interns at any one time, one photographer, and two artists".
TMG began life as a blog written by Ms Henson, Bertha Harian, which combined reporting on selected socio-political issues of the day with commentary.
In 2013, seeking a wider audience, it rebranded itself as the Breakfast Network, an independent news website, and hired full-time staff to provide wider coverage.
But the new site lasted for just about eight months, shutting down after the Media Development Authority told it to register under the Broadcasting (Class Licence) Notification, and undertake not to receive funds from foreign sources. It was relaunched in June 2015 as TMG.
In the years since then, it has mixed its reportage and commentary with some original reporting, mainly centred on issues such as parliamentary debates, interviews with political personalities, and some grassroots stories about little-known facets of Singapore neighbourhoods.
TMG was among the sites that launched after GE 2011 in the wake of a sharp spike in social media activity and interest in politics among Singaporeans.
Others include political website Inconvenient Questions, started by media industry veteran Viswa Sadasivan in January 2015, which was forced to shut 16 months after its inception due to a lack of funding.
Six-Six News, which started in June 2015 and published political commentaries among others, shut down in April 2016.
As of August this year, a study conducted by the local think-tank the Institute of Policy Studies found that 35 per cent of about 240 blogs and socio-political sites mostly set up in the run-up to, and after, the 2015 General Election have gone inactive.
One of the key reasons cited in the study for the closure of these sites was the lack of funding.
Many netizens responded with dismay, with some posting on The Middle Ground's Facebook page: "Very sad to learn of this. It's hard to sustain passion in this country without a steady stream of income. I wish you well but remain hopeful that someday you and your passionate writers will rise again."
Ms Henson said: "People think I'm broken up, but no, I think we sort of expected it for some time. But of course, we are sad that (the site) has to close down."
She said she will be going back to blogging on her site Bertha Harian, but did not state exactly when she would do so.
"Of course I will bring (Bertha Harian) back, (but in the meantime) I will still be posting on the TMG site," said Ms Henson.