Some companies insist on Covid-19-infected staff getting MC despite authorities saying it's not necessary
SINGAPORE — Some companies are still insisting on their staff getting medical certificates (MC) from doctors if they are infected with Covid-19, despite the authorities stating that mild or asymptomatic cases do not require such documentation to be absent from work.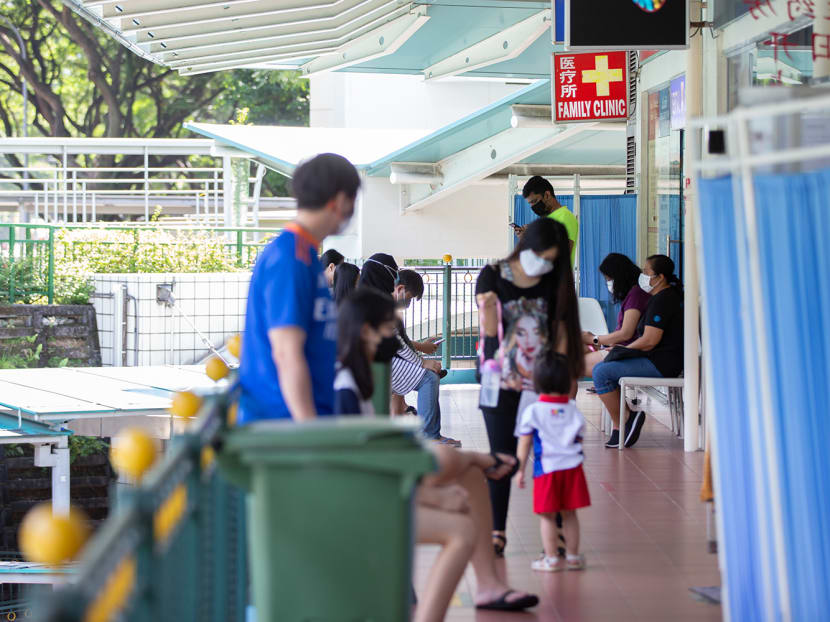 Some firms still insist on their staff producing a medical certificate, if they self-test positive for Covid-19
Such employers cite the need to "verify" their workers are truly sick
Others say their company policy requires such documentation before staff are entitled to paid sick leave
Some workers, while not explicitly mandated to take MC, still do so for various reasons
SINGAPORE — Some companies are still insisting on their staff getting medical certificates (MC) from doctors if they are infected with Covid-19, despite the authorities stating that mild or asymptomatic cases do not require such documentation to be absent from work.
Among firms that do not make producing an MC a strict requirement, some workers still feel compelled to do so due to various conditions imposed by their bosses, such as making them work from home while they are down with the coronavirus.
But most of the employers or employees that TODAY reached out to said that their workplaces do not require staff to produce an MC at all, despite being in manpower-reliant sectors such as food and beverage (F&B) or security.
All employees whom TODAY spoke to requested for their identities to be hidden, either because they were not authorised to speak to the media, or out of concerns of reprisal from their supervisors.
NO MC, NO PAID SICK LEAVE
One hotel employee said that when she self-tested positive Covid-19 recently, her boss immediately told her to see a doctor to get an MC to be entitled to paid sick leave, citing company policy.
Even after she showed recent guidelines by the Ministry of Health, her supervisor did not budge.
Mr Elson Lee, founder and chief executive of a student recruitment company, said he insists on seeing an MC to verify an employee's claim that he is Covid-19 positive.
"How would we know if the employee is genuinely unwell? Like how do we verify, do we call MOH? Even that is a big hassle," he said, adding that employees should be made to take a supervised antigen rapid test (ART) at a quick-test centre (QTC).
"I think the QTCs should send an alert to the HR department of the company, I think that's more efficient," he suggested.
Another employee at a technology firm who was recently infected with Covid-19 said that his employer had initially demanded to see an MC to approve his absence from work. 
His boss later begrudgingly allowed him to rest for "one to two days" and to work from home thereafter, despite him having a fever.
"I went to take MC (eventually) so I have five days to rest. It's a bit ridiculous," said the employee.
On Feb 5, three government ministries and the Early Childhood Development Agency issued a joint statement, saying that ​​many people with no or mild symptoms are visiting clinics just to obtain a letter or memo certifying that they have recovered from Covid-19 to support their return to work or to school. 
"These visits are not necessary and risk compromising the standard of care for other patients who genuinely require medical attention," they said.
The next day, the ministry reiterated on Facebook that people who tested positive for Covid-19 can safely recover at home if they are low risk and have mild or no symptoms.
It added that for these cases, there is "no need to see a doctor and get an MC", and employers and schools will accept a positive antigen rapid test result as proof of infection. 
RELIEF FOR DRIVERS WITHOUT MC
Meanwhile, some taxi and private-hire-car operators said that they minimally require drivers to take a supervised ART test at QTCs in order to qualify for rental waivers.
Ms Tammy Tan, group chief branding and communications officer at taxi operator ComfortDelGro, said waivers will be credited for unwell drivers who took MC or "are asymptomatic and had gone to a Quick Test Centre and received an SMS of their ART results".
Mr Yeow How Peng, head of Strides Mobility Services, said the taxi operator accepts supporting documents of drivers' Covid-19 status, such as "MCs, MOH messages or ART results", in granting rental waivers.
Meanwhile, Grab and Gojek offer various additional support besides rental waivers for drivers who sign up for optional programmes or meet certain criteria.
"Active driver- and delivery-partners who have tested positive on self-administered ART or at Quick Test Centres are entitled to a one-time income support of up to S$500," said a Grab spokesperson.
A Gojek spokesperson said that driver-partners who sign up for its Freelancer Earning Protection programme are entitled to daily payouts if they produce a positive result via a supervised ART test.
'HOW DO YOU EVEN CHAO KENG ART RESULT?'
SSA Culinary Institute, a culinary school, said that it stopped requiring staff to present an MC if they are infected with Covid-19.
Over the past month, five employees became Covid-19 positive. All of them merely had to snap photos of the positive result on the ART kits that the company provided for them.
"I find it irresponsible to expect employees to go to the doctor because they will risk infecting others when they are out of isolation," said Ms Siti Humairah Suhaimi, the firm's assistant vice president of operations.
A restaurant at One Raffles Place similarly does not require further proof from staff besides a self-administered ART result.
This is despite the outlet running operations with only four full-time employees and two regular part-timers.
"We trust all our employees as we strongly believe that trust builds productivity," said the restaurant's spokesperson.
Some companies that do not require MC proof are sticking to this policy despite the fact that their manpower has been affected by a recent rise in Covid-19 cases. 
Aardvark Security Services' managing director Khairul Annuar Rudy Shahril said that just last weekend alone, the company had a dozen officers either put on Health Risk Notice or were themselves Covid-19 cases.
He said he did not see the need to make his officers visit a clinic solely for an MC to mitigate the risk of "chao keng" — local slang for malingering.
"If the guy doesn't want to come to work, he will find other ways not to come to work," said Mr Khairul.
"Besides, how do you even chao keng your ART result?"