'Some days, zero customers': Car park closures add to Holland Village tenants' woes
SINGAPORE — Businesses at Holland Village have been hit by the recent closure of two nearby car parks, which they said has deterred families and other customers from shopping and dining in the enclave.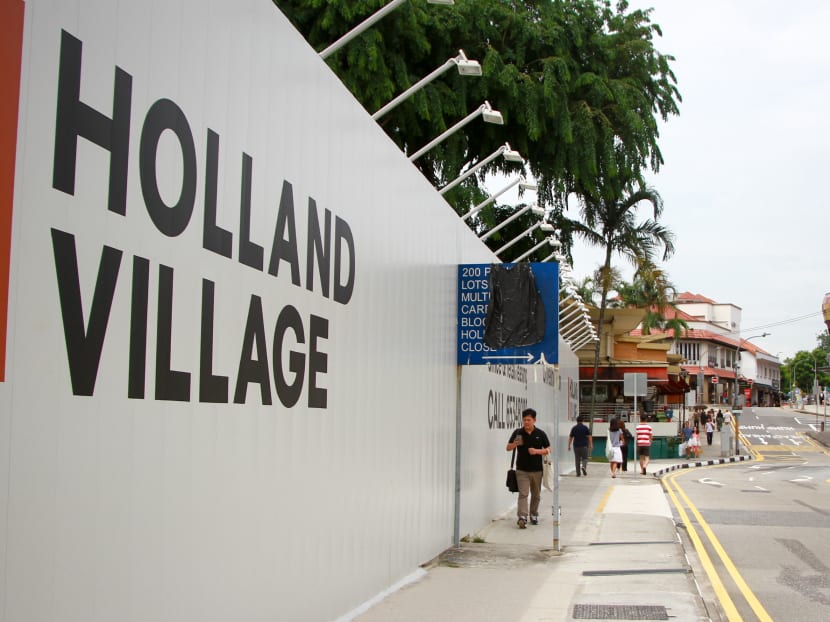 SINGAPORE — Businesses at Holland Village have been hit by the recent closure of two nearby car parks, which they said has deterred families and other customers from shopping and dining in the enclave.
Seven of 10 businesses approached by TODAY said the closure of the two car parks — with a total of 405 lots — from last November has led to a dip in sales.
The car parks were fully closed from February and will be making way for a commercial and residential development by a Far East Organization-led consortium.
There are two interim car parks with 350 lots along Holland Drive, with a footpath and temporary road leading to Lorong Liput. The road will be closed in November this year to facilitate development and construction work, according to a flyer distributed to tenants and residents in January. A permanent alternative will take its place.
Mdm Dalphine Tan, 65, who has a stall that duplicates keys and provides sewing services at Holland Village market, said she has fallen six months behind in rent.
The car park closures have hurt her business even more — she said she no longer sees walk-in customers and relies on deliveries and pick-ups from regulars instead.
"Some days have (customers), some days zero," said Mdm Tan, who has been running the stall for more than a decade. "I was already trying to make ends meet (before). Now I have to make my choice. If I stay put, I cannot survive."
A spokesperson from Crystal Jade Group, which runs two restaurants along Lorong Liput, said the company has experienced a "slight decline" in customers.
The decrease is more pronounced on weekends as "most families drive" and it has become more challenging to find a parking space. Some regulars have switched to taking public transport to Crystal Jade Kitchen and Crystal Jade La Mian Xiao Long Bao instead, the spokesperson said.
Another eatery, Superfudo, may have found a way to overcome the labour crunch facing the industry, but has not been spared the "big problem" of fewer parking lots sited further away.
Co-founder Joseph Xu said its Holland Village outlet was previously making S$40,000 to S$60,000 in profits each month, but incurred a loss of S$20,000 in February.
He projects a loss of S$15,000 this month. "I'm guessing it will take another three months for us to break even again," said Mr Xu.
Without an upturn, he said the café may have to follow in the footsteps of iSTEAKS Diner, which closed its Holland Village outlet after the car park closures were announced.
Some other businesses, such as Project Acai, told TODAY that while sales have fluctuated since the car park closures, the impact was too early to tell.
OUTDOOR SEATING RESTRICTIONS AND LARGER FORCES AT PLAY
Since 2003, Lorong Liput and Lorong Mambong were closed to vehicles from 6.30am to 4am, during which many food and beverage establishments extend their operations by setting up outdoor refreshment areas along pedestrian footpaths. But some F&B outlets said restrictions on outdoor seating areas since May last year have dampened the buzz in the area.
This has caused Holland Village to lose what made it special, said a restaurant manager, 39, who declined to be named as he was not authorised to speak to the media.
In response to TODAY's queries, a Singapore Civil Defence Force spokesman said that while F&B outlets in Lorong Liput and Lorong Mambong are allowed to set up outdoor refreshment areas after road-closure hours, some overextended their operations until emergency vehicles' access and pedestrian movement are obstructed.
"As such, SCDF and LTA (Land Transport Authority) had previously engaged businesses to keep the carriageways free of obstruction during road closure hours, but the situation did not improve," the spokesman said. "For example, in 2018, SCDF served 28 Fire Hazard Abatement Notices to businesses that flouted fire safety rules."
Some business owners acknowledged that larger forces may be at play.
The market is quieter but this may not be solely due to the car park closures, said fruit stall owner William Lim, 57.
"Retail is generally going down, might be online businesses disrupting sales too," he said, citing the growth of players such as RedMart and honestbee.