Some delays on first day of land VTL but no complaints from Malaysians excited to return home
SINGAPORE — For many Malaysians in Singapore, the launch of the vaccinated travel lane (VTL) on Monday (Nov 29) between the two countries will mean joyful reunions but for some, it may be a tearful final reunion.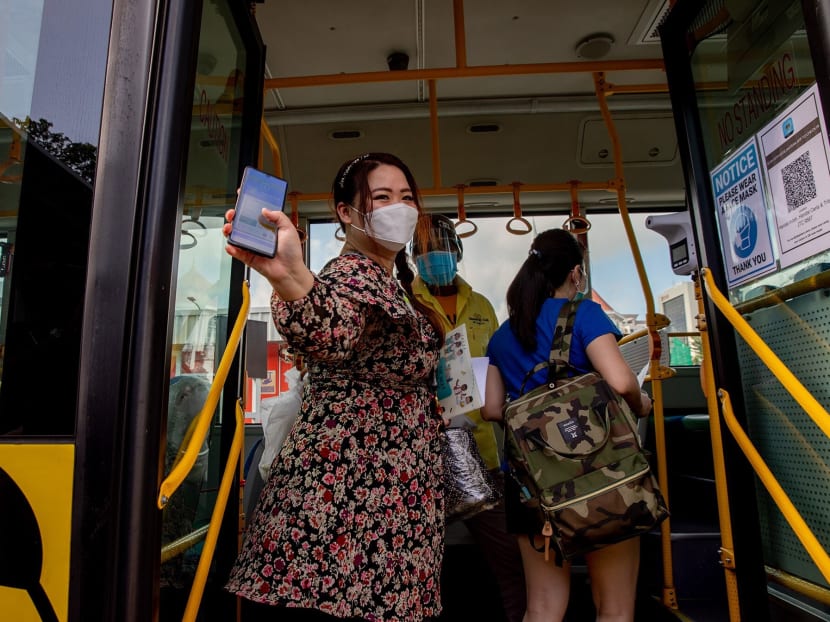 Designated buses are plying the land route of the vaccinated travel lane scheme between Singapore and Johor Baru
At Woodlands interchange, passengers for the first bus started arriving at 6.30am, ahead of the departure time of 8am
The first buses from Larkin Sentral Bus Terminal that were slated for 9am departure arrived late at the Queen Street Bus Terminal
Many Malaysians have not returned home since March 2020 as quarantine-free travel across the Causeway has been disallowed for most travellers

SINGAPORE — For many Malaysians in Singapore, the launch of the vaccinated travel lane (VTL) on Monday (Nov 29) between the two countries will mean joyful reunions but for some, it may be a tearful final reunion.
Malaysian Koh Mee Seng, who was on the first bus back to Johor from Woodlands Temporary Bus Interchange, said that opening up the land border for vaccinated travellers was a godsend.
The 54-year-old was on her way home to visit her 83-year old mother who is hospitalised with Covid-19.
The doctors have warned her family to "prepare for the worst", Ms Koh said, as she teared up several times while speaking to TODAY and waiting to board the 8am bus.
Her two teenage children with whom she resides in Singapore used three laptops and three mobile phones to help her book a ticket home.
"I hope she can wait for me to be by her side," Ms Koh said.
The housewife, who is a long-term pass holder from Malaysia, said that she is also looking forward to seeing her husband and siblings whom she has not seen since borders between both countries closed in March last year.
The first bus serving vaccinated passengers on this travel scheme pulled out of the Woodlands interchange at 8am sharp on Monday.
Last Wednesday, the two Governments announced that Singapore's Transtar Travel and Malaysia's Handal Indah, which is also known as Causeway Link, have been appointed as travel agents to run designated buses between Singapore and Johor Baru.
For a start, each operator will make 16 trips from Malaysia to Singapore and 16 trips the other way daily, with each bus carrying up to 45 passengers a trip.
Up to 2,880 travellers are expected to travel both ways daily, a far cry from the more than 100,000 who used to make their way across the causeway pre-pandemic. However, the Singapore Government has said that it will review the daily quota on a weekly basis.
The bus tickets went on sale from 8am last Thursday and passengers have to buy their tickets at least three days before the departure date.
Quarantine-free travel across the Causeway has been impossible for most travellers since March last year.
Vaccinated travellers under this land travel scheme must be citizens, permanent residents or long-term pass holders of the country that they are entering. They will need to do Covid-19 tests as part of the clearance process.
WOODLANDS TEMPORARY BUS INTERCHANGE
At Woodlands Temporary Bus Interchange, passengers for the very first designated bus started arriving as early as 6.30am ahead of the first departure at 8am.
The situation was orderly, with passengers queuing at one of the berths to check in at a booth set up by Transtar Travel.
They had their documents checked and were issued stickers to indicate that they were travelling on the appointed bus.
At 7.30am, passengers were ushered to queue up at another berth as the bus pulled into the bay.
Passengers who spoke to TODAY said that the check-in process was smooth. Many were looking forward to visiting loved ones, with some also intending to surprise them.
One of them was Mr Kavin Raj Gunalan, a 24-year old operations manager at an IT company.
He returned to Singapore in July to renew his work permit. However, the strict regulations meant that he was unable to return to his home in Johor Baru.
"I'm really excited to go back. My grandparents have no idea I'm going back so I'm going to surprise them," he said. 
He added that he plans to work remotely from Malaysia before returning to Singapore next February.
While the check-in process was smooth, Mr Kavin said that he hopes the process of applying for a vaccinated travel pass will be simplified so that it will be easier for older and not-so-tech-savvy travellers to apply.
Mr Kavin said that it took him several hours to figure out and upload the necessary documents to have his pass approved.
Passengers on the second bus from Woodlands, which departed at 8.40am, also arrived at the bus interchange early in anticipation of their first journey home in a while.
Ms Peggy Koh Pei Gi, a 28-year-old, who had a ticket for that bus, arrived at the interchange at 6.30am.
Ms Koh, who is a money changer, has not seen her newborn daughter since June last year and can only watch her daughter grow up from afar over video calls.
She returned to Johor last February to deliver her firstborn and stayed on for three months during her maternity leave.
She then decided to return to Singapore after her leave because she did not think the borders between both countries would be closed for long.
"I thought by the end of 2020 it would open up but it ended up only opening after more than a year," she said.
"Last time, she was still a baby but now she can run already."
DELAY AT QUEEN STREET
Over at Queen Street Bus Terminal, there was a delay in the arrival of the first buses from Johor's Larkin Sentral Bus Terminal.
The first bus carrying two passengers, which was supposed to arrive at 9am, pulled up into the terminal at 9.48am and the second, which had one passenger, shortly after at 9.50am.
Due to the delay, spare buses that were on standby were deployed at 9.17am and left at 9.28am.
Two buses are deployed for each time slot with a capacity of about 20 passengers a bus, seated in the rear of the bus, leaving the front half empty.
Mr Lim Han Weng, 69, founder of Causeway Link who was at the bus terminal on Monday morning, said: "The ventilation is better and passengers would also prefer a more comfortable ride where there is some distance (between seats).
"It's an extra cost to us (to have two buses a slot) but we think of the comfort of the passengers." 
When asked what could have caused the delay, his wife, Madam Bah Kim Lian, 69, said that there could be a number of factors.
"It's the first day so there are bound to be these delays, because previously, there were no documents (passengers had to show), they can just pass through. But from tomorrow it should be okay," she said.
Malaysian Sherry Sim, 45, a teacher, arrived on Queen Street with her niece at 6.50am, ahead of the 9am bus departure.
Ms Sim, who had not returned home since February last year, would cross the Causeway every weekend before travel restrictions were imposed.
"I just can't wait to get home," Ms Sim, who was first in line, said.
Before boarding the bus, commuters had their bus ticket, antigen rapid test results, vaccination certificate, passport and temperature checked.
Staff members present also made sure that they had downloaded the MySejahtera application on their mobile phone.
Technician Mohamad Farhan, 30, told TODAY that his return home would be a surprise for his wife and two daughters, aged one and three, whom he has not seen since August last year.
"My wife knows about the VTL but I didn't tell her I was going to (go home) because I didn't want to give her hope since I didn't know if I could get a ticket and it could have been cancelled at the last minute, too," he said.
Along with his roommate, Mr Farhan spent last Thursday morning refreshing one laptop and four mobile phones to get their hands on tickets to return home.
"I'm excited and I can't wait but I'm also scared. My kids don't know me. They might not recognise me," Mr Farhan said. He has worked in Singapore for more than five years and would commute daily in the past.
Nurse Yunisha Krishnan, 33, who gave birth in Singapore on Oct 29 last year said that she was excited for her family back home to see her son for the first time.
"I was always planning to give birth in Singapore but I thought that family members would join us here. Being alone with a new baby was not easy.
"During the confinement period, my husband was taking care of me, using YouTube to look for recipes to cook for me," Ms Yunisha said.
Mr Lim of Causeway Link cautioned that all passengers should arrive on time so that they do not risk being left behind.
"There were quite a few cases today. The buses can't wait for long because we don't want to have delays," he added.
ARRIVING FROM MALAYSIA
Over at Woodlands Checkpoint, Singapore citizens and permanent residents from Malaysia were making their way back to Singapore.
The number of travellers who were Singapore-bound appeared to be far fewer than those who departed from Singapore for Malaysia on Monday morning.
Two Transtar Travel buses arrived at the checkpoint at 12.50pm on Monday carrying about 15 passengers each.
Among them was Mr Bruce Tum Chen Wee, a 42-year-old Singaporean who serves as a church pastor in Malaysia.
He was accompanied by his wife, who is a Singapore permanent resident, and their two children aged 12 and seven.
Mr Tum said that he was last in Singapore during the Chinese New Year period last January and was glad that border controls opened up during the year-end period.
"It's great to bring the kids here during the school holidays," he said.
His family intends to visit Universal Studios Singapore theme park and meet up with friends during their five-day stay here.