Some F&B places find ways to manage 'confusing' Covid-19 rules, fast-food outlets stick to 2-person cap to play safe
SINGAPORE — Several fast-food chains were limiting two diners to a table but restaurants mostly remained open to customers of between two and five on Monday (July 19), the first day of revised infection controls where different restrictions apply to vaccinated and non-vaccinated patrons.
Some restaurants and customers said the revised rules for dining to control Covid-19 spread are confusing
Other F&B places said it may be easier to still limit to two a table but that would hit earnings
Several fast-food joints decided not to increase group size for safety reasons
Most restaurants interviewed said they did not face much difficulty in checking vaccination status of patrons
Hawker centres linked to infected fishmongers were not seeing many customers
SINGAPORE — Several fast-food chains were limiting two diners to a table but restaurants mostly remained open to customers of between two and five on Monday (July 19), the first day of revised infection controls where different restrictions apply to vaccinated and non-vaccinated patrons.
Though confused by the latest rules for the various groups of customers in terms of their vaccination status, restaurants told TODAY that they spent the weekend digesting the information and managed to figure things out. 
Fast-food chains such as McDonald's have opted to still keep to the two-person limit but restaurants said that they cannot afford to do so because it will hurt their bottom line. 
Burger King, Carl's Junior and KFC also told TODAY that they are sticking to a maximum of two diners out of safety concerns.
Ms Lynette Lee, general manager of KFC Singapore, said: "This has not been an easy decision, especially since everyone has been working so hard to make sure things get better."
Mr Edwin Tan, owner of Japanese restaurant Yoyogi located on Amoy Street, said that he, too, is limiting table bookings to just two people because it would be "tedious" checking everyone's mobile phones to find out their vaccination status from the TraceTogether mobile application. 
For the chain of restaurants under the Tung Lok group, they took a middle-of-the-road approach by limiting entry to just three groups of customers: Two individuals, five vaccinated adults or two vaccinated adults with two children. 
Mr Andrew Tjioe, chief executive officer of the chain, said that since there can be many permutations of customer groups, his frontline staff members would have to spend a lot of time checking and explaining so he has narrowed the groups to accommodate what they could handle.
Last Friday, the Government's Covid-19 task force announced that a two-person limit at eateries will be re-imposed from Monday for people who are not vaccinated. The new restrictions are to last until Aug 8.
At hawker centres, food courts and coffee shops, the two-person cap will remain in place regardless of patrons' vaccination status because they have a more porous setting and generally do not impose compulsory check-in with the SafeEntry contact-tracing system. 
Customers are allowed to eat together at up to five a table if:
They are fully vaccinated and two weeks have passed since their second dose of the Pfizer-BioNTech or Moderna vaccines

They have recovered fully from a coronavirus infection in the past 270 days

They are not vaccinated but have a valid negative test result for Covid-19

They are children aged 12 and below and from the same household as the adults, but they cannot make up more than half of the group if they are not from the same household
They may do so only at eateries with mandatory SafeEntry check-in system.
The changes to the restrictions last week were due to a wave of infections from KTV nightclubs.
The KTV cluster, which has 192 cases as of Monday, has now been linked to another cluster at the Jurong Fishery Port, Health Minister Ong Ye Kung said on Monday. 
The fishery port cluster was first confirmed last Friday by the Ministry of Health and has ballooned to 162 cases as of Monday.
Mr James Ang, co-owner of Enjoy Eating House and Bar in Jalan Besar, said that limiting diners to only groups of two would "make everything simpler" but the restaurant could not turn down the extra income given the losses sustained during the pandemic.
Mr Celvin Chiang, manager of Canchita Peruvian Restaurant at Dempsey Hill, said that being able to have larger groups of customers will benefit the business during these challenging times.
"Although the process (for admitting up to five people) is a little more complicated, we will be able to manage this well if everyone does their part," he added.
Most owners of food-and-beverage (F&B) outlets approached by TODAY said that there was minimal disruption to operations on Monday despite the new rules and they did not face much difficulty in their checks. 
They did not have to turn away diners as well. 
NO BIG CROWDS AT 6 HAWKER CENTRES
Just a week before on July 12, up to five persons were allowed at hawker centres and some in the Central Business District reported that business was still sluggish.
On Monday, when TODAY visited six markets-cum-hawker centres linked to fishmongers found to have Covid-19, there were many empty tables even during the peak period.
They were Geylang Serai Food Centre, Amoy Street Food Centre, Whampoa Food Centre, Geylang Bahru Food Centre, Redhill Market and Food Centre, and Telok Blangah Crescent Block 11 Food Centre.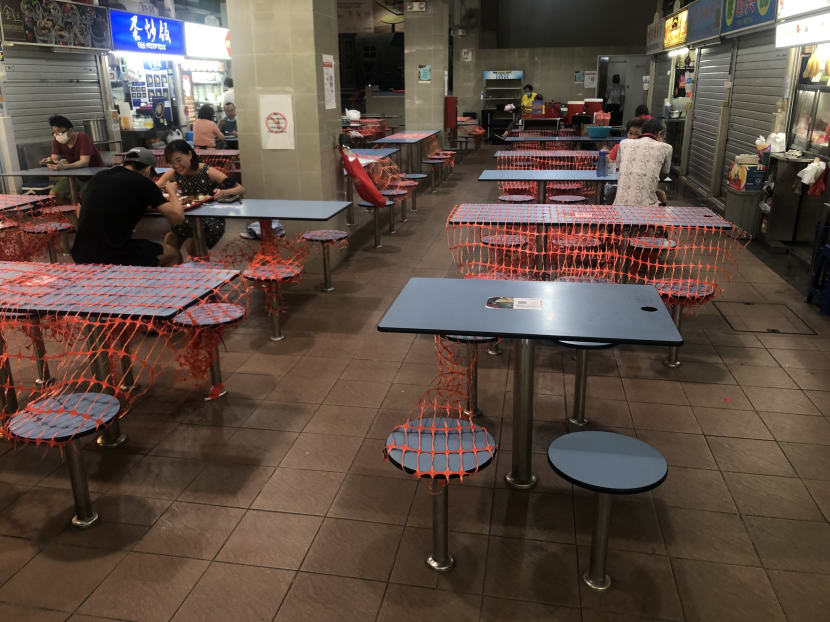 Stallholders and customers at these hawker centres said that although there was little disruption adapting to the stricter restrictions, some diners felt that the new rules were confusing. 
At Geylang Serai Food Centre, Grab driver Clement Kuan, 49, said that the latest restrictions were necessary given the spike in Covid-19 cases last week.
"It's a good thing to (have them) now, rather than to let our Covid-19 situation get worse," he said, adding that while he was confused by the new rules at first, he saw infographics explaining them online and that made them "easy to understand".
A diner who was having his lunch at Geylang Bahru Food Centre and wanted to be known only as Mr Shakir, 32, said that the new restrictions could be simplified.
"I'm a university-educated man in my 30s and I'm struggling to easily understand the rules, so how do I expect my parents and grandparents to be able to understand them?" the project manager asked.
Hawkers at the markets said that business dropped by up to 50 per cent on Monday compared with last week and that most customers abided by the rules.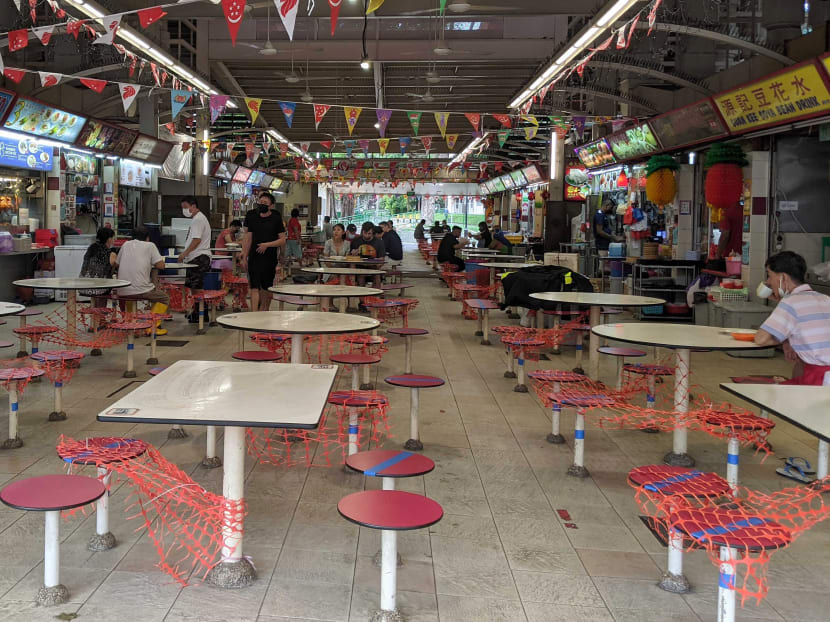 A few hawkers said that the news about fishmongers at markets being infected did not help to ease people's minds about eating out.
Ms Salmah Assan, a 62-year-old hawker at Geylang Serai Food Centre, said: "I'm worried about business... every day, I throw away a lot of food."