Some manufacturing firms face double whammy of rising expenses and lower revenues, as Covid-19 hits
SINGAPORE — Considered as essential services, some manufacturing companies have remained open during the circuit breaker period, but that does not put them in a better position than those that have been forced to shut down temporarily.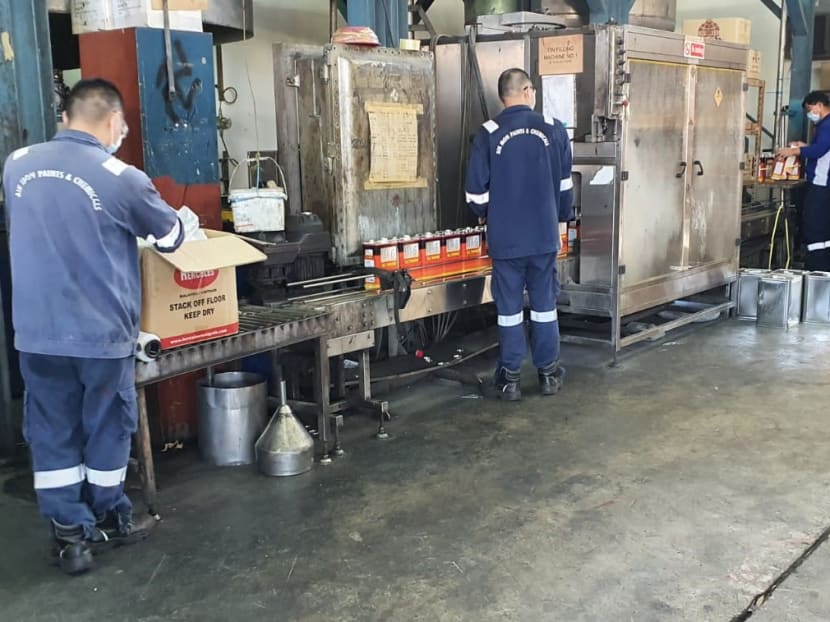 SINGAPORE — Considered as essential services, some manufacturing companies have remained open during the circuit breaker period, but that does not put them in a better position than those that have been forced to shut down temporarily.
Some manufacturing firms are facing rising expenses while struggling to contain their financial losses at the same time, with small- and medium-sized enterprises appearing to be the worst-hit.
Several companies told TODAY that they expect it to be years before they can fully recover. In the meantime, however, they will have to bear the high costs of implementing new ways of working and stepping up hygiene measures at their factories and offices.
Mr Roy Tan, the general manager of Aik Moh Paints & Chemicals, said that the chemical distribution company has seen a 30 per cent drop in revenue in the month of April.
"May will likely be even worse. Factory activities have slowed down tremendously as both Singapore and regional countries are affected by lockdowns," Mr Tan said. The circuit braker period, when social and business activites have been curtailed, began on April 7 and is expected to end June 1.
Mr Tan added: "I am expecting a slow recovery. Even if the circuit breaker ends and we are back to work, the overall demand, especially for export, will continue to slow." 
Mr Ken Lin, managing director of Kawarin Enterprise, a steel servicing and processing company, said that he has observed a 40 per cent drop in orders since the circuit breaker started. "Due to the reduction of non-essential orders, our company is unable to cover production costs." 
Moreover, the company's spending for cleaning services has increased from around S$2,000 previously to about S$8,000 now, Mr Lin said. The sanitising and disinfecting of equipment and general surroundings is now conducted at least twice a week. Thorough cleaning was conducted only once every two weeks before Covid-19.
STRICTER SAFE DISTANCING AND HYGIENE MEASURES
Apart from the frequent cleaning and disinfection, Mr Lin said that his company is also strictly adhering to the Covid-19 guidelines developed by the Singapore Economic Development Board (EDB).
These guidelines include increasing physical distancing in work and break-out spaces, and conducting temperature screening.
Taking it a step further, Mr Lin said that transparent plastic sheets have been put up as a shield to separate working stations.
"We also encourage our workers to take showers in our shower facilities after receiving containers from Wuhan, China after unstuffing the goods from the containers," Mr Lin said.
Over at M Metal, chief executive officer John Kong said that after each temperature screening exercise has been done, workers have to take part in a "water parade" where they have to drink up a bottle of water.
"When you perspire in the hot and humid factory environment, dehydration can set in and that can make you vulnerable to getting sick," he said.
IN THE RED DESPITE GOVERNMENT ASSISTANCE
Mitsuboshi Overseas Headquarters, a Japanese manufacturer of industrial and automotive belts, saw its sales revenue decline by 40 per cent in April.
Mr Mau Teck Hwee, the company's assistant general manager, said: "This downward trend is expected to continue. Operating profit is in the red for April, despite the Government's support through the Jobs Support Scheme, foreign worker levy rebates and levy waivers.
"Outlook remains very grim as many of the car makers are grappling with the impact of the coronavirus that has sapped global demand for vehicles and it takes a long time to recover and return to normal."
On April 6, the S$5.1 billion Solidarity Budget was announced by the Government with S$4 billion of it set aside to support businesses and workers.
As part of the enhanced Jobs Support Scheme, the wage subsidy for all firms was raised to 75 per cent of the first S$4,600 of each Singapore employee's salary paid in April and May, up from 25 per cent previously.
In addition, help has been given to ease labour costs of employers who have hired foreign workers. There was a waiver of monthly foreign work levy in April, as well as a foreign worker levy rebate of S$750 for each work permit or S-Pass holder.
The Singapore Manufacturing Federation (SMF) has stepped in to help companies innovate their business models through courses such as the Business Model Innovation Industry 4.0 course offered by its Centre for Corporate Learning.
The federation's president Douglas Foo said: "This is an opportune time to innovate work processes, undergo training and upgrade equipment towards a digitalised business model, to be ready to seize opportunities when Covid-19 recedes and the world embraces a new way of doing business." 
SOME COMPANIES ARE WEATHERING THE STORM
But some companies, especially the bigger ones, seemed to have weathered the Covid-19 storm better.
Mr Lim Hock Heng, vice-president and site director of pharmaceuticals supply chain in Singapore for GSK, said: "As we maintained our operations, there was no loss in terms of manufacturing activities. However, there have been increased expenses."
These include the procurement of masks, disinfectants and thermometers, and the hiring of additional company buses for implementing safe distancing. Mr Lim declined to say how much extra was incurred for the pharmaceutical giant.
Another company which remains above water is Amcor Flexibles Asia Pacific. Its Singapore plant is the largest producer of packaging for surgical gloves in the world, used by healthcare professionals on the frontlines.
Mr Scott Jackson, general manager of Amcor SEA Healthcare, told TODAY that the company has a "safety-first culture" and has implemented more measures than what is required by EDB.
These added measures include creating an isolation area for suspected cases and conducting a daily Covid-19 task force meeting to track those on sick leave.
"We also have had extensive accommodation costs for our Malaysian staff, for whom we provide meals, masks, sanitisers and transportation. The cost impact has been at least S$50,000 a month since March just for those and the other safeguards and measures in place to keep our team safe," Mr Jackson said.
Semiconductor manufacturer Micron Singapore has been providing accommodation for Malaysian workers as well since the country started its Movement Control Order in March.
Mr Chen Kok Sing, Micron's corporate vice-president and Singapore country manager, said: "Micron has also committed to the 90-day no layoffs pledge on April 2. Our pledge builds on our broader efforts to help our employees disproportionately affected by Covid-19, including providing a one-time assistance payment to qualifying team members."
About 74 per cent of the Micron team in Singapore have received a one-time payment of S$850 from the company.