Some parents question why primary schools are resuming in-person classes amid surge in Covid-19 cases
SINGAPORE — Some parents of primary school pupils are wondering why there appears to be a rush for schools to resume in-person classes progressively next week given that Covid-19 cases are continuing to shoot up in the community.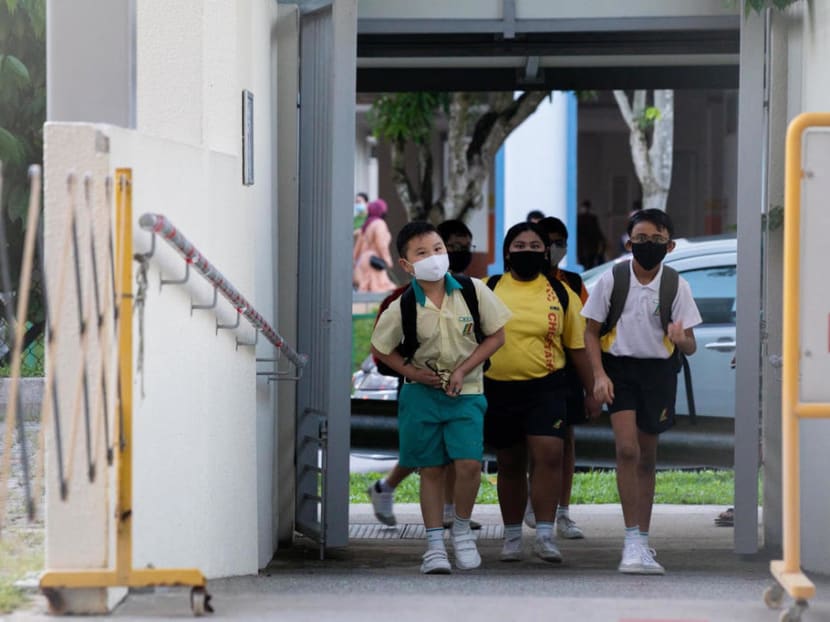 Parents told TODAY that they were not sure why the rush for their children to return to school
Some said they may pull their children out of classes if the Covid-19 situation worsens
Though children do not get severely ill, they worry that their children may carry the disease home and infect others in the family
SINGAPORE — Some parents of primary school pupils are wondering why there appears to be a rush for schools to resume in-person classes progressively next week given that Covid-19 cases are continuing to shoot up in the community.
Among seven parents TODAY interviewed, at least two said that they are prepared to pull their children out of school if the coronavirus situation here takes a turn for the worse.
Others such as those whose children are in Primary 5 are supportive, though, of the decision for pupils to return to school because they will be taking their year-end examinations soon and would benefit from the physical classes.
Some parents suggested allowing just the Pri 5 pupils to resume in-person classes while the rest of the levels continue with home-based learning for at least another week or until cases in the community stabilise.
Others asked if the Ministry of Education (MOE) would consider staggering classes. For instance, schools could have lower primary and upper primary pupils go back on separate days or on alternate weeks to minimise the crowd sizes.
After a period of home-based learning, which was introduced to stem a spike in Covid-19 cases, primary school pupils will return to school for face-to-face lessons progressively next week with various strict safety measures in place, MOE announced on Thursday (Oct 7).
The following week, pupils will go on a week-long break again during the Primary School Leaving Examination (PSLE) marking exercise, which will take place between Oct 18 and 21.
Oct 22 has also been declared a school holiday for primary schools. All primary school pupils will then return to school again from Oct 25.
MOE also announced that the year-end exams for Pri 3 and 4 students will be cancelled to allow more time for curriculum recovery due to disruptions brought about by Covid-19.
The year-end exams for Pri 5 pupils will still proceed under strict infection control measures to give students and parents a better understanding of students' learning progress in relation to the new Achievement Level scoring system before they take the PSLE next year.
The Ministry of Health on Thursday reported 3,483 new cases of infection in Singapore, with 2,783 in the community, 692 in migrant worker dormitories and eight that were imported.
In total, 136 people here have died from complications after contracting the coronavirus, including 35 this month alone.
'TOO RISKY' TO RETURN TO SCHOOL
Parents of Pri 1 and 2 pupils, in particular, questioned the need for their children to return to school when they would only have three days of in-person lessons before the PSLE marking break.
While pupils from Pri 3 to 6 will return to school from Monday next week, Pri 1 and 2 pupils will resume lessons only next Wednesday.
Mr Vijayrel, who is a father of two children, one in Pri 2 and the other in Pri 5, said that he is still thinking of whether he should allow his youngest son to return to school because he is afraid his son may get infected.
Just two weeks before primary school pupils were placed on home-based learning, the school that his children attend had a Covid-19 case, making the risk of infection very real to the 39-year-old sales manager's family.
Mr Maran Krishnan, 49, whose children are in Pri 1 and 3, said that he would be more comfortable with schools reopening if children could be fully vaccinated against the disease.
"The numbers have been increasing over the last few weeks… I'm not really sure it's the right time to (open up). If the kids are vaccinated, I would be more open to let the kids go because we do need to live our lives," he said.
And even though there is evidence showing that children mostly do not get severely ill from the disease, the parents were concerned that they could be carriers of the infection and infect the elders at home.
One parent who wanted to be known only as Mrs Goh said: "It's not just the kids going back to school… There are other people in the family circle to consider. The kids could bring it home, then they see grandma and grandpa (and infect them)." 
DIFFICULT TO WORK FROM HOME
With the year-end examinations fast approaching, parents of Pri 5 pupils were glad that their children could return to school to get much-needed face time with their teachers.
Ms Sharanjit Kaur, 39, a homemaker, said: "It will be nice for my daughter to go to school and do some revision with the teacher before the exam. 
"Especially during this time, they would have no face-to-face time with the teachers, so if they have any issues, questions, it is difficult for them to ask (for help)."
Even though Ms Clarice Lim has fears that her children will get infected or become carriers of the coronavirus and make people at home sick, she acknowledged that it is a challenge to have the grown-ups working from home and two children on home-based learning.
To mitigate the risk on infection, the 40-year-old managing director has not visited her mother, who is 75 years old and has chronic illness, for at least a month.
In response to TODAY's queries, MOE on Friday stressed again that the move to have primary school pupils resume physical classes is aimed at minimising prolonged home-based learning "for the social-emotional development and mental well-being of our students".
"We also recognise the stress and burden that prolonged home-based learning imposes on parents, especially those who are unable to secure alternative care arrangements," it added.
Acknowledging that parents may have "differing views on the measures taken", MOE reassured parents that it will monitor the Covid-19 situation closely and implement measures when necessary to keep schools safe. For example, primary school students are required to perform an antigen rapid test swab before returning to school.
"Schooling remains an essential activity and can be carried out safely with the necessary measures in place," it said.
Education Minister Chan Chun Sing said on Thursday that the return to in-person classes was to allow students to resume face-to-face learning with their peers and reconnect for their socio-emotional development.
"Not all children necessarily have conducive environments for home-based learning. Prolonged home-based learning can also negatively impact many students' academic progress and socio-emotional well-being," he wrote in a Facebook post.
"Home-based learning must thus only be a last resort, to be used in a targeted manner."