After piling on the kilos during circuit breaker, some S'poreans looking to lose the fats in Phase Two
SINGAPORE — When Mr Nazri Sutari won gold in sambo — a martial art — at last year's Southeast Asian Games, he was a lean 70kg.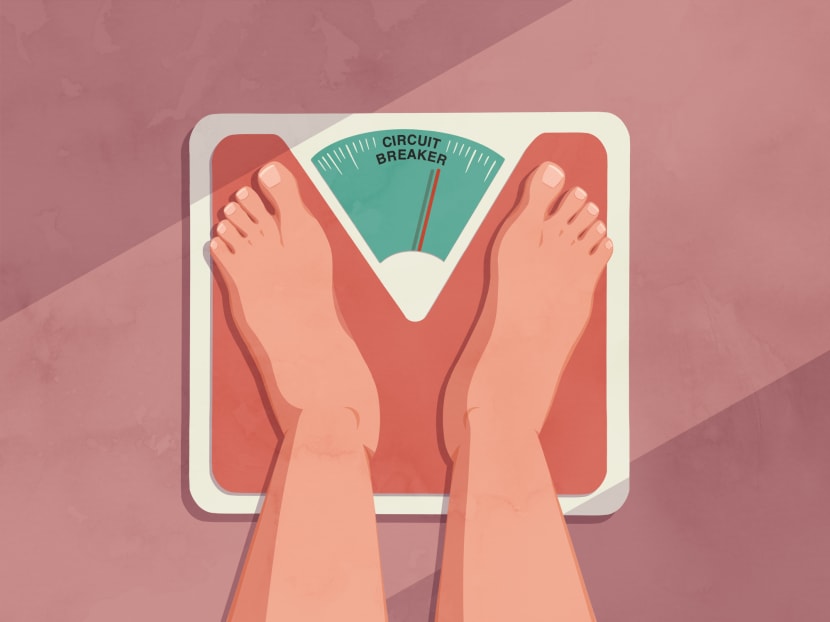 SINGAPORE — When Mr Nazri Sutari won gold in sambo — a martial art — at last year's Southeast Asian Games, he was a lean 70kg. 
While a knee injury sidelined him from intensive training soon after the games, he still maintained a healthy weight of about 80kg. 
That was until the circuit breaker started on April 7, when the full-time mixed martial arts trainer was suddenly unable to coach his clients as all gyms and sports facilities closed to stem the spread of Covid-19. 
His earnings were halved. 
"I didn't cope well with the circuit breaker, as I couldn't train off the anxiety," said the 30-year-old. "I wasn't in a good place." 
To cope, he resorted to stress eating. 
While he used to count his calories and eat a low-carbohydrate diet in the lead-up to competitions, he would pile his plate with rice and lap up dishes such as curry chicken and sambal goreng during the circuit breaker.
Although he conducted lessons via videoconference, he would spend the rest of his free time watching shows and playing video games. 
All this led to weight gain — he now weighs 93kg. 
But with gyms and exercise facilities reopening from Friday (June 19) as Singapore enters Phase Two of its three-stage reopening plan, Mr Nazri is looking forward to losing some of his gains. 
"I am not comfortable with my weight right now. I feel slow and sluggish," he said. "My plan is to go back to basics, build my body up again, so that I am strong." 
His first goal is to return to his weight of 80kg before the circuit breaker.
He is not alone. Others who have gained weight told TODAY that they are looking to shed the kilos when Phase Two begins. 
Several personal trainers also said that some of their clients who have gained weight have booked appointments with them. 
But one personal trainer said that people should not be ashamed of weight gain during this stay-home period. 
Personal trainer Siti Hajar said that unless a person's weight gain leads to serious health problems, it is "human" to gain a few pounds. "During this circuit breaker, nobody should be so critical of anyone, because everyone is going through a difficult time," she said.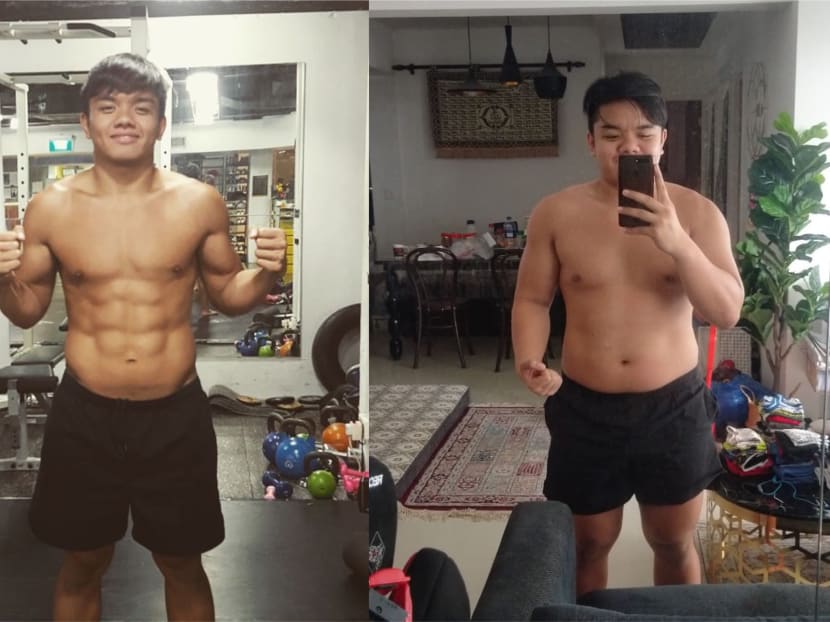 SPORTS FACILITIES SHUT, DIETS IN DISARRAY
Assistant sales manager Allison Tay, 26, said that his weight had also risen from 95kg to 103kg when the circuit breaker measures took effect.
Mr Tay, who had been active in volleyball and badminton, has not been able to meet his teammates to train during the circuit breaker, and his weight has climbed as a result.
"I have been considered overweight for most of my life, so I don't really feel bad or negative about it, just that the additional weight will definitely put more stress on my knee when I go back to playing those sports again," he said.
He is raring to return to the badminton court when Phase Two comes around.
For 23-year-old undergraduate Sarah Jane Lee, a change in diet caused her to put on 3kg during the circuit breaker.  
She began drinking bubble tea more often and has been indulging in unhealthy snacks at home. 
"I do feel insecure at times, despite what people say about your weight being just a number. Unfortunately, it has the ability to (make me) question myself or my accountability when it comes to exercising," she said. 
She looks forward to the reopening of stadiums so she can go for runs, and hopes to do rock-climbing. 
SET ASIDE TIME TO EXERCISE, CONTROL WHAT YOU BUY
Ms Siti, the personal trainer, said that four or five of her clients had gained weight during the circuit breaker and have booked sessions with her. 
Staying home has made it difficult for some of her clients to exercise, as working from home and tending to the needs of young children on home-based learning had usurped much of their time. 
Mr Andrew Cheong, head coach of running group SSTAR.fitness, said that with many people working from home, there are benefits to running or brisk walking outdoors. 
"When your workplace and home is the same physical space, it is difficult to mentally separate the two," he said. "But when you are outdoors, you are removed from that space, which makes it easier to focus on exercise." 
Ms Safiya Tyebally, a personal trainer at One Personal Training, said that fixing a time to exercise is important. 
"If you know the timing, you can arrange other things around it," she said. 
Ms Safiya added that to better keep eating habits in check, consumers must control what they buy.
"Do your own grocery shopping… If you don't want to be munching on chocolate and chips, and things like that, you don't want to be buying all of those things." 
Not everyone who gained weight over the circuit breaker, however, is looking to lose the pounds. 
Graphic designer Natalie, who declined to reveal her last name, said that the circuit breaker had led to her gaining 3kg. She now weighs 51kg. 
Just two years ago, the 25-year-old — who is 172cm tall — was underweight, at 43kg, owing to an anxiety-induced mental health condition. 
In an attempt to put on weight, she consumed food with higher fat content and protein, and in two years, managed to lift her weight to 48kg. 
Her weight gain during the circuit breaker took her above 50kg for the first time. 
She said this was partly because her parents regularly ordered food, such as burgers and chips, for the family, which resulted in her having less control over her diet. 
Her weight gain has kept her spirits up, and she no longer feels faint and can even donate blood.
"I'm very happy as this is something I have been struggling with my whole life," she said. 
"I just feel like I'm so much healthier and I can do more things."