Some workers still unhappy about food at dorms; MOM says it is continually improving the quality
SINGAPORE — After some teething problems early on, the catered food situation at migrant worker dormitories has improved by varying degrees at the different dormitories, foreign workers told TODAY.
SINGAPORE — After some teething problems early on, the catered food situation at migrant worker dormitories has improved by varying degrees at the different dormitories, foreign workers told TODAY.
Some workers said that they had seen a marked improvement in the variety and quality of food given but others said they were still occasionally being given meals that were undercooked or which did not suit their culture.
Minister of State for Manpower Zaqy Mohamad acknowledged in a Facebook post on Wednesday (April 29) that there were some initial challenges in providing meals for these workers though things have "gotten better and are continuing to improve". 
Sharing photos of the catered meals, which were accompanied with compliments from workers, he said that with 200,000 workers from at least half a dozen nationalities, the scale of organising food distribution is "enormous".
He said that despite the enormity of the task, the inter-agency task force dealing with the Covid-19 pandemic has been working to ensure food is delivered on time and that it suits the dietary and taste preferences of the workers.  
The Ministry of Manpower (MOM) said that its officers have been conducting taste tests with different groups of workers given that migrant workers come from different countries. 
It added that it has also been working with both dormitory operators and caterers to "fine-tune the operational details" including when the food is dispatched from the caterer's kitchen to how meals are distributed to workers.
As a result, feedback from the workers was that the food quality and quantity are improving, said MOM.   
Mr Mundla Anil Kumar, 31, who has been a resident at Tampines Dormitory for four years, agreed that the quality had indeed improved. 
Asked what the problem was with the food initially, Indian national who works in the construction industry said: "The vegetable was soggy and there was no gravy." 
However, a week in, Mr Mundla said that there was an increase in the variety of food at his dormitory that was gazetted as an isolation area on April 9. 
He said he now receives Chinese fusion meals as well as vegetarian and non-vegetarian Indian and Bangladeshi meals. 
Fruits and packet drinks accompany his meals. 
Mr Mundla said that while the meals provided are not as good as what he cooks for himself, he acknowledged that it is not an easy feat to cater food on a large scale.  
He added that government officials and the dormitory staff have also been actively seeking feedback on the food from residents through a common WhatsApp chat group.
Residents at Jurong Penjuru Dormitory 2 have also noticed a marked improvement in the quality of their meals. 
Bangladeshi national Rahman Mahbobor, 29, shipyard worker, said that he had been receiving Malay food earlier — a cuisine which he was not used to. 
But lately, he has been provided with Indian food and while it is not the same as his own culture's cuisine, he explained it is a bit more to his liking and more similar to food from his country.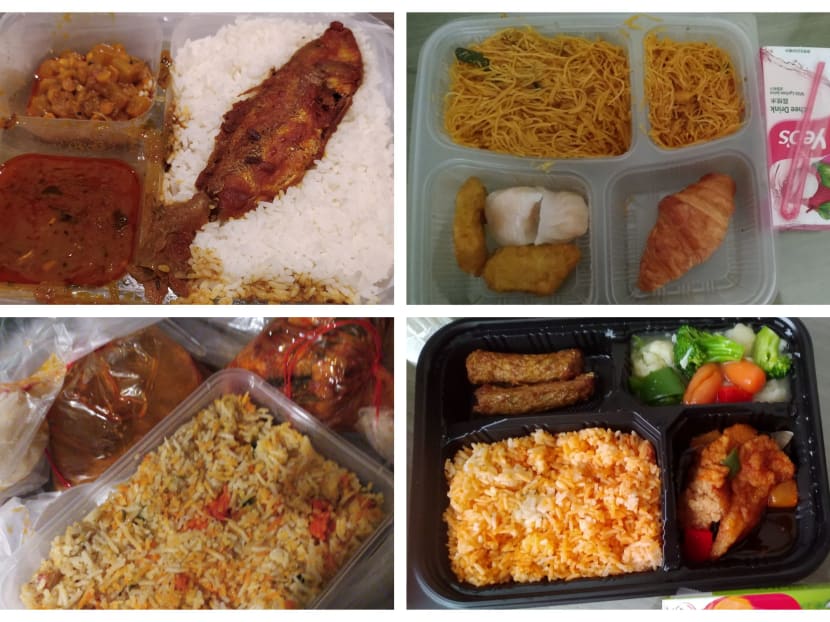 UNIDENTIFIABLE MEAT, UNDERCOOKED RICE 
While some foreign workers are seeing improvements on the meal front, others have not seen any change in quality despite giving feedback. 
Mr Ramadas Prasath, 30, a resident of North Coast Lodge dormitory in Woodlands, told TODAY on Wednesday that he was uncertain what he had been given for lunch. 
The food label said fish but what he saw in his bento box did not resemble it. 
The Indian national added that the rice was undercooked and the portion on some days was also inadequate.
He said that when he and his roommates are given such meals, they resort to eating apples and drinking water instead. 
Mr Prasath stressed that they are not asking for fancy meals and will be satisfied if simple South Indian food is provided. 
This could include rasam (a South Indian soup with a tamarind base), sambar or kootu (lentil and vegetable stews).
Meanwhile, fellow resident Sohrab and his Bangladeshi compatriots have been forcing themselves to eat the food provided for their pre-dawn meals as they are observing the holy fasting month of Ramadan. 
The 32-year-old electrician, who declined to provide his full name, said he does this despite experiencing diarrhoea on April 24, which he attributed to the catered dhal, curry and rice he ate the night before. 
Mr Sohrab was also upset that the food provided was not what Bangladeshis typically eat. On Wednesday morning, for instance, he was served fish curry, dhal and rice. 
The fish, he said, had been boiled and mixed with tomato. While the food was not spoilt, Mr Sohrab said it is not the way Bangladeshis would prepare it. 
"(We) never touch the curry, just eat the rice or dhal," he said.  
While the dormitory management has told him it will improve on the food, Mr Sohrab said on Wednesday he has yet to see significant changes.
Although when TODAY checked in on him again on Labour Day, Mr Sohrab said he was given "good food like chicken and one egg".
Both Mr Prasath and Mr Sohrab said a better option is to let residents cook their own meals but with extra precautions in place to ensure safe distancing.
Over at Tuas View Dormitory, a resident who only wanted to be known as Mr Raj claimed there were several occasions where the food was "spoilt" or the rice undercooked.
On April 21, he said he made the decision to provide feedback to his dormitory's management.  
However, he claimed that when he did, the dormitory's staff reacted with hostility by hurling abusive words.
TODAY has reached out to Tuas View Dormitory and North Coast Lodge for comment.
NEED TO BE CULTURALLY SENSITIVE
Mr Alex Au, the vice-president of the migrant workers' rights group Transient Workers Count Too (TWC2), said that while he has heard differing views on the quality of food provided at dorms, his general sense is that the situation has improved.
While workers were used to settling their own meals prior to the circuit breaker, their meals are now suddenly being handled by dormitory operators or employers who lack experience to cater on a large scale, said Mr Au.
"No wonder when it started, it was total chaos," he said.
Mr Vasudavan Krishnan, a dormitory manager at Westlite Toh Guan, said it was "not possible" to cater to the taste buds of every single nationality in the dorms.
Nevertheless, his dormitory has tried to "best provide options" for different dietary preferences, including arranging for four different types of meals for each meal service.
This includes both vegetarian and non-vegetarian Indian meals, Chinese and Halal options.
Mr Krishnan said that the majority of the dormitory's residents come from different parts of India and Bangladesh and therefore have different cooking styles. 
At the request of the residents, he said the caterer has changed the rice grain to the ponni variety. 
Despite these changes, response among residents remained mixed with some commending the food in the dorm's Whatsapp group chats, while others remain dissatisfied, said Mr Krishnan.
Mr Au also highlighted the criticisms that Singaporeans have laid on migrant workers after pictures of discarded food went viral. 
The photos showed trash bags filled with boxes of Chinese-style food.
He said that Singaporeans needed to be culturally sensitive and that it is hard for most people to immediately accept food from another culture if they have never been exposed to it before.
Some Bangladeshi workers, for instance, have told him that they received mee goreng for their meals simply because they are Muslim.
"A lot of Singaporeans think that Muslim food is the same all over. It is not," he said. "Nobody on the Indian subcontinent eats noodles."
"That is a reflection of the absence of cultural and ethnic sensitivity."