Speaker Halimah Yacob to run for President
SINGAPORE — Her residents erupted into cheers, drowning out Madam Halimah Yacob before she could complete her sentence.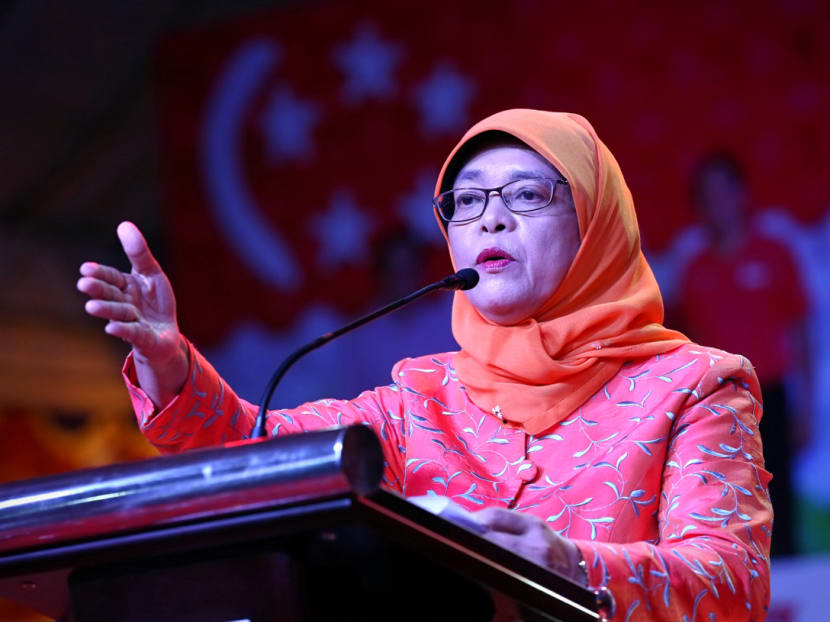 SINGAPORE — Her residents erupted into cheers, drowning out Madam Halimah Yacob before she could complete her sentence.
For months, there had been speculation that the Speaker of Parliament would contest the coming Presidential Election (PE), and on Sunday (Aug 6), Mdm Halimah broke the news to her residents first, at a National Day dinner for Marsiling-Yew Tee Group Representation Constituency (GRC).
She will run for the highest office of the land and, if elected, will become Singapore's first female president.
"I've served a period of 40 years in public service ... Taking part in the Presidential Election will allow me to continue with my service to the people of Singapore, including you, my Marsiling residents, although in a different capacity," said Mdm Halimah in a 10-minute speech.
"I recognise that the position of the Elected President has a tremendous capacity to do good for all Singaporeans and for Singapore. Hence I wish to inform you that I'll be contesting in the coming presidential election." 
Mdm Halimah, 62, said she will hand her resignation letter to Prime Minister Lee Hsien Loong on Monday, and step down as Speaker of Parliament and a Member of Parliament, as required by law. "I'll ask the PM to ensure there are proper replacements for me quickly, especially in the Marsiling division, so there's no disruption to you, my residents," she said.
There are no plans to call a by-election. The GRC's remaining three MPs — National Development Minister Lawrence Wong, Mr Alex Yam and Mr Ong Teng Koon — will split her duties instead.
Mdm Halimah added that she will urge the PM to consider sending another adviser to help out, although she did not make any recommendation.
"I seek your full understanding and support for this decision, which I've taken some time to make because I want to ensure there are proper arrangements for my current duties," she said.
Speaking to the media later, Mdm Halimah said this was a bittersweet period for her, and she was satisfied that she had done her best to improve the lives of Marsiling residents in the past two years. Leading up to Sunday, she had approached "almost all" of the unions, as well as Malay-Muslim organisations, women groups and clan associations, to seek their support. 
She emphasised, however, that she hoped for support from "all Singaporeans", rather than certain segments or groups. 
As part of her busy schedule, she was also at the Association of Muslim Professionals' National Day observance event on Sunday morning, where she said Singaporeans must not let events within and outside the country erode mutual trust.
"Please stay united. We may have different cultures, races and religions, but we're actually one people, and that has kept our society cohesive and allowed us to progress forward," she said, adding that everyone has a role in this. 
"As community partners, we can provide platforms to deepen interracial and inter-religious understanding. As parents, we must nurture our children to have strong values of racial harmony and respect for others."
Asked last night about her housing arrangements, Mdm Halimah, who lives in a public flat, said she was comfortable where she was and would stay put, unless there are other considerations such as security.
"You'll still see me, perhaps in the coffee shop ... eating food. You'll still see me around, but in a different capacity," she told residents.
Accompanying her on Sunday was her businessman husband Mohammed Abdullah Alhabshee, 62. He told reporters that she was "very capable, works very hard, very experienced". "I think she's the right person," he said.
The coming PE has been reserved for the Malay community following changes to the Elected Presidency scheme, passed in Parliament last November to ensure that a reserved election will be triggered when a particular race has not had an elected representative for five consecutive terms.
Mdm Halimah's announcement, coming three weeks after she said she was mulling over contesting, makes her the third person to have stepped forward for the election.
The two others who have announced their plans to contest are Mr Mohamed Salleh Marican, chief executive of Second Chance Properties, and Mr Farid Khan Kaim Khan, chairman of marine service provider Bourbon Offshore Asia Pacific.
Political analysts have noted that Mdm Halimah would be a frontrunner given her track record in public service. She entered politics in 2001, and has been an MP in Marsiling-Yew Tee GRC since the General Election in 2015.
She is, so far, the only one of the trio who would fulfil the PE eligibility criteria up front, having spent at least three years in a key public office.
Mr Khan and Mr Marican may not meet the eligibility criteria. Among other things, the two men's respective companies do not have at least S$500 million in shareholders' equity, which is required for private-sector candidates.
The Presidential Elections Committee can exercise discretion under the "deliberative" track, which qualifies candidates if they satisfy the committee that they have held "similar or comparable position of seniority and responsibility in any other organisation or department of equivalent size or complexity".
Mr Marican told TODAY that he welcomed the competition, and that Mdm Halimah's decision was not a surprise. "It's healthy. A contest is good for Singapore ... In the end, it's the voters who will decide," he said.
Mr Khan said: "I welcome Mdm Halimah's intention to contest in the upcoming Presidential Election."  Additional reporting by Kenneth Cheng