Special contact lenses among methods to slow the march of myopia
SINGAPORE – Given his love for reading and playing with mobile phone games, Mdm June Tok was not surprised when her 12-year-old son Darius developed myopia. What got Mdm Tok especially worried was how fast his myopia progressed.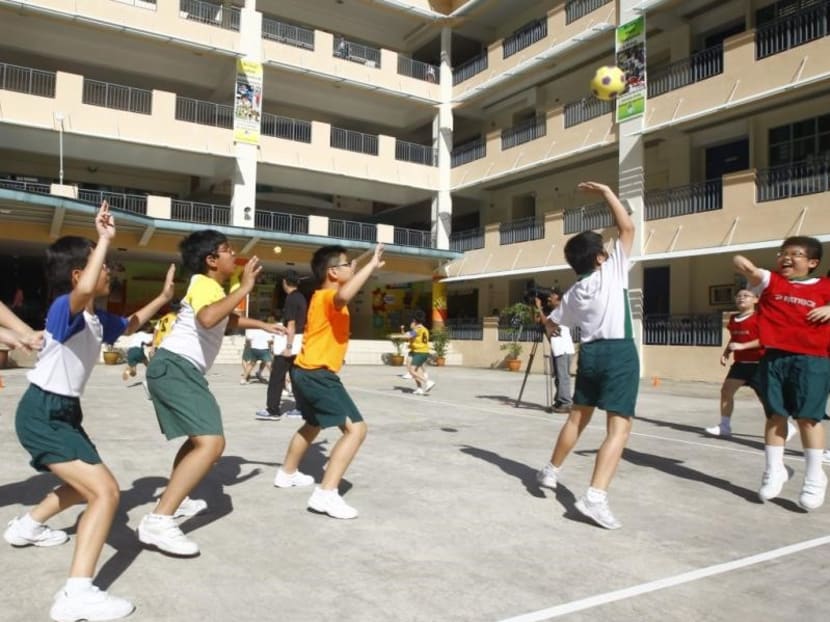 SINGAPORE – Given his love for reading and playing with mobile phone games, Mdm June Tok was not surprised when her 12-year-old son Darius developed myopia. What got Mdm Tok especially worried was how fast his myopia progressed. From around 100 to 125 degrees in each eye two years ago, Darius' eye degree now hovers around 400. Without intervention, it is expected to worsen.
Last month, Mdm Tok – a 47-year-old business owner who has mild nearsightedness – started him on a new treatment in the form of daily disposable soft contact lenses. Called the MiSight 1 day, it is currently the first soft disposable contact lens that has been clinically tested in a three-year multi-centre study and found to slow myopia in children.
Myopia has reached epidemic proportions in Singapore. The condition occurs when the eyeball elongates excessively, causing light rays from distant objects to focus in front of the retina, rather than on it.
About one in 10 kindergarten children, three in five Primary Six students and around four in five 18-year-olds have myopia, according to local studies. With at least five million people in Singapore expected to nearsighted by 2050, experts are currently looking into the development of treatments to help slow its progression.
The MiSight 1 day contact lenses is among the arsenal of intervention methods currently available to help children.
Unlike regular single vision contact lenses, the dual-focused soft lens has alternating vision correction and treatment zones. This allows the user to see clearly while inducing myopic defocus, in which the image is focused in front of the retina to help slow eyeball growth, and with it, myopia degree.
The three-year study, which involved 144 myopic children aged eight to 12 in Singapore, Canada, England and Portugal, found that children wearing the MiSight 1 day had 59 per cent less myopia progression and 52 per cent elongation of the eyeball compared to those wearing regular single vision lenses, said Dr Paul Chamberlain, director of research programmes for CooperVision, the lens' manufacturer.  
The recommended use time is about five days per week, around 10 to 12 hours per day, he said. There are currently no studies on whether it is effective in adults.
While myopia is a highly heritable trait, environmental factors such as less outdoor time, higher levels of education and urbanisation are known to play a key role in its development, said Dr Cheryl Ngo, consultant and head of paediatric ophthalmology and strabismus at the National University Hospital's eye surgery centre.
NUH sees around 500 to 600 children each year for childhood myopia.
Children in Singapore and other urban Asian countries tend to develop myopia at an earlier age and progress faster, which puts them at an increased risk of developing high myopia (above -5 diopters or 500 degrees), said Professor Saw Seang Mei, head of the myopia unit at Singapore Eye Research Institute and professor of epidemiology at National University of Singapore's Saw Swee Hock School of Public Health.
Children at a greater risk of rapidly-progressive high myopia are those with a strong family history or who are born premature, said Dr Ngo. Both Prof Saw and Dr Ngo were involved in the MiSight clinical trial.
Citing local research, Prof Saw said the average age of the onset of myopia here is 8.5 years old, compared to around 12 to 15 in the European population. An increase of over 50 degrees per year is considered "fairly fast" myopia progression, she said.
"If the myopia starts at an early age, below seven years old for example, the child may get high myopia by the age of 11. And this can continue to progress and by the late teenage years, the child may have -8 or -10 (800 or 1000 degrees) and even higher in adulthood," said Prof Saw.
NOT JUST AN INCONVENIENCE
If uncurbed, high myopia increases the child's risk of low vision and sight-threatening eye conditions such as glaucoma, cataract, retinal detachment and myopic maculopathy later in life, said experts.
However, most Singapore parents have low awareness of eye care and myopia control options available for children, said optometrist Zac Poo of I-Vision Optometrist.
"Parents often get glasses that are of little or no help in controlling the progression of myopia, leaving children with high degree myopia when they reach adulthood. We notice that older children are also not really concerned about how well they can see and most of them adopt bad visual habits," said Mr Poo.
There is currently no cure for myopia. But if it has already set in, there are treatments that may be able to slow its progression although further studies are needed in this area, said Prof Saw.
"The earlier the age the onset of myopia, the more there is a need to treat the child instead of leaving the child alone.  We don't want the natural progression to continue for too fast and too long. Parents are encouraged to discuss the various treatment options with eyecare professionals to achieve best results for the child," she said.
TREATMENT OPTIONS
Atropine eye drops have been proven to be effective in slowing myopia progression, by around 60 per cent over a two-year period, said Dr Ngo.
"The effects persisted at a year after stopping medications but there was some rebound in myopia progression," she said. They cost about S$30 to S$50 per month.
Latest research suggests that a lower concentration of atropine (0.01 per cent) may be as effective, with less rebound and fewer side effects such as glare and blurring of near vision.
Myopia-control spectacle lenses, which work on the principle of myopia defocus, have been available for some time and research shows that they reduce myopia progression by about 30 per cent, said Mr Poo. They cost at least 50 per cent more than normal single vision lenses.
Dr Ngo said these lenses do not make a significant difference in preventing myopia progression. Large clinical studies have found that vision therapy and traditional Chinese medicine are not effective in preventing myopia progression, she added.
Besides the MiSight 1 day, another type of contact lens, known as orthokeratology lens, is currently available for myopia control.
These are specially-designed lenses that mould the cornea into a specific curvature while the person sleeps, to enhance vision the next day, said Mr Poo. There are also different zones on the lenses that shape the cornea into different curvature to slow down the elongation of the eyeball, as well as myopia progression, he said.
There is research to show that they can "help slow down the elongation of the eyeball, and therefore lower myopia progression, by around 50 per cent", he said. Treatment costs around S$2,000 for first-time wearers and from S$1,000 for subsequent lenses, said Mr Poo.
The treatment regimen, which is approved by the United States Food and Drug Administration, must be carefully monitored and followed up by an optometrist, and patients are required to undergo regular follow-ups for the treatment to be successful, said Mr Poo.
NUH does not offer orthokeratology treatment as there are potentially serious and vision-threatening side effects that may be associated with its use, said Dr Ngo.
When using contact lens, parents must first ascertain that their child is mature enough and ready. Improper use of contact lenses can cause serious complications that may cause permanent vision loss, said Dr Ngo.
The child should demonstrate good personal grooming habits, be responsible and can clearly voice out any issues he may encounter, said Dr Ngo. The lenses should be properly fitted by a certified eyecare practitioner and proper cleaning and disinfecting of lenses is very important, she added.
WHAT ELSE CAN PARENTS DO?
To prevent myopia, children are encouraged to spent time outdoors, for more than two hours a day, said Prof Saw. Dr Ngo said that children under the age of two should not have any exposure to handheld devices.
Mr Poo advised parents to send their children for a full eye examination at six months, 18 months, three years and once or twice every two years subsequently, although children from kindergarten up to Primary Six are screened yearly in school to rule out refractive errors.
"The screening is a visual acuity test that shows how well the child can see. Children with other vision systems abnormalities, hyperopia or astigmatism may be missed during these screenings. In addition, only children who are able to read and respond to instructions can be screened," said Mr Poo.
It is also important for children to get a proper spectacle lens prescription once myopia is detected, he said.
"It is not true that by prescribing a lower degree, the child's myopia will remain low and not increase. On the contrary, there are studies to prove that this will only cause the progression of myopia to increase," said Mr Poo.
Mdm Tok, who pays around S$150 every month for two boxes of the daily disposable contact lenses, said Darius got the hang of wearing contact lenses in two to three days. She said the high price tag would be "worth it" if it can help control his fast-progressing myopia.
"Hopefully, the contact lenses will be able to stop the myopia from increasing so rapidly. If it continues to worsen at this rate, what's going to happen to him? I'm worried his myopia might lead to other serious vision issues in the future," said Mdm Tok.