S'pore can become the best place in the world to age in: Tan Chuan-Jin
SINGAPORE — Help make Singapore the best place in the world to retire and grow old in — that is the rallying cry People's Action Party (PAP) Seniors Group chairman Tan Chuan-Jin has issued to Singaporeans as the nation confronts the challenges brought about by an ageing society.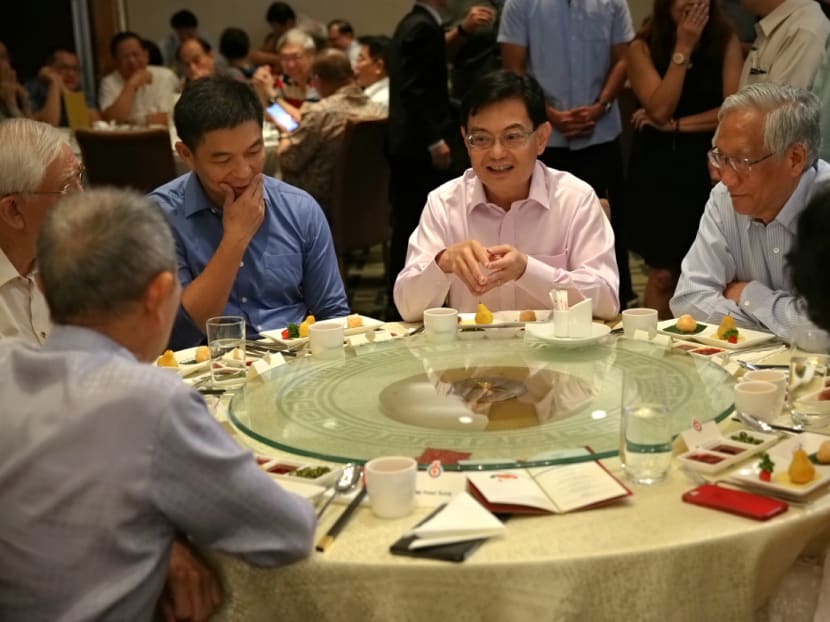 SINGAPORE — Help make Singapore the best place in the world to retire and grow old in — that is the rallying cry People's Action Party (PAP) Seniors Group chairman Tan Chuan-Jin has issued to Singaporeans as the nation confronts the challenges brought about by an ageing society.
Since ageing is inevitable and will affect everyone, Singaporeans should "fully embrace it and make it work for us all", Mr Tan, who is also the Speaker of Parliament, said on Sunday (Oct 13).
He also called for the narrative on ageing to be "reframed".
"Ageing should not be perceived as a problem that must be managed — such a negative narrative can become self-fulfilling," said Mr Tan.
"Instead, we should boldly reframe our narrative and create a positive agenda."
He was speaking to around 420 activists from the PAP Seniors Group, which was formed in 2013 to champion elderly issues, at Peach Garden restaurant in Hotel Miramar.
At the event, Mr Tan and PAP first assistant secretary-general Heng Swee Keat launched a handbook that compiles all government schemes and initiatives meant for seniors into a single guide.
This is to help PAP activists explain complicated policies to residents, such as CareShield Life and the Central Provident Fund contribution rates.
Expanding on his call to "reframe the narrative", Mr Tan later told reporters that Singapore could potentially risk seeing ageing as an imposition on society.
"We call it the Merdeka Generation Package, for that particular generation. What struck me was the term itself. Merdeka means freedom and independence. Why don't we look at the next phase of our lives as really the best years ahead of us? Let's make it that way," he said.
That would mean asking questions about how to support ideas for elderly-friendly policies, and how to enable the community to step up to provide the right environment and embrace the various initiatives that can make it a reality, he said.
He cited ideas that several PAP Members of Parliament have carried out in their individual wards, such as MP Lim Swee Say's social work programme in Bedok, and Fengshan MP Cheryl Chan's communal efforts to detect dementia in elderly residents.
Noting that there will be more seniors in the years to come, Mr Tan said there is potential in duplicating and upscaling these ideas to help mitigate issues concerning the ageing demographic.
With active lifestyles, even the gig economy — involving temporary work such as food delivery riders and private car hire transportation — will not just be the domain of the young, he said.
"Imagine, how exciting this can be? If we can really empower ourselves, we will be free and independent to live our lives fully. We will all truly become the Merdeka Generation, because that is what Merdeka means — free and independent," said Mr Tan.
Asked whether the release of the PAP handbook was meant to coincide with the impending General Election, Mr Tan said the PAP Seniors Group has been working on this initiative for the past year, while tackling ageing issues has been a feature in many years' Budgets.
"I think we're getting sharper at understanding the concerns. A lot of people (and PAP activists) are now stepping forward, participating in focus groups... I don't see that stopping. Election or no election, these initiatives need to be introduced, and more importantly, be realised on the ground."
THE ROLE OF PAP SENIOR ACTIVISTS
In his speech, Mr Heng, who is also the Deputy Prime Minister and the Minister for Finance, urged the PAP activists to help explain recent policy announcements for seniors and listen to their feedback. This, he said, will help the fourth-generation PAP leaders develop better policies.
He said that the PAP Seniors Group's mission of maintaining links with party activists and mentor younger ones is critical, describing his own experience of entering politics in 2011 and learning from his predecessor in the Tampines Central ward, Mr Sim Boon Ann.
Describing his stroke incident in 2016, Mr Heng said Mr Sim had offered his help to take over his MP duties in Tampines at weekly meet-the-people sessions, despite having retired already.
"I know from my experience with Boon Ann that the gift of a mentor is priceless… You are living proof that even as one generation hands over to another, the contribution of the previous generation remains invaluable," he said.
Likewise, Singapore also owes "an enormous debt of gratitude" to all past generations of Singaporeans.
He said that Singapore was fortunate that past generations had the foresight to steward a nest egg — the National Reserves — that is the biggest source of government income for Singaporeans today, through the net investment returns contributions.
"They toiled and sacrificed to make Singapore into what it is today, and placed Singapore on a firmer footing for the future… We must honour our seniors with our care for them, just as they took care of us," said Mr Heng.
Correction: A previous version of this report cited Mr Tan Chuan-Jin as saying that he was struck by how the Merdeka Generation could potentially be seen as an imposition on society. This is incorrect. What Mr Tan said was that Singapore could run the risk of looking at ageing as an imposition. Mr Tan's reflection on the term "Merdeka" was in reference to it being within the name "Merdeka Generation Package". We're sorry for the errors.