S'pore economy grows 5.2 per cent in Q3, full-year forecast raised
SINGAPORE — The Republic's economy expanded 5.2 per cent year-on-year in the third quarter, beating advance estimates.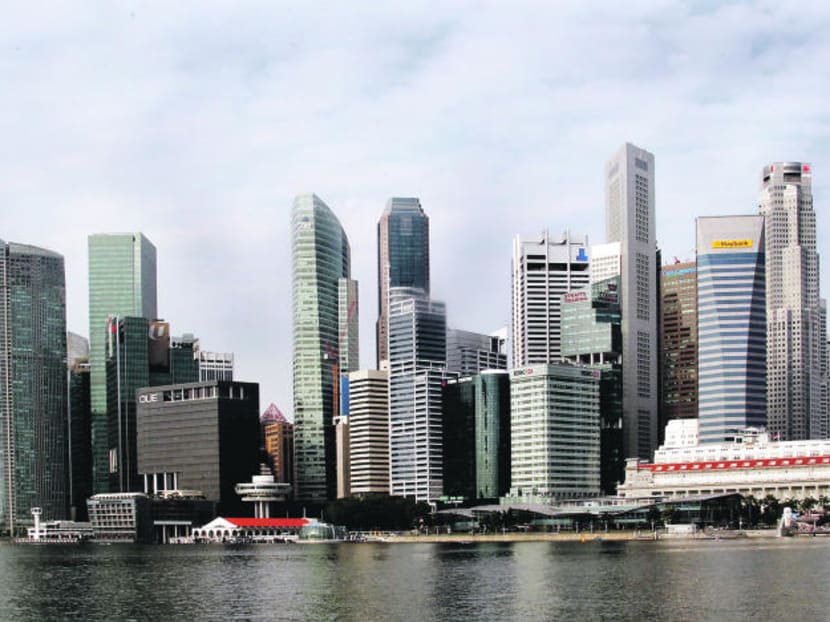 SINGAPORE — The Republic's economy expanded 5.2 per cent year-on-year in the third quarter, the fastest pace in more than three years and beating an advance estimate of 4.6 per cent.
The robust showing between July and September prompted the Ministry of Trade and Industry (MTI) to raise its full-year forecast for gross domestic product (GDP) growth this year to between 3 and 3.5 per cent, up from 2 to 3 per cent.
While the performance of the Singapore economy so far this year has flown in the face of predictions at the start of the year — thanks to a better-than-expected rebound in global trade — experts sounded a note of caution for 2018. For now, they expect next year's economic growth to be slightly lower compared with this year.
For 2018, MTI is forecasting economic growth of between 1.5 per cent and 3.5 per cent. It added that while global growth is expected to pick up marginally on the back of stronger growth in the United States as well as some emerging markets and developing economies, growth in several of Singapore's key external demand markets such as China and the eurozone is projected to ease.
The economists' cautiousness was reflected in the projection for non-oil domestic exports (Nodx) by International Enterprise (IE) Singapore. The agency expects Nodx to expand by 0 to 2 per cent next year. In comparison, Nodx is expected to grow by 6.5 to 7 per cent this year, with IE Singapore revising its earlier forecast of 5 to 6 per cent.
CIMB's economist Song Seng Wun said: "There're still many question marks about whether technology changes will continue to drive demand. For now, IE is preferring to err on the side of caution (for 2018)."
He added that next year's economic performance could match the growth in 2017, barring geopolitical risks. "Looking at the forward orders for businesses, it looks encouraging. The higher base this year may bring down year-on-year numbers for next year, but services have shown signs of broadening out." He noted that as a mature economy, Singapore's long-term economic growth trend is around 2.5 per cent a year.
UOB's economist Francis Tan said that the growth of the semiconductor segment, which peaked in April, could slow down next year. "But this does not mean that the sector will contract," he reiterated.
The economists attributed the exceptional economic growth this year — in the context of a mature economy — to a cyclical impact from global trade recovery.
Earlier on Sunday, Prime Minister Lee Hsien Loong said that economic growth this year might exceed 3 per cent, thanks to the pick-up in global economy and an uptick in Singapore's productivity.
The manufacturing sector was the performer of note for the third quarter. It expanded by 18.4 per cent over the same period last year, which is better than the advance estimates of 15.5 per cent. All clusters within the manufacturing sector expanded, with the exception of the transport engineering cluster, which continued to register a decline in output on the back of sustained weakness in the marine and offshore engineering segment.
Services producing industries grew 3 per cent from July to September, compared to 2.5 per cent the previous quarter. Most of its segments registered year-on-year growth except for accommodation and food services, which fell by 2.1 per cent.
The construction sector shrank 7.6 per cent, following the 9.1 per cent decline in the previous quarter, due to weakness in both private and public sector construction activities.
GROWTH IN THE REGION
The MTI said that external-oriented sectors such as manufacturing are projected to continue to expand at a more modest pace, and support growth for the rest of the year. Domestically oriented sectors such as the health, education and social services are also expected to remain resilient.
The stronger-than-expected performance was quite a surprise this year for analysts. Economists had seen first signs of a trade recovery at the end of last year, but were still "keeping their fingers crossed" on the upswing. Now, with the outperforming manufacturing sector and broader-based recovery into the services sector, they have adjusted their predictions of a full-year growth at 3.2 to 3.5 per cent.
Maybank Kim Eng's economists Chua Hak Bin and Lee Ju Ye said that Singapore has joined other Asean countries in showing robust performance in the third quarter. GDP growth in Malaysia, the Philippines, and Thailand also beat "consensus estimates", they noted.
Growth here is broadening more firmly from manufacturing and external-oriented services to the domestic economy, such as information and communications, and business services, they added.
UOB's Mr Tan said that the "bounce up" in global trade since the second half of last year had spilt over positively, and particularly, to export-oriented Asian economies.