S'poreans' co-operation with Govt, trust in mainstream media 'a great help' in managing Covid-19: PM Lee
SINGAPORE — As Singapore works to stem the spread of Covid-19, the people's co-operation and trust in the mainstream media have been a "great help", Prime Minister Lee Hsien Loong has said.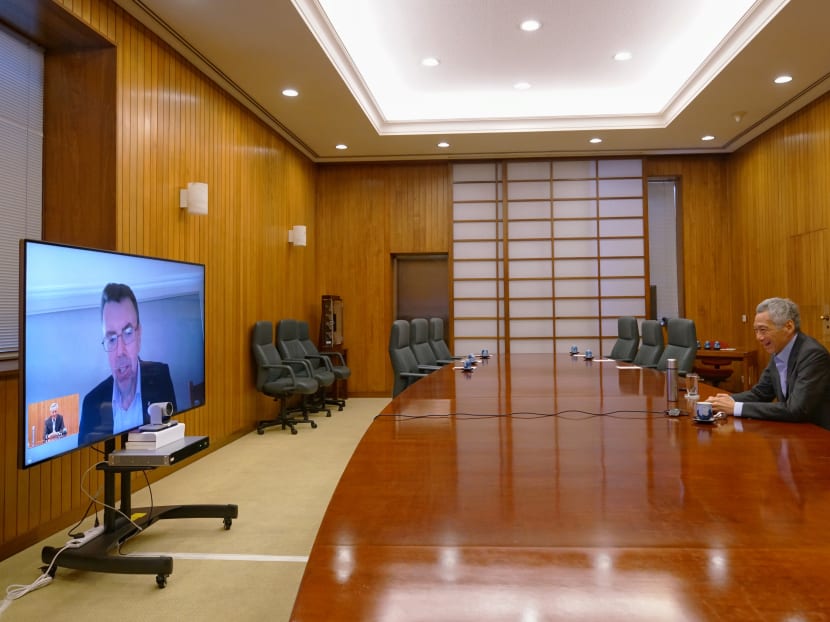 SINGAPORE — As Singapore works to stem the spread of Covid-19, the people's co-operation and trust in the mainstream media have been a "great help", Prime Minister Lee Hsien Loong has said.
In an interview with The Australian newspaper published on Monday (March 23), Mr Lee said: "It is a great help for us that people listen to the Government, they trust the mainstream media, they accept our explanations, and they appreciate the fact that we have gone to enormous lengths to be transparent and to explain to people in a timely way what is happening, where they have to take precautions, what the prospects are going to be."
Singapore has so far recorded more than 450 Covid-19 infections and two deaths.
Mr Lee, who gave the interview last Friday via video-calling service Skype, also said it had been helpful to go into the health crisis with "some social capital and some trust". But he added that Singapore would have to build on these during the outbreak.
If it does not, the city-state would be in "deep trouble very quickly" when people start to doubt what they are told or think that facts are being withheld, he said.
"We are trying very hard to stay ahead of the curve, because every day, new things happen. Each time we prepare a speech, we start working a week beforehand, and before the speech can be delivered, it has to be changed 20 times," said Mr Lee.
He was responding to a question on whether Singapore's success in containing the disease reflects on the social spirit of Singaporeans and shows that they are more co-operative with the authorities than citizens of other countries.
S'PORE HAS NOT 'SUCCESSFULLY PREVENTED' TRANSMISSION
Asked how Singapore had successfully prevented transmission of the disease — which has sickened more than 300,000 worldwide — Mr Lee would not go so far as to say that Singapore had achieved this.
"I would not say we have successfully prevented (transmission)… I would say so far we have reasonably successfully hindered the transmission," Mr Lee said.
This was through a combination of measures, including encouraging people to monitor their health and visit a doctor if they are ill, setting up a network of clinics providing subsidised treatment and medication, and contact-tracing.
The people, too, have co-operated. Many companies, for instance, have activated their business continuity plans, allowing employees to do split shifts or work from home.
While Singapore has done its best to respond to the outbreak, it is "under no illusions that the problem is over at all", Mr Lee said.
"If you take your eyes off it for a moment, suddenly I have an outbreak, like what happened in South Korea, and I will be in a perilous situation. It can happen to us at any time," he added.
South Korea has about 9,000 Covid-19 infections and more than 100 deaths.
UNREALISTIC FOR S'PORE TO DISCONNECT FULLY FROM THE WORLD
As countries around the world fight Covid-19, questions have been raised over the resilience of their supplies of food and other essentials.
Mr Lee was asked if the health crisis would make people wonder if elements of globalisation had gone too far, if countries should build more of their own capacity, and if the outbreak would have implications for the free movement of people.
Mr Lee said the logical extreme of a completely borderless world, where there is complete dependence on one source for important items, such as food, and where people and goods move freely, would "come under very searching scrutiny".
In Singapore, Mr Lee said the people would have to ask what the country would be short of in a crisis.
"Certainly, you have to ask whether your food supplies are secure. Then you have to ask, what is it which I can do to secure myself?" he said.
"I cannot go back to a situation of autarky. So you need some diversification, you need some fire breaks, you need some checks on movements of people."
Even so, Mr Lee said Singapore would not want to return to a situation where the country disconnects itself completely.
"Even in 1917 and 1918, in the global flu pandemic, there was not that degree of globalisation then and yet it swept the world.
"So, to shut yourself off and hope to become impregnable, I do not think it is a realistic approach."
Join our Telegram channel to get TODAY's top stories on mobile: