Squash body concerned over lack of replacement for Kallang Squash Centre, which closes in 2021
SINGAPORE — The national governing body for squash has voiced concerns about the absence of a replacement for the Kallang Squash Centre, which is set to close by 2021 ahead of a major revamp of the precinct.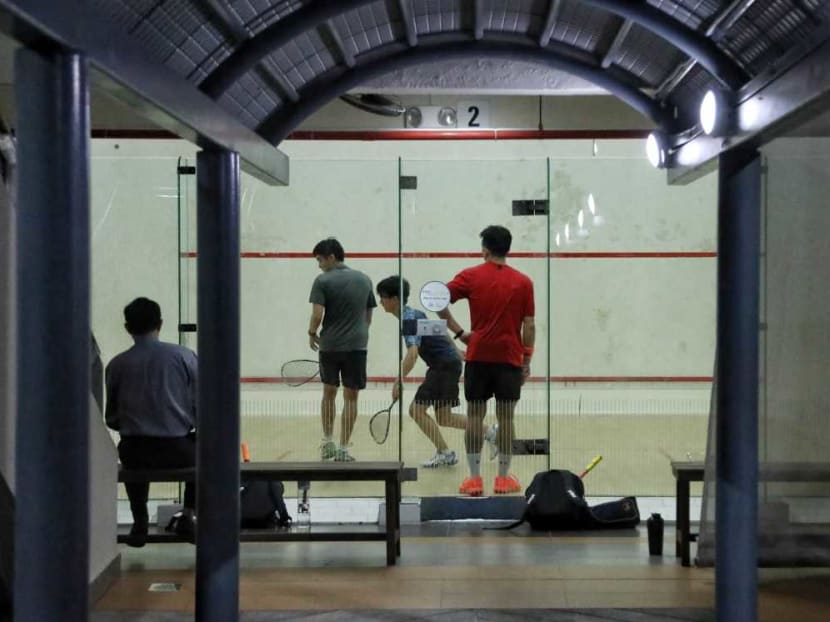 SINGAPORE — The national governing body for squash has voiced concerns about the absence of a replacement for the Kallang Squash Centre, which is set to close by 2021 ahead of a major revamp of the precinct.
A Singapore Squash Rackets Association (SSRA) spokesperson told TODAY on Tuesday (Nov 26) that the group was urgently talking to the authorities over a possible replacement in the upcoming Kallang Alive precinct.
The Kallang Alive project, due for completion by 2025, is set to include a cycling velodrome, a football hub and a tennis centre. To date, no plans for new squash facilities as part of the project have been announced.
Singapore squash, which enjoyed a strong showing at the 2017 SEA Games, already has very limited facilities across the island, the SSRA spokesperson said.
Mr S Parameswaran, deputy director of public relations at Sport Singapore (SportSG), the statutory board in charge of developing sports here, said on Wednesday that it had given the association some options and will announce the plans in due course.
Mr Parameswaran told TODAY: "Under the Sport Facilities Master Plan, we take into account various considerations in the provision of sport facilities in Singapore. The needs of our national sports associations and the overall trends in the sporting landscape are important factors in our planning. We have been engaging the SSRA since January 2018 on the provision of squash facilities."
When TODAY asked the SSRA spokesperson what the options put forward were, he said: "All I can say is there is no squash included in their plans but the alternative plan includes the existing squash facilities (in other parts of Singapore).
"It is a concern because if that really is the case, we will be seeing seven courts taken away from us. There are no replacements, just reduction."
He added that "no concrete plans" had been put forward by SportSG so far.
The Kallang Squash Centre (pictured) is set to close by 2021 ahead of a major revamp of the precinct. Photo: Raj Nadarajan/TODAY
When asked about these existing facilities, the SSRA spokesperson said that they include Yio Chu Kang Squash Centre, Burghley Squash Centre, MOE (Evans) Squash Centre and St Wilfred Squash Centre.
PETITION TO SAVE KALLANG SQUASH CENTRE
TODAY spoke to several squash players who said that the redevelopment plans, and the lack of any new squash facilities, are a cause for concern.
A petition, titled Save Kallang Squash Centre, on Change.org has garnered more than 4,500 signatures since it was put up four days ago.
The petition listed several demands. They include: Squash to be included in the Kallang Alive plans, an increase from seven to 10 squash courts at Kallang, and the provision of a home ground and interim facilities while the new Kallang courts they are proposing are being built.
The petition, posted by Ms Sandra Wu, stated: "Kallang Squash Centre has the best public facility in Singapore though it is still lacking compared to squash centres in the region."
The sport, she said, is hamstrung by the lack of sports facilities with only 24 public squash courts islandwide.
Ms Wu pointed out that Singapore's squash team won three gold, one silver and two bronze medals at the 2017 SEA Games – bettered only by table tennis, sailing and swimming.
Mr Benedict Chan, 23, a national squash player, said he signed the petition.
"I signed because Kallang Squash Centre is a place where I played squash growing up and it is the only public squash centre that is conveniently located near the central areas of Singapore, well-maintained and viewer-friendly," he said.
When asked what was at stake for players, Mr Chan said: "Finding a place to host tournaments. For social players I think it's not too big of a deal, but for the competitive players or national players, they lose the only place that is fit to host major tournaments like the national championships, SEA Games and the Singapore Open."
Ms Cheryl Boey, 22, a competitive squash player, said that the squash centre is usually fully utilised by players – for training and tournaments.
She said: "As Kallang Squash Centre is a popular choice for training and many local and international competitions, the community could face a lack of facilities to hold these events.
"The current national squash team utilises these courts for their training sessions and it could be difficult to find a new permanent location due to the scarcity of courts in Singapore."
She added that the Kallang Squash Centre has special significance for the sport, and was where squash greats such as Zainal Abidin, Mah Li Lian and Della Lee made their name.