StarHub, ST Kinetics to deploy laundry robots at hotels next year
SINGAPORE - What has telecommunications got to do with laundry or robotics? Plenty, it seems, going by StarHub's latest foray which was announced on Monday (Nov 6).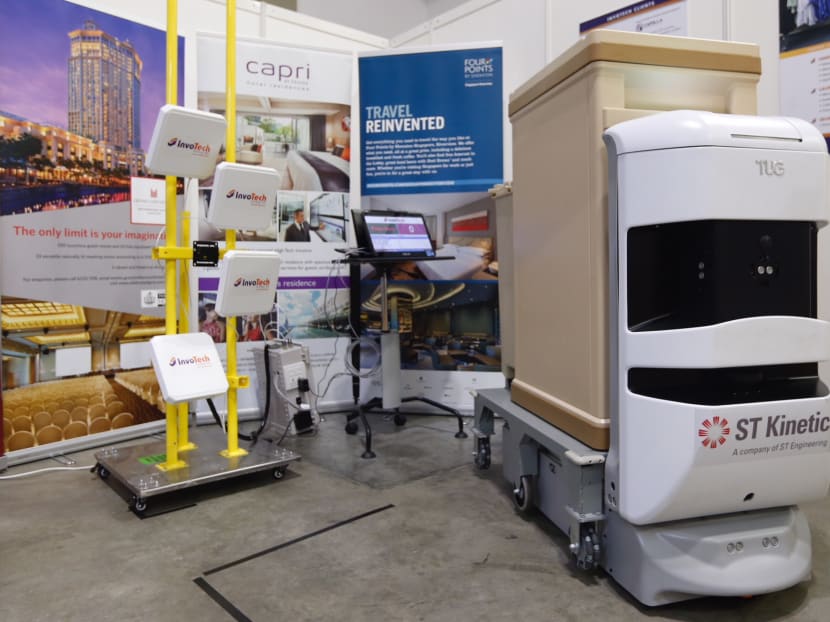 SINGAPORE - What has telecommunications got to do with laundry or robotics? Plenty, it seems, going by StarHub's latest foray which was announced on Monday (Nov 6).
Amid a trend of Singapore telcos moving into non-traditional businesses, the Republic's second largest telco - behind Singtel - is partnering ST Kinetics to deploy Aethon TUG robots to hotels to help streamline their laundry processes. For a start, the robots will be rolled out next year in three hotels - Capri By Frasers Changi City Point, Four Points by Sheraton and Grand Copthorne Waterfront - and discussions with 17 other hotels to come onboard are underway.
The robots are integrated with a customer's Wi-Fi infrastructure, and elevator and IT systems. This enables them to navigate autonomously on premises including opening doors as well as calling and riding elevators. The robots can be used to deliver items such as clean linen or dirty laundry, plying between the laundry room, central storeroom and guest floor storerooms. This would free up service staff to focus on their core tasks, and help to alleviate the manpower crunch faced by many hotels, StarHub and ST Kinetics said in a joint press release.
This is the second robotics solution which StarHub has introduced. The first was Savioke Relay, an autonomous room service delivery robot which has been in commercial operation at M Social Singapore, following a successful pilot which started in October last year. In response to queries, StarHub said Relay will be deployed at The Millennium Hotels and Resorts Group, which owns M Social Singapore, this month. Over the next 12 months, it will be introduced at Grand Copthorne Waterfront Hotel, M Hotel Singapore, Orchard Hotel Singapore and Studio M Hotel.
StarHub worked with Republic Polytechnic on both robotics solutions.
StarHub Chief of Enterprise Business Group Chong Yoke Sin said the telco is widening its range of enterprise solutions. "It is a growing part of our business. Robotics is a very large market, but physical robots are just one solution. We have also deployed analytics, (and are) looking at artificial intelligence," she said.
StarHub have been investing in areas such as cyber security and Internet of Things (IoT), under its enterprise business. Similarly, Singtel and M1 have been moving into other business areas.
Singtel, in particular, has grown its digital businesses in the last few years, by making acquisitions in the areas of cyber security, digital marketing and social advertising for example. It also has a data analytics arm, called DataSpark.
Meanwhile, M1 has started offering cyber security solutions. In August, M1 launched Singapore's first nationwide commercial IoT network.
Analysts said that the telcos have been driven to transform their businesses out of necessity.
"Telcos have been struggling with market saturation and disruptive businesses (such as Over-The-Top players) taking away a chunk of their core consumer business revenues," said Mr TZ Wong, Ovum senior analyst (IoT practice). "There's a sense among telcos that if they don't quickly branch out into other business segments, they will be left behind with a shrinking pot, which won't sink in well with shareholders."
New areas which telcos could be looking to venture into include artificial intelligence, smart homes, digital payments and autonomous vehicles, the analysts said.
Noting that the telcos will be facing competition from others outside their traditional business, Mr Wong added: "Increasingly, telcos will find that they will have to acquire or partner (other companies) to get a foothold into these new areas, such as what Starhub is doing with robotics."
Generally, telcos are increasing their focus on enterprise customers, even in their core connectivity businesses, as this is a segment that is seen to be more reliable and predictable than consumers, said Mr Shiv Putcha, IDC associate research director (consumer mobility). Adding that telcos here are still finding their niches, he pointed to StarHub's robotics initiative, and said that the telcos are likely to look at packaging customised solutions for various industries to increase their revenue streams.
Mr Avinash Sachdeva, industry principal of digital transformation practice at Frost & Sullivan, added: "Telcos are exploring multiple approaches... They are actively partnering with industry participants and aggressively investing in technologies and start-ups that will enhance their existing product or enrich the customer experience."