Start-up aims to serve up nutrition to those too busy to eat
SINGAPORE – His idea of a meal replacement shake was rejected as a final-year project in university.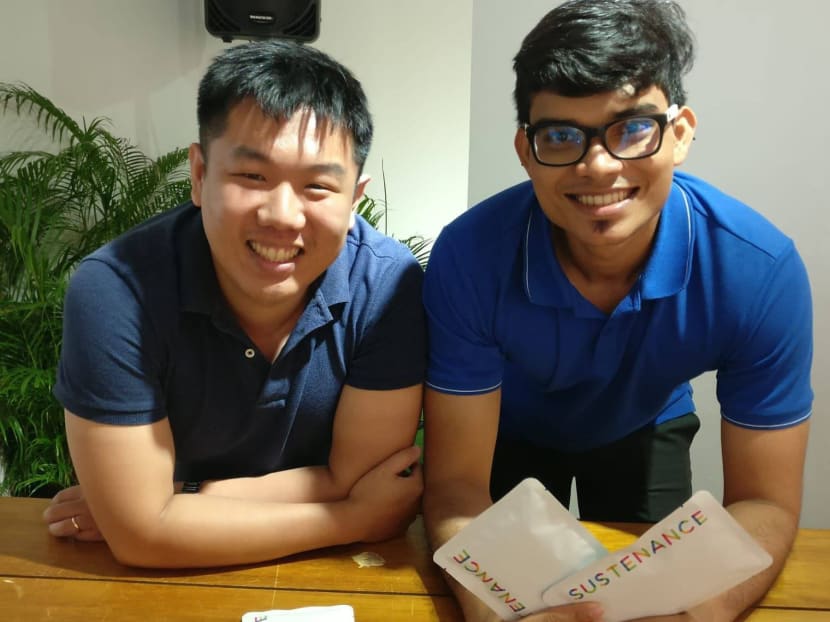 SINGAPORE – His idea of a meal replacement shake was rejected as a final-year project in university.
Even after he started working and was earning a comfortable salary of over S$6,000 a month, Singapore University of Technology and Design (SUTD) graduate Gautam Param did not give up on it.
In fact, as a management consultant, he travelled overseas frequently and would sometimes rely on meal replacement powders to keep him going through the day.
After a chance encounter with an old schoolmate last year, the duo decided to turn the idea into reality. The result is Sustenance, which is vegan and contains ingredients such as fruits, vegetables, grains and legumes that have been freeze-dried and pulverised.
Freeze-drying, a technology used to feed astronauts in space, involves bringing food temperatures down to as low as -40°C before light heating, said Mr Gautam, 27, who graduated in 2015. This removes the moisture of the ingredients but locks in the nutrients and extends the shelf life without the use of preservatives, he said.
His business partner, Mr Raymond Yeong, graduated in engineering product development and was working as an analyst at the same company.
Mr Yeong, 27, had tried to lose weight. He tried meal replacement products, but said: "They don't sit well with me for a lot of reasons, like the very artificial taste."
Several discussions later, the pair decided to take their project to the mass market.
They experimented with various combinations of freeze-dried ingredients ordered from the United States, and served them to friends who eventually started saying, "stop coming back", quipped Mr Yeong.
After spending more than S$10,000 from their savings and from Mr Gautam's former boss to perfect the recipe, they launched Sustenance this year.
The product joins at least one other local meal replacement brand launched within the last two years. Lembas, founded by entrepreneur Alvin Chong, was previously known as zoylent and contains soy, coconut and oats. Lembas is Mr Chong's version of Soylent, a meal replacement drink from the United States popular with tech workers.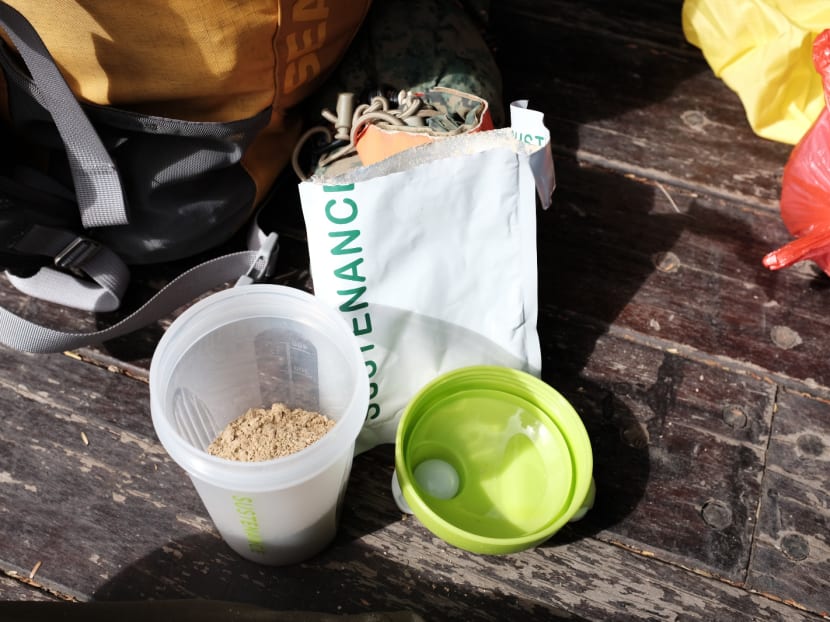 Sustenance's meal sachets are currently sold on the company's website and at five private nutrition clinics including Aptima Nutrition and Sheeba The Nutritionist.
A single 300 calorie meal sachet costs S$8.90, while a 30-meal option costs S$231, or S$7.70 per sachet. Listed ingredients include oats, wheatgrass, acai berries, chia seeds, brown rice protein and alfalfa leaves.
Customers include white-collar workers who are constantly on the move.
In the last three months, Sustenance sold more than 1,000 sachets per month.
Mr Gautam reckoned he is earning about a-third compared to his previous job, but said he finds it meaningful to produce "something of value for the masses".
"It takes years to build up a brand, establish trust and have a big customer base. So I'm happy that we're already profitable within a year of starting up," he said.
He called Singapore, a nation used to savouring its food, a "tough market" but said the product suits a small but growing group. "Besides special occasions and nights out, they think of food as something functional that they need to eat to keep healthy. These guys are looking for something healthy but convenient," said Mr Gautam, who said Sustenance does not contain synthetic ingredients.
Mr Yeong splits his time between the start-up and his day job as a project manager at an engineering firm.
Besides the Singapore market, Sustenance is testing the waters in China.
Mr Gautam and Mr Yeong were in Guangzhou in August for a roadshow, and intend to hold another one in Beijing in December to see if they should take the plunge.
"China is the fastest growing vegan market… and health products that are imported are held in higher regard than the local ones," said Mr Gautam, citing several health scares from tainted products in the country previously.
He said the response in Guangzhou was positive, considering the cost of a meal in China is lower than the price of 40 Chinese yuan (S$8) for a Sustenance sachet.