Stiffer penalties for PMD users caught riding on roads, expressways: LTA
SINGAPORE — From Jan 15, users caught riding personal mobility devices (PMDs) on the roads will face stiffer punishment, the Land Transport Authority (LTA) announced on Tuesday (Jan 2).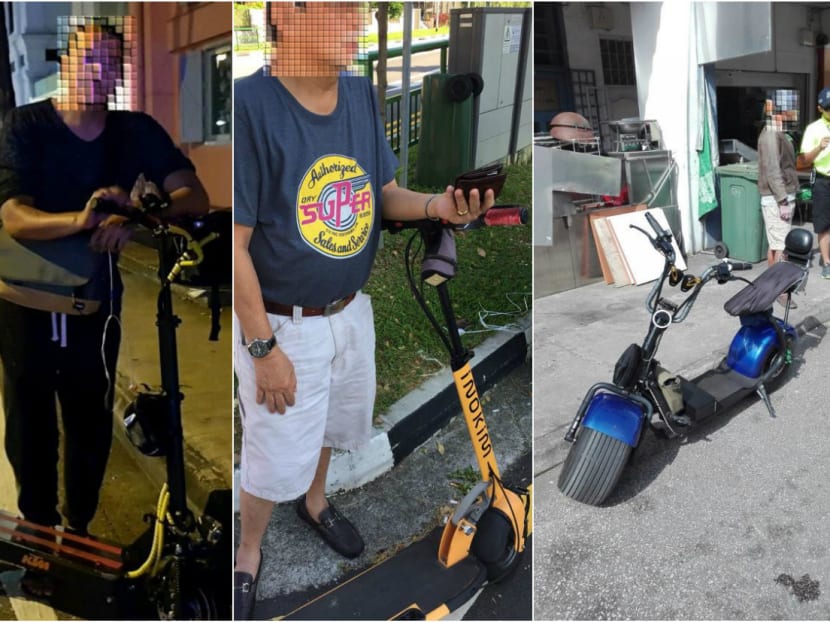 SINGAPORE — From Jan 15, users caught riding personal mobility devices (PMDs) on the roads will face stiffer punishment, the Land Transport Authority (LTA) announced on Tuesday (Jan 2).
The composition fine will be increased from S$100 to S$300 or S$500, depending on whether the first-time offender was riding on local roads or major roads.
Local roads refer to those winding through housing estates and neighbourhoods. Major roads, on the other hand, include arterial roads as well as those with multiple lanes.
Those caught riding on expressways will be charged in court. If convicted, first-time offenders face a fine of up to S$2,000 or up to three months in jail, or both. Repeat offenders face a fine up to S$5,000 or up to six months behind bars, or both.
The authorities will impound the users' devices during investigations, as is the current practice.
Under the Road Traffic Act, it is illegal to ride PMDs on the roads, as this poses "significant danger" to riders and other road users, said the LTA. The stricter penalties for more egregious cases are meant to "deter errant users".
The LTA defines PMDs as devices such as kick-scooters, electric scooters, electric unicycles and electric hoverboards. Devices that provide mobility to people who are less mobile, such as motorised wheelchairs for the elderly or physically disabled, are classified as personal mobility aids.
The number of users caught riding their PMDs on the roads climbed from 34 each month in 2016, to 40 each month last year, the latest LTA figures showed. While most users were caught while riding on local roads, a "small minority" had traversed on expressways.
The LTA added that it has been engaging representatives from PMD interest groups to heighten awareness of the risks and dangers of riding on the roads.
"With the increasing popularity of food-delivery services, we have also been working with such companies to educate their PMD delivery crew on safe-riding tips and rules, such as not riding on the roads," the authority said.
Mr Luc Andreani, managing director of foodpanda Singapore, told TODAY that riding on the roads may at times seem more convenient for riders because there are no obstructions.
Riders working for the food delivery service are, however, reminded to plan their delivery routes before setting off, which usually helps them to "realise that there is no need to be on the roads".
About a quarter of foodpanda's non-motorcyclist riders use PMDs, and the company expects this number to grow this year. It has orientation programmes for new riders during which they are reminded of traffic rules, including speed limits and safety practices, Mr Andreani added.
At Deliveroo, another food delivery service, riders travel on motorcycles, electric scooters or bicycles. About 5 per cent of its 4,000 riders use PMDs, the company spokesperson said.
"We are working with the active mobility team from the LTA, the Singapore Police Force and the Workplace Safety and Health Council to implement safety reminders and protocols for our PMD users," the spokesperson added.
Uber Eats' delivery-partners, who operate on foot, bicycles or motorcycles, are reminded about road safety through regular safety tips. This is done via email, in-app cards and SMS messages, a spokesperson for Uber Eats said. Among other measures, new delivery-partners are also educated on road safety via videos by the LTA.