The Stories Behind: Fridge Restock Community, a ground-up food rescue group founded by a Little India shopowner
SINGAPORE — When I arrived at Pasir Panjang Wholesale Centre on a Tuesday morning, seven volunteers were shuttling busily from various fruit and vegetable vendors around the centre, clad in black aprons with the logo Fridge Restock Community Singapore (FRC) emblazoned on it.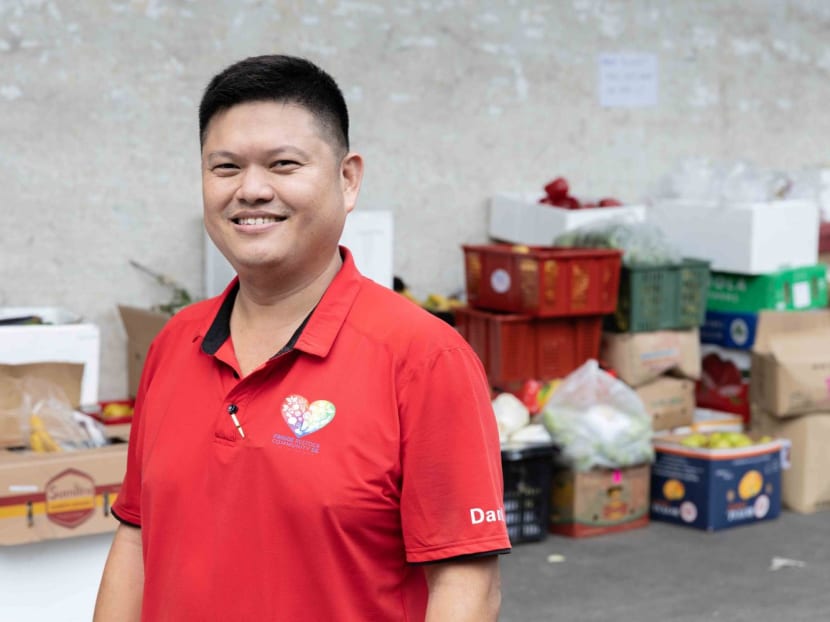 Every so often, the internet thrusts ordinary people into the public eye. But as quickly as they come, they tend to fade away from the limelight soon after. In this series, TODAY journalists talk to some of these viral sensations to find out who they really are behind the social media screen and how their lives were affected by their fleeting fame.
Mr Daniel Yap, a grocery shop in Little India, was inspired to reduce food waste after seeing two freegans rummage through his stall's trash for edible vegetables
This led him to found the Fridge Restock Community Singapore (FRC), a group that rescues "ugly" vegetables and fruits to restock community fridges in residential neighbourhoods around Singapore, in 2020
Today, the group taps a pool of more than fifty volunteers, and has accumulated 4,500 followers on its Facebook page
In 2022, the group rescued over an estimated 301 tonnes of produce
SINGAPORE — When I arrived at Pasir Panjang Wholesale Centre on a Tuesday morning, seven volunteers, clad in black aprons with the logo Fridge Restock Community Singapore (FRC) emblazoned on them, were already busily buzzing around to prepare for their twice-weekly food rescue missions.
Like clockwork, the teams of volunteers would labour to collect unsold produce from various fruit and vegetable vendors around the centre, taking these back to the shelter. Another volunteer put up signs indicating where to properly store the produce, ensuring that they would be distributed equally to community fridges spread around Singapore.
As I watched them wheel trolleys containing baskets of fruits and vegetables back to the shelter, I spotted a man decked in a red shirt, navy blue shorts, and colourful printed socks operating a pallet truck to move cartons of red apples.
That was my introduction to 46-year-old Daniel Yap, the founder of FRC. It is a group that rescues "ugly" vegetables and fruits by distributing them to 19 community fridges and 13 community distribution points located in residential neighbourhoods.
Today, the wholly volunteer-run initiative has more than 4,500 followers on its Facebook page, which is updated regularly with information on each rescue mission, including the weight of fresh produce collected that day and where they were distributed.
As I marvelled at how systematic, manual and elaborate the whole operation was, I was equally surprised to learn that Mr Yap is the owner of a Little India grocery shop, who was doing his bit to tackle the problem of food waste on his own time and dime.
"Before learning about food rescue, I had always given away unsold produce to temples or thrown them away," said Mr Yap.
In December 2017, he encountered two "freegans" going through his shop's bin in search of edible vegetables that had been thrown out. Freegans are people who believe in reducing waste by salvaging unwanted goods, including food.
He approached the pair, who shared that they would wash the collected produce thoroughly and slice away any rotten bits before cooking it, in a bid to reduce food waste.
"This intrigued me. I then learned about reducing food waste and how I could contribute to this cause," he added.
When he encountered the freegans again, he invited them to collect unsold produce from his shop on a weekly basis.
"When we throw vegetables inside the green (trash) bin, those vegetables get contaminated, and I don't want them to take the food. I told them that I will put aside the vegetables for them, and they can come and collect from me weekly, once or twice," said Mr Yap.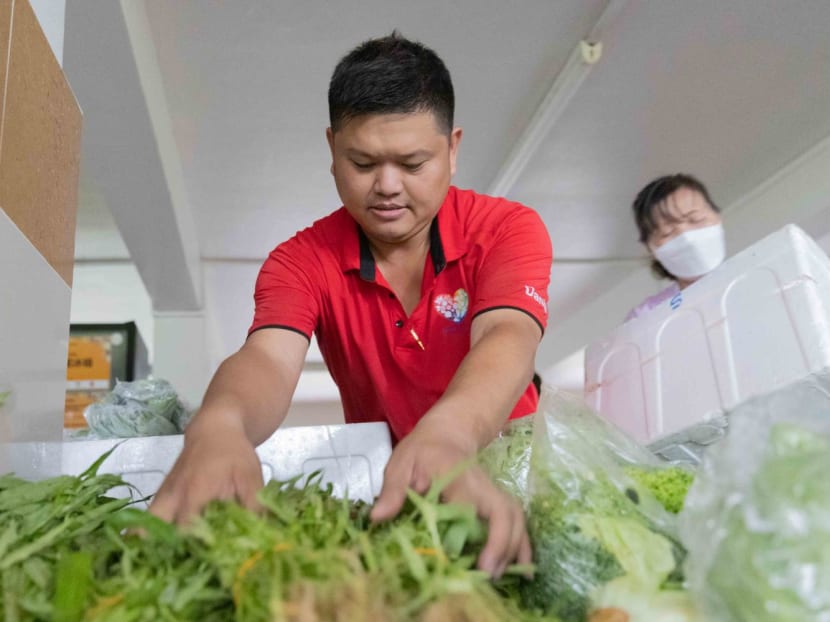 'FOOD FEEDS PEOPLE, NOT BINS'
Inspired by the freegans, Mr Yap quickly became fully on-board with the cause of fighting food waste around a month later in January 2018.
Using surplus groceries from his shop, he decided to restock a community fridge at Block 441 Tampines Street 43 for the first time.
Community fridges, typically located in common areas of residential neighbourhoods, are refrigerators aimed at encouraging residents in the area to help provide food for residents in need.
Anyone can stock up the fridge with food products for sharing, and residents are likewise free to take what they want or need. The fridges are managed by various organisations, such as Resident Committees.
When the Covid-19 pandemic hit in 2020, it gave him a fresh cause beyond doing his part to reduce wastage.
"Many people were out of work, and some were struggling to put food on the table," said Mr Yap.
At the same, he noticed there was a constant surplus of produce at the wholesale centre. He realised that channelling the unsold food to people who needed them could help with reducing food waste at the centre, while also helping to feed the community, he said.
With that in mind, Mr Yap founded FRC in 2020. The group started small on Facebook, using the social media platform to spread awareness about their weekly missions. They also took part in community and booth events, and went around resident committees to promote their efforts.
Since then, FRC's Facebook group has grown to one that has around 4,500 followers, while it also has a pool of more than 50 regular volunteers to tap for its weekly missions.
When asked why he had chosen to stock a community fridge instead of donating to soup kitchens, Mr Yap said that community fridges benefit all residents living near them, instead of a segment of the population.
"Our recipients are not just the needy or those from low income families. These days, a significant percentage of beneficiaries are from the sandwiched class, and those who want to reduce food waste," added Mr Yap.
"We do not restrict who can receive the food. Our belief is that food feeds people, not bins."
This is also why his group committed to rescuing "ugly" vegetables and fruits, which are deemed unsellable because of certain cosmetic flaws that do not affect its edibleness.
Volunteers are also explicitly reminded not to mention the word "charity" during collections, as FRC is not a registered charity.
Instead, FRC is funded in part by donations from corporate organisations and the general public, which helps Mr Yap with covering miscellaneous expenses, including the fuel and maintenance costs of upkeeping FRC's refrigerated truck used for its food rescues.
Besides, telling vendors that they were collecting food for a charity may lead them to set aside aside good-looking vegetables, rather than food that would be thrown away. Instead, the group's intention is to rescue fruits and vegetables that would otherwise go to the bin.
"In 2022, we collected over an estimated 301 tonnes of ugly produce which would have gone into the bins if not for the hard work of our volunteers," said Mr Yap.
MOVING THE NEEDLE ON FOOD WASTE
Moving forward, the group is raising funds to rent a space of their own at the Pasir Panjang Wholesale Centre. 
"Having a storage space at the centre will allow us to collect on a more regular basis, and rescue more efficiently," said Mr Yap, adding that the rental fee for this space is estimated to cost around S$3,000 monthly.
When asked what the most rewarding part about running the food rescue missions was, Mr Yap said that they are able to "bless more people", regardless of whether they were in need or simply had the intention of also reducing food waste.
He recounted how residents would sometimes approach the FRC team during their vegetable distribution to tell them that they were able to save between S$30 to S$50 in a month.
"That made us really happy that we could contribute to our environment, and we hope that all these vegetables can be put to better use," he said, adding that the community also benefits from having a healthier option as opposed to canned or processed food.
As I watched the FRC team cart rounds of fruits and vegetables, I was reminded by the fact that this all stemmed from the actions of one man.
That Tuesday morning itself, more than 4,000kg of excess "ugly" fresh produce – consisting of vegetables, apples, pineapples, and more – were salvaged, and subsequently distributed to nine community locations.
Mr Yap left me with a parting thought: that while not all of us are willing to live out freegan lifestyles, just a simple act of collecting edible food items that are nearing their expiry dates and placing them in community fridges to share with the next person could make a difference.
After all, I realised that no matter how much it may feel like a drop in the ocean, it takes small, individual actions to move the needle on a far larger cause.