The Stories Behind: The self-professed 'car idiot' turning heads with her Hong Kong minibus lookalike
SINGAPORE — From the elaborate modifications to turn her Suzuki van into a Hong Kong minibus lookalike, I had fully expected to be meeting up with a bona fide car geek when I got in touch with her for an interview.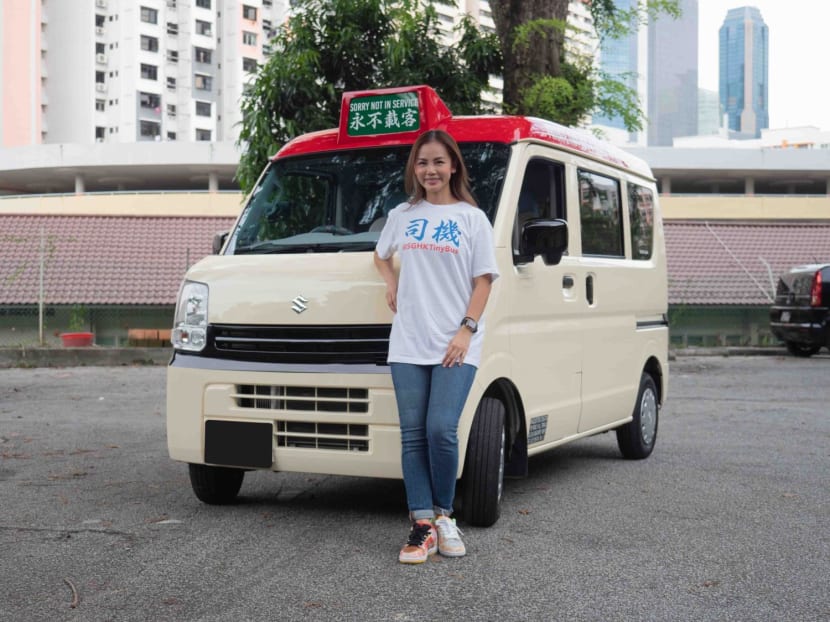 Every so often, the internet thrusts ordinary people into the public eye. But as quickly as they come, they tend to fade away from the limelight soon after. In this series, TODAY journalists talk to some of these viral sensations to find out who they really are behind the social media screen and how their lives were affected by their fleeting fame.
A Suzuki Every van modified to look like a Hong Kong minibus has attracted the attention of many on the roads
Videos of the car's adventures on the road have garnered tens of thousands of views on TikTok
Driver Irene Soh considers herself clueless about vehicles but has found herself unwittingly pulled into gearhead communities — and even invited to hang out with homesick Hong Kong expatriates
SINGAPORE — From the elaborate modifications to turn her Suzuki van into a Hong Kong minibus lookalike, I had fully expected to be meeting up with a bona fide car geek when I got in touch with her for an interview. 
As it turned out, Ms Irene Soh was far from one. A pageant queen and former flight attendant, the 42-year-old had only gotten her driving licence last year and is a self-described "car idiot".
"There was one day I wanted to pump my tyres and obviously I didn't know how to do it and the (driving) school only taught you how to do it and you just watched," she said.
"So instead of pumping my tyres I deflated them and I was trying very hard to tell myself, 'Irene, don't panic don't panic'." 
Yet, despite her cluelessness about cars, her modified van has turned heads and she has found herself invited to a car meet, albeit feeling extremely out of place among a sea of car enthusiasts.
On her TikTok page, clips of her modification process and adventures with her "minibus" garner tens of thousands of views each, with her top video closing in on 90,000 views.
"In Hong Kong, red tops tend to be privately owned. So they set their own routes and fares. But most importantly, their drivers are rude AF! Just like me," she writes in one of them.
Remember when food delivery firm Foodpanda was on the hunt for a chief makan officer? 
Ms Soh won that competition in 2020 and continues to produce videos for Foodpanda promoting its services.
Or as she describes it: "Mainly for the role, me and my partner do a lot of video creation. Basically, I'm like a talent, he shoots and edits. So he does the hard jobs and I just look pretty — or try to look pretty!"
In an interview near her partner's office at Pearl's Hill Terrace in Chinatown last month, Ms Soh tells me she has never been into cars but wanted something unique for her first vehicle and settled on the design after she came across a small diecast model of a Hong Kong minibus.
"I love Hong Kong," she said. "I speak Cantonese and when I was flying, Hong Kong used to be one of my favourite stations."
THE MODIFICATION PROCESS
The modifications cost about S$5,000 and took Ms Soh about two to three months to do because many parts had to be sourced herself or done on her own.
With a red painted top, pale yellow exterior and a signbox on the roof of the car to boot, her van looks just like a Hong Kong minibus from afar — barring the fact that her Suzuki Every is smaller than an average car while a minibus can seat up to 19 passengers.
Upon closer inspection though, the sign on the roof reads "sorry not in service" and in Mandarin, "never taking any customers".
Getting into driver's seat, Ms Soh gleefully shows me how a jingle set to the theme song of the beloved Japanese children's animation Doraemon plays when the car reverses. 
The van is licensed as a commercial vehicle to her partner's marketing firm MagiQuestions Consulting and is used to transport production equipment.
On weekends though, Ms Soh sometimes takes her three children, 17, 16 and 10, out for a picnic at the back of the van. 
In one TikTok video she filmed during a government-mandated vehicle inspection, she talks about "feeling like a rebellious student all over again" after having to make some tweaks to pass the checks.
She passed, but she had to remove her window tinting on the spot because it was too dim.
FISH OUT OF WATER
Driving around Singapore, she finds it fun to often get puzzled looks from onlookers before they realise that her van is not an actual minibus and break out in broad smiles and wave or give her a thumbs up.
"It really brings joy to people. They find it funny," she said. "I've got people try to flag down this vehicle before." 
Her modifications have also gotten her unwittingly dragged into the enthusiast car community after some members saw her van online. 
"Surprisingly people want to add me into the car community but I obviously know nothing about cars and I find it very difficult to relate if you tell me that I changed this exhaust and this car brakes or whatever."
She attended a vintage car meet recently at Dempsey and immediately felt overwhelmed when car fans started chasing after her van as soon as she drove into the car park. 
"I believe I still had my P-plate on and was yelling, 'P-plate! Don't come so near can?'," she said, referring to the probation plate new drivers have to display on their windscreens in the first year of getting their driving licence.
Then, she recounted an anecdote that really struck me how a seemingly small action could evoke strong emotions from someone of another community.
Once, while she was parked in Chinatown, an expatriate from Hong Kong came across her van and after googling the company name printed on it, got in touch with her via WhatsApp.
He told her he was so happy to see her van and asked if she was from Hong Kong. Although she said she wasn't, he invited her to hang out with a group of other expats from the city who meet up every month.
While she has yet to join their gatherings, she drove up to them once so that they could take pictures of the van. 
"It's actually very heartwarming to hear them say that they haven't been home for two years because of Covid and seeing this van, it's like part of home for them."