The Stories Behind: Thaarumaaru Runners, a fitness group that goes the extra mile for the community
SINGAPORE — I consider myself to be quite a regular runner, but whenever I do, I usually run alone. To me, running is a therapeutic and personal activity, and doing it alone helps me to take my mind off the day's troubles.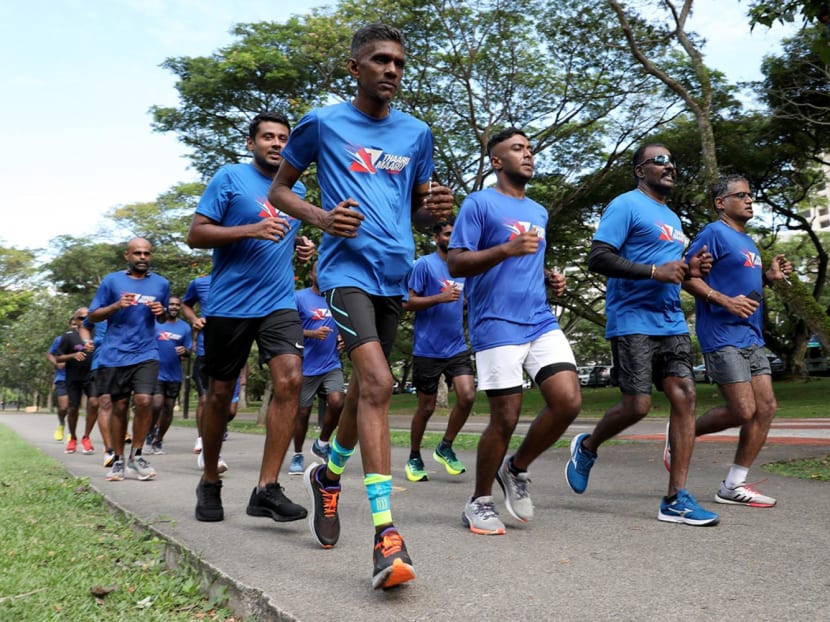 Every so often, the internet thrusts ordinary people into the public eye. But as quickly as they come, they tend to fade away from the limelight soon after that. In this series, TODAY journalists talk to some of these viral sensations to find out who they really are behind the social media screen and how their lives were affected by their fleeting fame.
The running group was founded in 2017 to encourage those in the Indian community to keep active 
In a few years, it had grown to over 1,200 members, having surged in popularity during the pandemic
Other than just organising runs, the group also participates in fundraisers and mentorship programmes to help the Indian community 
SINGAPORE — I consider myself to be quite a regular runner, but whenever I do, I usually run alone. To me, running is a therapeutic and personal activity, and doing it alone helps me to take my mind off the day's troubles. 
However, on a cool Sunday morning in July, I decided to join the Thaarumaaru Runners — a running group for the Indian community — on a long morning run after scrolling through some of their posts on Instagram and Facebook.
While I knew of the usual running groups, this one, which primarily features runners from the Indian community, had exploded into the scene. One of their more viral posts showed Law and Home Affairs Minister K Shanmugam joining the group on one of their runs. 
When I arrived at East Coast Park at 6.45am, I found a group of about 40 runners, all clad in blue, waiting for me. "We knew you were coming, so we asked more people to come down," said the group's co-founder Ramesh Selvaraj, 43.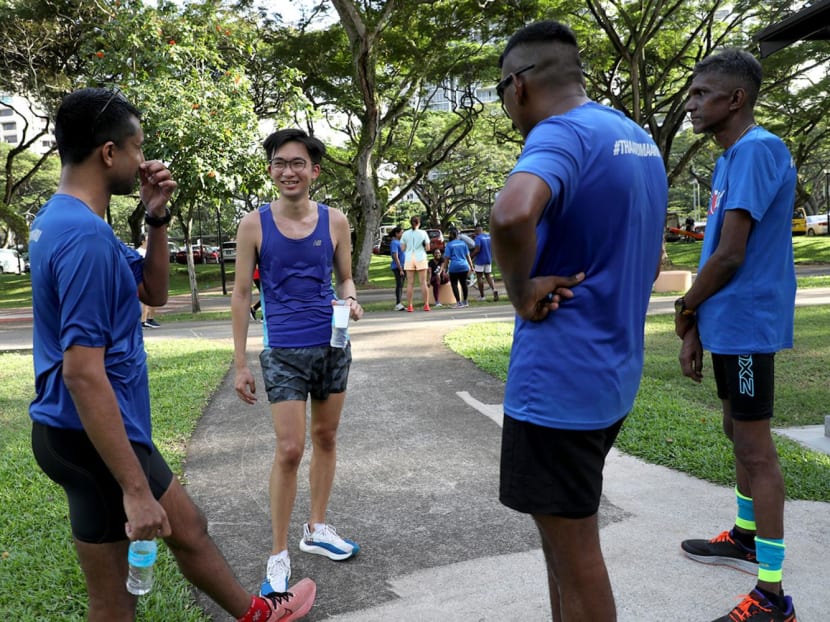 "Oh nice," I thought. But if the photos of their group runs on their Facebook page were anything to go by, I had a feeling Mr Ramesh was being modest about their numbers.
The group gathers to run mainly on weekends, and occasionally on weekdays. Saturday runs are shorter 6km runs while on Sundays, the group runs longer, up to over 20km. 
The run that I had joined them on was "only" 16km, and even then this would already be my longest run all year. 
We started the run at about 6.50am, heading towards Marina Bay.
Midway through the run, I was in conversation with 31-year-old Ramesh Kumar, a migrant construction worker who is more affectionately known by the group as Micro Ramesh, to differentiate himself from others in the group who share the same name. 
He had first come to Singapore in 2011, and joined the group in 2018 after hearing about them on the radio.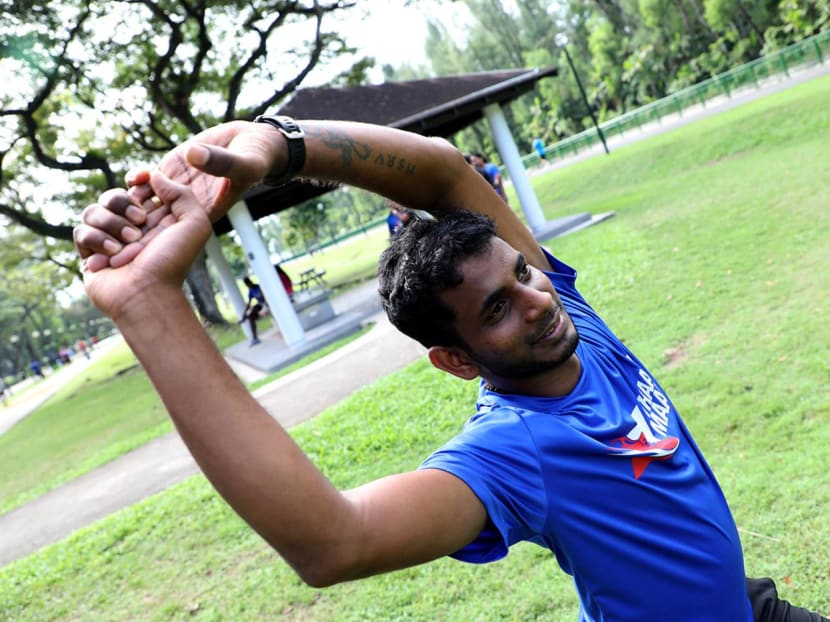 He said that he had difficulties forming friendships with locals due to the language barrier and limited opportunities to interact. This all changed when he joined the running group. 
"They treat me like family," he told me. 
I also managed to catch up with 60-year-old P Tanika, who was formerly an army regular. Members had told me that Mr Tanika was the fittest among their group.
"As you get older, you need to slow down, that way you can run longer," he said when I asked him what his secret was. 
Then, there was also an expatriate, 45-year-old Narasimhan Sampath, who works in the financial services sector. He joined the group in 2019 after hearing about it from his friends.
Though he and his family had been in Singapore since 2014 and sees it as a "welcoming and inclusive" country, he felt a deeper sense of belonging when exercising with the Thaarumaaru Runners. 
"With this particular group, there was an instant connection given the passion for running and fitness overall," he told me.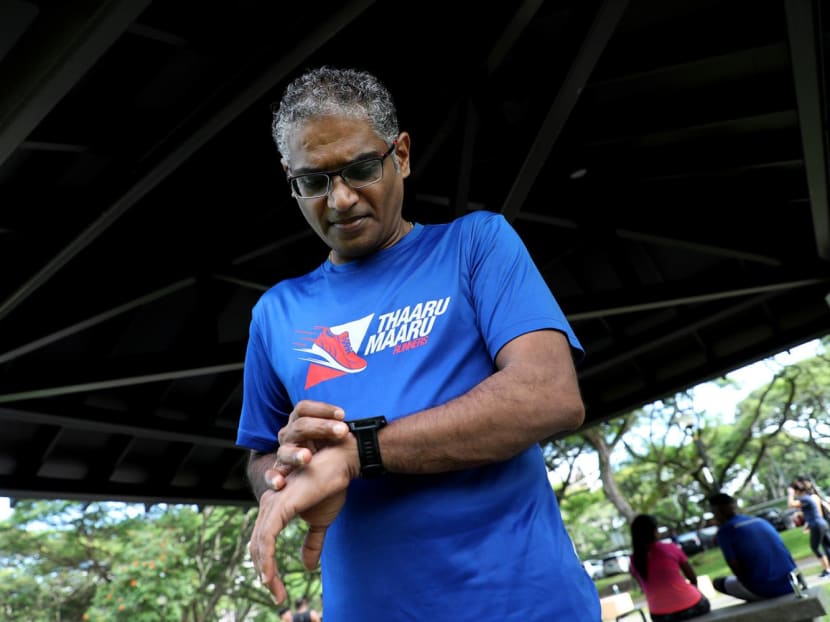 The sun slowly rose as we ran past Marina Bay Sands, and then back again to East Coast Park. The 10-strong group of runners were still running at a comfortable pace, chatting with each other. They discussed their plans for upcoming overseas races, and there were inside jokes thrown around.
But Mr Ramesh, the co-founder of the group, said that the vibrancy I saw was unimaginable just a few years ago. 
TODAY Senior Journalist Justin Ong joined the Thaarumaaru Runners on a morning run at East Coast Park. The group was founded in 2017 to encourage those in the Indian community to keep active.
HUMBLE BEGINNINGS 
When the group was founded in 2017, it was a small-scale affair involving only "seven to eight" runners. 
"The idea was that we didn't see many in the (Indian) community actually out and about jogging and running in the weekends," he said. "So (the group) started with a close group of friends and family that we wanted to motivate." 
He added that while he knew of many people who were strong runners when they were in school and during National Service, there was a sense that "they didn't follow through as we progressed on in life". 
The group first gained some social media presence on Facebook, where members posted about their runs there to encourage each other to exercise.
The founding members then decided to name the group "Thaarumaaru Runners".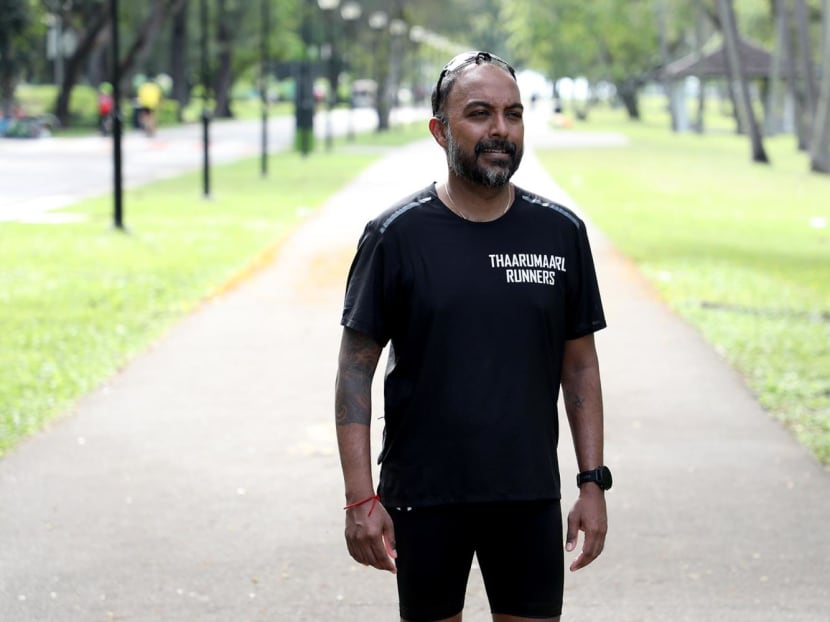 Mr Ramesh, who is a lawyer by profession, explained that "Thaarumaaru" is a Tamil word with two meanings. 
"One meaning, the literal translation is 'anyhow', so it means anyhow runners, we just get together and we run, anyhow," he said. "But that word also has a second meaning which means 'brilliant', 'great', 'fantastic'."
"We have people joining us who are very good runners, and then we get people who are just starting out their fitness journeys... this name is apt as it applies to one and all." 
The in 2018, Mr Ramesh, along with another founding Member, Mr Eswara Velan, decided to kickstart weekend group runs in order to become a "credible running group". 
However, these runs failed to gain any traction at first. 
"If we are lucky, we get two runners showing up," he said. "There were times when it was just myself or Eswara, just one of us showing up, but we were quite dogged that way and our point was that the show must go on even if its just one person, so we kept at it." 
Their efforts were not in vain. Word of the group began to spread, with more runners gradually showing up for the weekend runs. 
"Now, with the (Covid-19) measures eased, easy to say we get about 20 to 30 runners each Saturday for our runs," said Mr Ramesh. 
Indeed, Mr Eswara, 28, said that while the group was already growing pre-pandemic, it was during the Covid-19 period when their membership numbers spiked.
"During the pandemic, I think there was a huge demand for interest groups and exercise groups," said Mr Eswara, who is in the legal industry.
"People were sitting at home and a lot of them realised that exercising was something they could pick up." 
The group thus organised runs in small groups abiding to the group size numbers, and even did virtual runs and workouts to engage more members. 
The group had about 300 to 400 members pre-Covid, but presently they have about 1,200 members.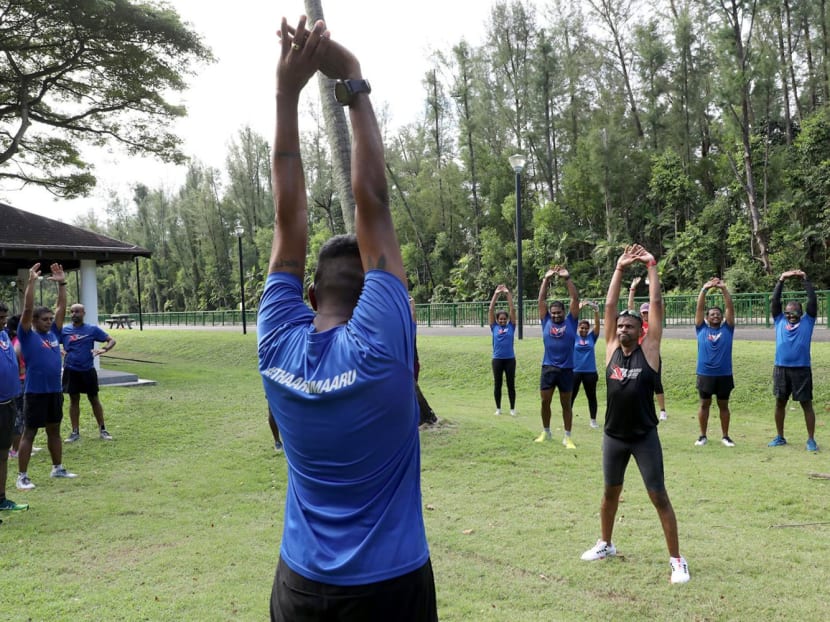 GIVING BACK TO THE COMMUNITY 
As the number of members grew, the founders decided that they could do more to help the Indian community and beyond. 
"The fact that we managed to grow numbers in such a big way over a short period of time... we sat around and decided that maybe we can do a bit more," said Mr Ramesh. 
For instance, in May, the group organised a running event to raise funds for the Singapore Indian Education Trust, which provides assistance to Singaporean Indian students from low income families. 
A team of 10 runners from the group ran a mile an hour over the course of 26 hours, in a bid to raise S$30,000.
They tried their luck by reaching out to Mr Shanmugam, who, to the group's surprise, agreed to run with them for one mile. 
In the end, the group managed to exceed their target by threefold, raising about S$90,000 in total. 
"I don't think anybody even thought that we would hit S$90,000, but (the fundraiser) really showed what a simple hobby like running and a simple group like this can actually do," said Mr Eswara. 
In June, the group also collaborated with Singapore Indian Development Association (Sinda), a self-help group for the Indian community, to mentor youths and introduce them to the sport. 
Thaarumaaru Runners members partnered about 40 students aged between 13 and 18 from less privileged backgrounds, to do a short run and chat with each other. 
"As much as this was something that was very enriching for the students, the volunteers among us that took part also came out of it feeling very fulfilled," said Mr Ramesh. 
He added that about five to six students have continued to regularly join the running group for the weekend runs as well.
Mr Ramesh added that sometimes after their weekend runs, the group would collaborate with grassroots organisations to distribute grocery packages to less-fortunate households.
ALL ARE WELCOME 
As the run drew to a close, the group of runners thinned as we began to run our own pace. I found myself chatting with Micro Ramesh, the migrant worker, for most of the second half of the route.
He told me about how joining the group ignited his love for running, and told me that when he is at work as a lorry driver fetching other construction workers, he would sometimes go for short runs at different parts of the island in between his shifts. 
"Singapore's park connectors are very good for running," he said. 
Towards the last few kilometers, we were cheering each other on as the sun rose higher in the sky and temperatures climbed.
When we finally finished the run, we fist bumped each other before I bent over in exhaustion. 
The other runners soon streamed in, giving each other high fives, chatting and taking selfies.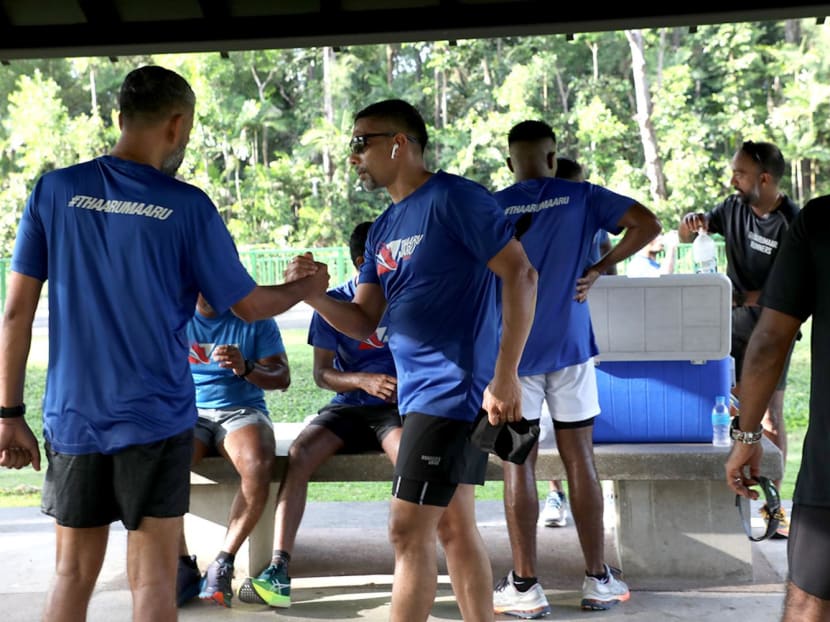 Mr Ramesh, the co-founder, soon finished his run, looking much fresher than I did. He told me that he had been overweight before the group was started, and had used running to shed the extra pounds. 
Addressing the elephant in the room, he later shared with me that anyone — including a Chinese man like myself — can join the group for their runs if they wish. 
"Because we have grown so much... we have friends join us on our Sunday runs who are non-Indians, so we are not closed that way," he said. 
Indeed, while I thought it would have been awkward to join the group as an "outsider", it struck me that I never once felt that way during the run itself. 
My conversations with runners from all walks of life that morning were enriching and inspirational. It showed me one thing — that running helps to bring people together in a way few other activities can.