The Stories Behind: Local TikToker's Hokkien content an unexpected hit among youths
SINGAPORE — As a child growing up in the early 2000s, I never saw the need to learn dialect (mine is Hokkien), and I rarely observed any of my peers speaking their dialect, be it among themselves or to their elders.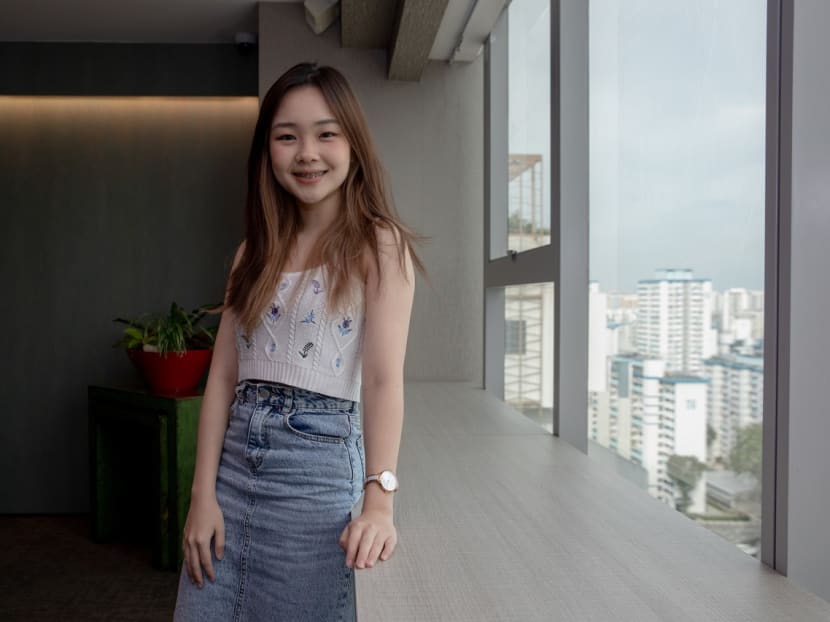 Local TikToker Ong Yi Ting creates unique Hokkien content that has led to a large following
Since her first viral post in May 2021, there have been many other TikTokers who have jumped on the dialect-speaking trend
She has even had tie-ups with government agencies, who use her platform to promote their initiatives
Ms Ong, 21, hopes to continue promoting Hokkien as she believes it is an essential part of Singapore's culture
SINGAPORE — As a child growing up in the early 2000s, I never saw the need to learn dialect (mine is Hokkien), and I rarely observed any of my peers speaking their dialect, be it among themselves or to their elders.
I was thus surprised that a local TikToker had recently sparked a dialect-speaking trend on the platform, and has garnered hundreds of thousands of views by posting content of herself and her family members speaking in her dialect, Hokkien.
Curious to know what kickstarted her interest in dialect, I met 21-year-old Ong Yi Ting, whose TikTok handle is @yitinggoyt, to find out more. 
The final year student from the National University of Singapore has over 72,000 followers on her account and a whopping 1.1 million likes across all her posts. 
ACCIDENTAL FAME
But Ms Ong told me that she hadn't always been this popular, and that prior to her first "viral" post in May last year, her follower count was only in the double digits.
"At that time I had deleted my Instagram and Facebook as I didn't want to be on social media, but I had TikTok in my phone... I had no platforms to post my usual Instagram stories, so I just posted on TikTok for fun, and that video blew up straightaway," she said. 
The said video was of Ms Ong speaking to her grandmother in Hokkien and teaching her Gen Z slang such "sheesh" and the "ice in my veins" TikTok pose. 
That post in May last year snowballed in popularity, garnering more than 36,000 likes and over 430,000 views. 
As to how she picked up Hokkien, she said that her family usually converses in the dialect, which helped her to understand it proficiently. 
She had also stayed with her grandmother, who only speaks dialect, for a period of time in primary school and was able to slowly learn how to speak the language so she could converse with her.
After that first viral post featuring none other than her grandmother, Ms Ong said that she had been bombarded with requests for more of similar content. 
"After that, people kept calling me the 'Hokkien girl', so I just grew into it and posted (mainly) Hokkien content," she said. 
Some popular content on her channels include her recalling in Hokkien her experiences in catching fish, as well as some ill-meaning advice on how to confess to a love interest in dialect (she jokingly tells viewers that 'I like you' in Hokkien is 'li ki jiak sai' which actually translates literally to 'eat s**t'). 
The latter post is her most viewed, with more than 600,000 views. 
Soon, it was not just her that was posting, but other TikTokers as well jumping on to the dialect-speaking trend.
"It blew up among the younger people, as they didn't know what I was talking about," she said. "They never really heard young people speak in Hokkien before so they got intrigued. 
"So they try to make videos and try to speak in Hokkien."
Some of her followers soon started a "HokTok" trend, which is shorthand for Hokkien TikTok, where they started to post themselves speaking in not only Hokkien but other dialects such as Cantonese and Teochew, sometimes with their relatives. 
"Some youngsters, they speak even better dialect than me, and they started translating some TikTok trends into Hokkien," she added. 
FROM INITIAL PUSHBACK FROM FAMILY TO GOVERNMENT PARTNERSHIPS
Ms Ong said that while her initial post with her grandmother attracted largely positive comments from her followers, it had gone viral to the point that some of her extended family members had chanced upon it. 
"My family were actually quite angry... (they) scolded me and said that you shouldn't film your family and put on them on TikTok," she said. 
"But slowly, afterwards, they became more accepting, because they saw that even brands were willing to approach creators like us." 
She added that her mother, who has been supportive of her since her first viral post, has also featured prominently in some of her content. 
"Through that, I was also able to get closer to my mum," she said. 
Other than just commercial brands working with her, she said that she has also had several collaborations with government agencies. 
For instance, she had a tie-up with the PUB for a TikTok post, where she had a short skit with her mother in Hokkien on how to conserve water. 
She also had a partnership with the Housing and Development Board (HDB) for a post where she promoted several facilities at an HDB estate in Clementi. 
Bearing in mind how widespread her content has become, Ms Ong is also careful to be accurate in her use of the language. 
When she is unsure about certain Hokkien terms, she will consult her own family members, or her contacts who are members of dialect associations. 
Beyond her posts, she also has many of her followers reaching out to her to ask about how to pick up or learn more about the language, and she will direct them to the relevant associations. 
NOT JUST DOING IT FOR VIEWS AND FAME
The idea that dialects like Hokkien could become a trendy topic among young people had puzzled me from the onset. 
Being in my late 20s, I grew up in the social media age of the 2010s, and from what I observed from that period, social media influencers primarily gained popularity through lifestyle, food, beauty or fashion content. 
With TikTok entering the scene, these paradigms have shifted.
Viral content has become more diverse, requiring more than just a good camera and a few brand endorsements. Quirky, thought-provoking and comedic content, such as Ms Ong's, has begun to come to the fore. 
Indeed, Ms Ong said that her Hokkien content is not just a vehicle to get more views, but is also a way to get people thinking about the place of dialect in Singapore's culture. 
"There's a lot more behind the whole language... because youngsters, (most) only know Hokkien for vulgarities, other than that they don't know a lot of phrases," she said.  
Ms Ong believes that in contrast, the idea of speaking in dialects is "very wholesome". 
"It just creates a connection, compared to just speaking in Chinese and English... When it comes to dialect it reminds people a lot about the past, and their culture."