The Stories Behind: Uncle Raymond, the shy dancing star who makes strangers happy
SINGAPORE — As my colleague and I followed Mr Raymond Lim to a void deck opposite Ang Mo Kio MRT station for our pre-arranged interview, two teen boys squealed "Uncle Raymond", catching his attention.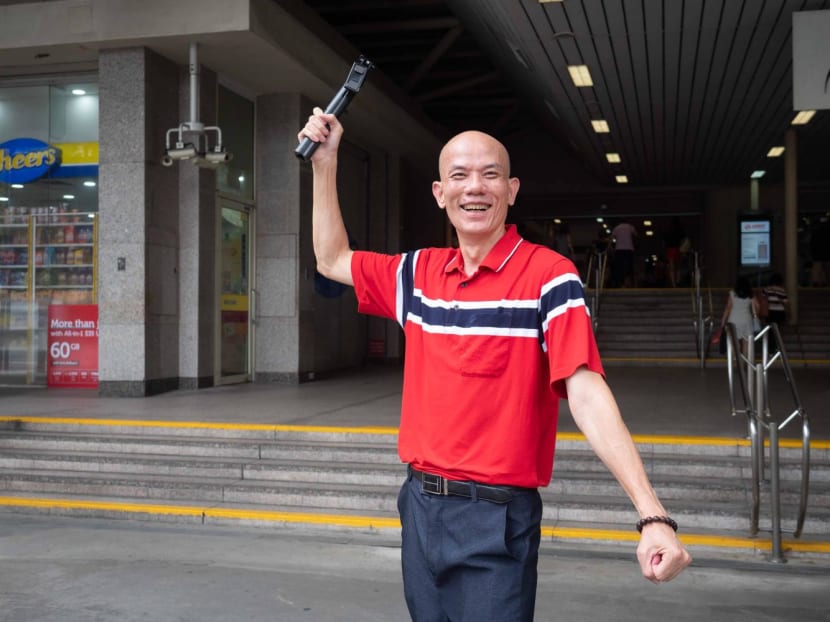 Every so often, the internet thrusts ordinary people into the public eye. But as quickly as they come, they tend to fade away from the limelight soon after. In this series, TODAY journalists talk to some of these viral sensations to find out who they really are behind the social media screen and how their lives were affected by their fleeting fame.
Mr Raymond Lim rose to TikTok stardom by dancing in front of MRT stations across Singapore
Affectionately known as "Uncle Raymond" by his 60,700 followers, Mr Lim says he does it to make people happy
Despite his family's support, he would not include them in his videos, fearing hateful comments online
SINGAPORE — As my colleague and I followed Mr Raymond Lim to a void deck opposite Ang Mo Kio MRT station for our pre-arranged interview, two teen boys squealed "Uncle Raymond", catching his attention.
Towering over most at a height of at least 1.8m, Mr Lim has a skinny frame and was clad in his signature red polo tee with three white and black stripes and plain black pants. 
The Secondary School students' reactions were unsurprising as it was hard to miss the sensation who danced his way to TikTok fame. We, too, had no trouble locating him at the Ang Mo Kio MRT station just minutes earlier.
"Come find me later in an hour outside the Ang Mo Kio MRT station, we can make a TikTok later," he told the two teens, before exchanging a wave.
As we settled down under the void deck, I asked him if getting recognised was a normal occurrence, and he sheepishly admits so.
"While I was having lunch before meeting you, about six or seven people greeted me and asked for pictures… maybe it's my bald head and my height that makes me obvious," he said in Mandarin, before letting out a laugh.
Before I could start the interview, Mr Lim asked if I made "TikToks" too.
I ruefully answer that I use the app only to mindlessly scroll through the short-form videos. Here I was, speaking to the dancing man who pops up ever so often on my app, only to come across as a total greenhorn in our first meeting.
"TikTok is very fun, so you should make (a video)," he urged, foreshadowing my first TikTok video with Mr Lim.
BEATING PANDEMIC BOREDOM, GAINING TIKTOK FAME
Affectionately called "Uncle Raymond" by his more than 60,700 followers, Mr Lim said he never expected this sort of fanfare.
Mr Lim moved to Singapore from China in 1998, and had only travelled here twice each year for work before that. He is shy about his age when I asked, only revealing that he is in his 50s.
In the first place, he didn't start off using TikTok — it was on the social media platform's Chinese equivalent, Douyin, where he began his meteoric rise to social media stardom.
Douyin is available only in China, while TikTok is available worldwide except in certain countries like China and India.
"There wasn't anything to do during (the circuit breaker) in Singapore in 2020, so I just started making Douyin videos for fun and to connect with people back in China," said the Singapore permanent resident.
Through completing "random challenges and activities", he had gained about 40,000 followers on the platform at the time, fewer than his current follower count on TikTok.
When restrictions were lifted, Mr Lim met Lily, a fellow Chinese national who would make Douyin videos at Mr Lim's favourite drinking hole in Serangoon North. He declined to share her name or details, but she has been a familiar face in Mr Lim's videos.
"After making Douyin videos together (with Lily) once in a while, she asked me to use TikTok since there were more Singaporeans there, and it seemed fun," he said.
That was February 2022. 
Weeks later, Mr Lim found himself going viral, after a 10-second clip of him dancing to a 10-second remixed clip of Mandopop singer Faye Wong's "Century of Loneliness" in front of Ang Mo Kio MRT station went viral — which was the reason why he also wanted us to meet at that very station.
"This song is a romantic song about longing and is originally very sad, but remixed to be more upbeat," he said. "I just thought it was very unique and danced to it, and I didn't think people would care or wonder why." 
Mr Lim accompanied it with big and easy-to-memorise moves so people could follow along, though he admitted some people have mistakenly thought he was doing martial arts.
"When I first started, I felt quite shy to dance in public but I wanted to enjoy going out… but now, there are people who want to dance together with me and have fun, so I enjoy it too," he said.
I thought it was perhaps because his dance was easy to follow, or there's something infectious about Mr Lim's clear enjoyment dancing in front of somewhere unexpected.
Regardless, Mr Lim's growing fanbase of all ages started flooding his page with requests to dance with him in a video. For up to six days a week, Mr Lim will visit three locations daily to meet his fans, often along three adjacent MRT stations.
He pulled out a handwritten letter from his wallet and showed it to us with pride. "A student wrote this for me, saying that I bring a smile to their face," he said.
"I really never thought I would have so much impact, but I guess everything happens for a reason. It makes me emotional thinking how just 10 seconds filming a quick dance can give viewers so much joy."
It isn't just the teens and adults — and me, admittedly — who want to meet the TikTok star. Brands have flocked to sponsor him to promote his products. Schools have invited him to speak at graduation ceremonies.
But in the mix of it all, Mr Lim has pinned a TikTok to the top of his profile which he never expected to make — one showing him dancing with Health Minister Ong Ye Kung.
"He contacted me and the next day, I had 10 minutes to teach the dance and film the TikTok. But we only took two takes to get the one I posted, one to learn and one we filmed," he said, joking that it was the reason why Mr Ong could become a minister.
"We spoke for a bit and he told me through my TikToks, I can encourage people to be healthy and dance. So now I have 'let's move' in my description," he said proudly.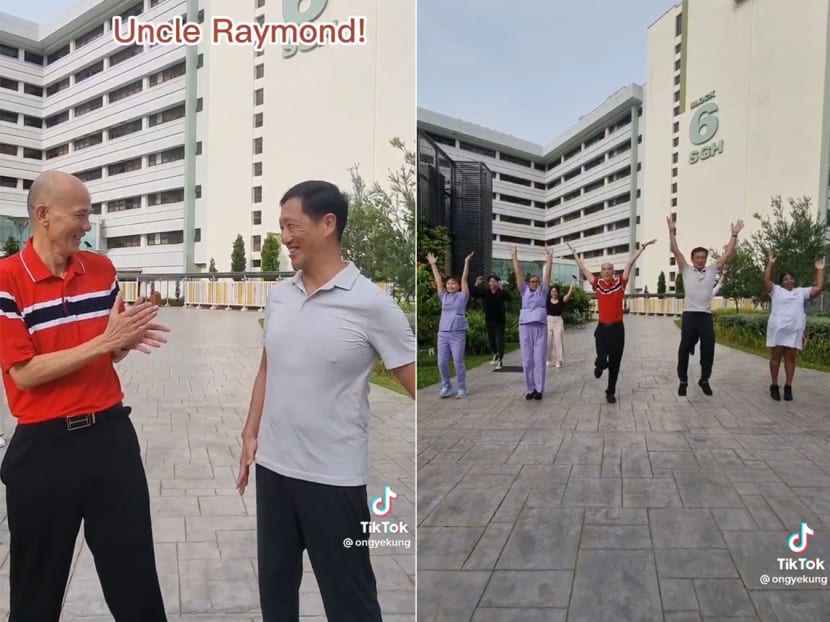 'PEOPLE'S COMMENTS ONLINE CAN BE HARSH'
Behind his TikTok fame, Mr Lim has two sons and helps out in his family's commercial cloth business in Guangzhou, China.
He told me his family is fond of his viral character, and they would tell people around them they knew "Uncle Raymond", though they are often met with disbelief.
"My son's girlfriend told her friends she knew Uncle Raymond, but they didn't believe her," he recalled, laughing.
But despite the support of his family, who are TikTok users themselves, Mr Lim refuses to make and post a video with them, fearing they would not be able to handle the wrath of online comments.
"People online can be harsh, and it can't be stopped, so I don't want my family to be subjected to that," he said.
When I asked if he would delete comments, Mr Lim replied that he would only do so if they were offensive enough to hurt other people.
"If it'll cause damage, then I'll delete it. If they just disagree with something small, they have the right to say what they want and I can't stop them."
What stood out to me during our interview was Mr Lim's positivity towards life, which he credits to his "old age".
Twice, he was asked to stop filming his videos and leave by security guards at ITE West and the Punggol Waterway mall. Instead of blaming the guards, Mr Lim told me he thought they were just doing their jobs.
"There's really no need to fight. I can just leave to find another place, and there's no problem," he said, recalling how he went to a field near the mall to continue filming. ITE West would also invite him back to the school campus to meet students later on. 
"As you get older and go through many things, you realise it's not worth arguing or fighting. There's no such thing as losing face, or feeling like you need to argue to keep your dignity," he said.
"Just be respectful to one another, and life will be more peaceful."
'UNCLE RAYMOND, CAN WE FILM TOGETHER?'
Mr Lim led us back to the Ang Mo Kio MRT station after our chat, expecting to meet fans. He had announced his plans to be there on the previous day, and to my astonishment, a line of 12 fans had formed a line for an informal meet-and-greet. 
Most were students, but there was also a woman in her 50s, who told me she was there because it was hard to find people her age that used the app. "He's very cute," the housewife said shyly.
Laughter filled the air as they took their turns to mirror Mr Lim's dance moves, despite some people floundering in their attempts. But there's no time to correct mistakes, as there's a queue of other fans waiting for their turn.
This was Uncle Raymond in action.
Soon, it's my turn to make my first TikTok, as my editors wished. "Embrace my Gen Z side", or what not.
Mr Lim put me in frame, before pressing the record button on his tripod-mounted mobile phone. He counts down from three as the music starts playing and my dancing skills are put to the test.
I, admittedly, messed up the dance. But before I could say anything, Mr Lim thanked us for our time and rushes off, as he was running late to be at Bishan MRT.
Uncle Raymond is an extremely busy man. I couldn't help but wonder why Mr Lim could continue dancing to the same tune for months on end, with no plans to stop.
As I watched him dash to the station's gantry, another young fan asked him for a quick selfie.
Mr Lim obliged to the kid's delight, and seeing both of their bright smiles, I got my answer.