Government to clamp down on clubs with jackpot rooms
SINGAPORE — Jackpot rooms, seen in many football, social and country clubs here, are set to become sparser or to be shut down within the next few months, following tightened regulations announced on Thursday (July 20).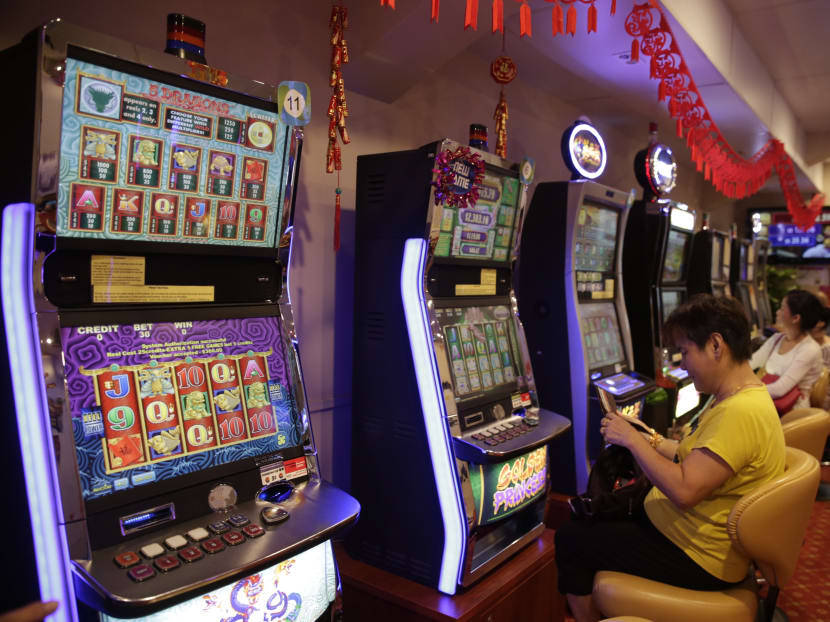 SINGAPORE —  Jackpot rooms, seen in many football, social and country clubs here, are set to become sparser or to be shut down within the next few months, following tightened regulations announced on Thursday (July 20).
The Ministry of Home Affairs (MHA) is going after clubs that have paid lip service to conditions for operating slots by making jackpot gambling the main activity on their premises. Such clubs will have to close down their jackpot rooms by end-April next year, the ministry said.
Many clubs' quotas of jackpot machines will also be cut — progressively, over two years — while new curbs will be imposed on their operations so that individuals are better shielded from the harms of jackpot gambling.
With the various measures in place, the 1,900 jackpot machines at 82 clubs here are expected to fall by about one-third within two years, the MHA said.
A review of the jackpot operations at clubs was announced during the MHA's Committee of Supply debate last year.
In April this year, it emerged that Tiong Bahru Football Club had collected S$36.8 million in 2016 from its 29 jackpot machines — more than the Football Association of Singapore's budget for 2017.
The MHA said on Thursday that clubs were given permits to operate slots were on the condition that these formed "only an ancillary part" of at least two other social and recreational activities — such as karaoke and gym — on their grounds.
But over time, "a number" of clubs have made slots their dominant offering, necessitating a tightening of criteria for jackpot permits, the ministry added.
Speaking at a media conference on the changes, Home Affairs and Law Minister K Shanmugam said the new quota for jackpot machines will be based on the space allowed to be set aside for slot patrons, as well as the total number of these games.
"We will say not more than 'x' amount of space by percentage of the total premises. We will regulate the total number of machines as well," said Mr Shanmugam.
"We will look at what the main 'business' of the organisation is, and whether it is bona fide, and whether there is a social purpose to be served."
He added: "It will be a factor in our assessment eventually, annually, as to how much of the income is derived (via jackpot machines), and how much of it is part of the total income."
A permit officer, appointed by the Home Affairs Minister, will assess whether the individual clubs "provide a suitably wide range of substantive recreational and social facilities and services to their members", when their permits are up for renewal later this year.
The MHA said it was unable to comment on the number of clubs that do not meet the criteria until the assessment is done.
As part of the clampdown, access to jackpot rooms in clubs will also be tightened. From November, the minimum age will be raised from 18 to 21 — in line with that of the two casinos here — and only individuals who hold a membership term of at least one year will be allowed in. Members will no longer be allowed to bring guests into the jackpot rooms.
The operating hours of jackpot rooms — currently not restricted — will also be limited to between 10am and 11pm. In addition, all clubs operating slots must enforce the exclusion scheme under the National Council on Problem Gambling (NCPG), starting from May next year.
This means that any individuals who are barred by law from the casinos or are kept out because of their financial situations or family's objections must also be denied entry to jackpot rooms by these clubs. Currently, 25 clubs already enforce the scheme, of their own accord.
Other social safeguards clubs have to put in place include a ban on advertising and promotions relating to jackpot machines within and outside the clubs. The rule also applies to Internet advertising and promotion.
To prevent punters from prolonging their stay at the slots by dipping into their pockets repeatedly, jackpot rooms must also get rid of any ATMs, credit card facilities and other forms of electronic funds transfer.
CORRECTION: An earlier version of this article said individuals who voluntarily chose to bar themselves from the casino must be denied entry to the jackpot rooms in clubs. This is incorrect.
Only individuals who are barred by law or by their family members from the casinos must be denied entry. Clubs that have not implemented a self-exclusion scheme for their jackpot rooms must also do so.