Substantial improvement seen in public housing affordability
SINGAPORE — Median household income has caught up with Housing and Development Board (HDB) resale prices based on levels in 2009, when the housing market was in a trough.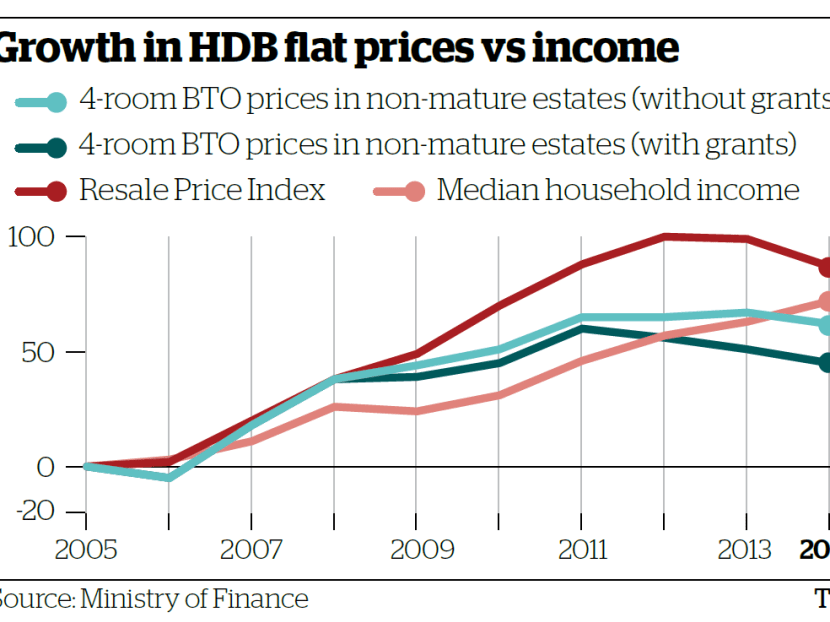 SINGAPORE — Median household income has caught up with Housing and Development Board (HDB) resale prices based on levels in 2009, when the housing market was in a trough.
However, while he spoke at length on the substantial improvement in public housing affordability in recent years, National Development Minister Khaw Boon Wan signalled yesterday that the authorities are not ready to roll back the cooling measures — a move that developers and prospective home sellers have been yearning for.
"If we look further back, the previous resale HDB market trough was in 2005, 10 years ago," Mr Khaw said during the Ministry of National Development's Committee of Supply debate. "Comparing against this baseline, resale flat prices have gone up by 87 per cent, between 2005 and 2014. Over the same period, household income has gone up by 72 per cent. So we are not yet at the 2005 affordability level; there is still a gap."
HDB resale prices had peaked in 2013. Prices have since fallen to 37 per cent above the levels in 2009 — the year that the current property cycle picked up from.
Over the same period, median household income has risen by 38 per cent, said Mr Khaw.
"Whether we use 2009 or 2005 as the base year, the situation today is very much better than in 2011. Our efforts in taming the housing market have seen results," he added.
Some Members of Parliament (MPs), including West Coast GRC MP Foo Mee Har and Tanjong Pagar GRC MP Lily Neo, cautioned the Government against overdoing the correction. In doing so, it could unwittingly affect seniors who are looking to monetise their housing assets for retirement, Ms Foo said.
In response, Mr Khaw said: "Indeed, we should not overkill. The property market is in transition and it is a time that calls for vigilance and nimbleness. We will be careful."
Mr Khaw said those who bought new flats directly from the HDB had benefited even more from the Government's intervention in the property market. Between 2009 and last year, Build-to-Order (BTO) prices in non-mature estates increased by 15 per cent excluding government grants or a mere 6 per cent when grants are included, he said. "Measured against the household income increase of 38 per cent, we can see that public housing affordability has substantially improved since 2011," he added. "Unfortunately, not everyone knows how affordable our BTO flats are."
Mr Khaw cited a recent Ministry of National Development survey, in which respondents were asked how much they thought a four-bedroom BTO flat in a non-mature estate costs. "A good 34 per cent admitted they didn't know. Five per cent even said: More than half a million dollars!" he said.
The survey also asked how much those intending to buy a flat would be willing to pay. The respondents' answers were up to S$300,000 for a three-room flat, and between S$300,000 and S$500,000 for a four- or five-room unit.
In reality, among the roughly 20,000 BTO flats booked by Singaporeans last year, 90 per cent of three-room units were sold below S$250,000, 81 per cent of four-room flats were transacted at less than S$350,000, while 89 per cent of five-room flats were sold below S$450,000.
"These are actual transactions. They paint a comforting picture of young Singaporeans being able to get their first BTO flat, well within their expected budget," said Mr Khaw.
"If we include housing grants, the picture looks even better. As far as housing is concerned, young Singaporeans are many times better off than their London or Hong Kong counterparts. This is the reality."
Mr Khaw said he would like BTO prices to be lower than or equal to four years of an applicant's annual salary. However, this assumes that BTO applicants will be prudent in their choice of housing, he said. "In Singapore, home ownership is not a privilege of the rich only. The benefits of our home ownership policy have reached all income groups, including the lower-income," he reiterated.
In January, Mr Khaw said in Parliament that 744 families earning between S$1,000 and S$1,200 a month had booked two-room or larger BTO flats launched between March 2012 and July last year. During the same period, another 1,491 families with household incomes below S$1,000 a month had also booked flats, he said yesterday. "So when we said families with S$1,000 household income could afford two-room flats, we were not imagining things," he added.
Property analysts TODAY spoke to concurred with Mr Khaw's assessment that BTO prices are affordable for most families. While they also agreed that there is room for HDB resale prices to fall further, they were doubtful that affordability could return to 2005 levels. Property firm OrangeTee's research and consultancy manager Wong Xian Yang noted that, for that to happen, HDB resale prices would have to fall by another 7 to 9 per cent.
Century 21 CEO Ku Swee Yong pointed out that apart from property prices and household-income levels, affordability is also co-related to people's sentiment and outlook. "Most people don't see Singapore as having a hot economy in the next two years … So in that case, affordability will improve if salaries maintain (at current levels) ... or go up slightly (and) housing prices drop a little more," he said.