Sunday Spotlight: Dumpster divers to the rescue of 'ugly' but edible food
SINGAPORE — On a recent Saturday night, a half hour spent digging through the trash bins of Little India yielded enough eggplant, bittergourd, carrots, bell peppers, cabbage and other vegetables to set up a makeshift stall.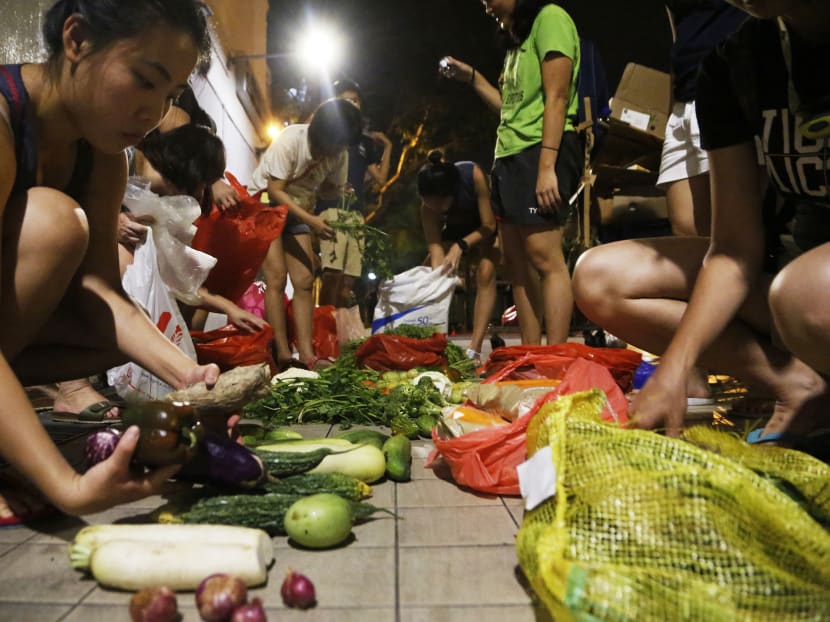 SINGAPORE — On a recent Saturday night, a half hour spent digging through the trash bins of Little India yielded enough eggplant, bittergourd, carrots, bell peppers, cabbage and other vegetables to set up a makeshift stall.
The 16 dumpster divers — a mix of first-timers and old hands — marvelled at the size of the bounty. Some of the produce had been part of entire boxes and crates that were relegated to the trash heap. The participants also knew their colourful haul was only the tip of the iceberg.
"We read about it all the time but you have to see it to believe it," said full-time National Serviceman Ho Xiang Tian, 21.
"Sure, some of these may look ugly or slightly blemished, but nobody notices the difference when they are chopped up to make soup," another commented.
The brainchild of self-employed financial advisor Daniel Tay, the "veggie hunts" are outings to supermarkets and grocery stores after operating hours to "rescue" discarded edible produce.
Much of it ends up in the trash because of cosmetic filtering or to make space for new stock, he said.
The 38-year-old began the outings about three months ago and has organised 11 so far for the public, as well as students from the National University of Singapore taking a course on technology and environmental problems. He publicises the event on the Freegan in Singapore Facebook page that he set up.
Popular locations for the dumpster diving expeditions, which typically take place late at night or in the early morning to avoid unnecessary attention, include Little India, Pasir Panjang Wholesale Centre and a vegetable wholesale market in Toa Payoh East.
During the expeditions, veterans turn up equipped with gloves, flashlights and head lamps. Last Saturday, Mr Tay kicked off the hunt by reminding participants to abide by basic "dumpster diving etiquette", such as putting covers back on each bin after rummaging through its contents.
Each of about 16 bins offered a different encounter — some contained enough fresh produce for a feast while others were far too foul-smelling to sift through.
A rat scampered across one of the bins as participants walked towards it, drawing shrieks. "This is part and parcel of the experience. We usually don't know what we're going to get," said marketing professional Tiew Xin Yi, 24.
Participants were drawn to the "veggie hunt" for different reasons. Some wanted to save money while others were interested in issues related to food waste.
Several passersby stopped to observe the action, including a former vegetable seller who suggested the team ask stallholders directly for unwanted produce. "I have an easier idea for you… Place a basket with the grocery stallholders and it will be filled by the end of the day. They will be more than happy to pass on what they do not want to you," said the man, who wanted only to be known as Nizam.
Such tips provide "insiders' insights" into the problem that food sustainability advocates are still trying to wrap their heads around, said Mr Tay.
Food safety experts such as Professor William Chen concur with Mr Nizam. Food picked up from the trash may contain pathogens, said Prof Chen, who leads Nanyang Technological University's food science and technology programme. Supermarkets and restaurants can instead set up "collection points" for unwanted food, he said. "People can then pick up food of their choice in a cleaner environment. This would reduce risk of food contamination and allow recycling of unwanted food produce," he said.
Dumpster diving is, in fact, illegal. Environmental public health regulations here prohibit "raking or grubbing" through trash bins and other refuse facilities, such as incineration plans and landfill sites. But TODAY understands enforcement happens on a case-by-case basis — depending on the number of individuals involved, what is raked out of the refuse, and what the items are used for.
Those acquainted with agriculture know the effort it takes to produce food. The dumpster divers once met another passerby who used to be a farmer in Bangladesh. He commended their efforts, saying vegetables were so hard to grow.
Mr Tay encouraged participants to share something memorable at the end of the experience, and design researcher Ng Xinyi called for legislation to cut food waste. "There needs to be systems in place to divert this food waste from the trash," said Ms Ng, 30.
STRENGTH IN NUMBERS
The dumpster diving expeditions have created a way for practitioners to draw support from like-minded people and they hope more will come on board to help tackle the sizeable problem. "When you are one person, it just feels like you can't do anything. But when you meet up with more people, you can get strength from others and you come up with ideas. Then change can happen," said Ms Ng.
"I am very glad to have found someone (like Mr Tay) who is doing something about this… The (food waste) problem is much bigger than we would imagine and not confined to our households," said Ms Toh Hui Ran, 23, who works in corporate sustainability.
More fascinating – and telling of society's perception of salvaging waste – are the reactions of others. Research assistant Ng Huiying recalled her mother's initial dismay when she learnt her daughter was "digging through trash for food".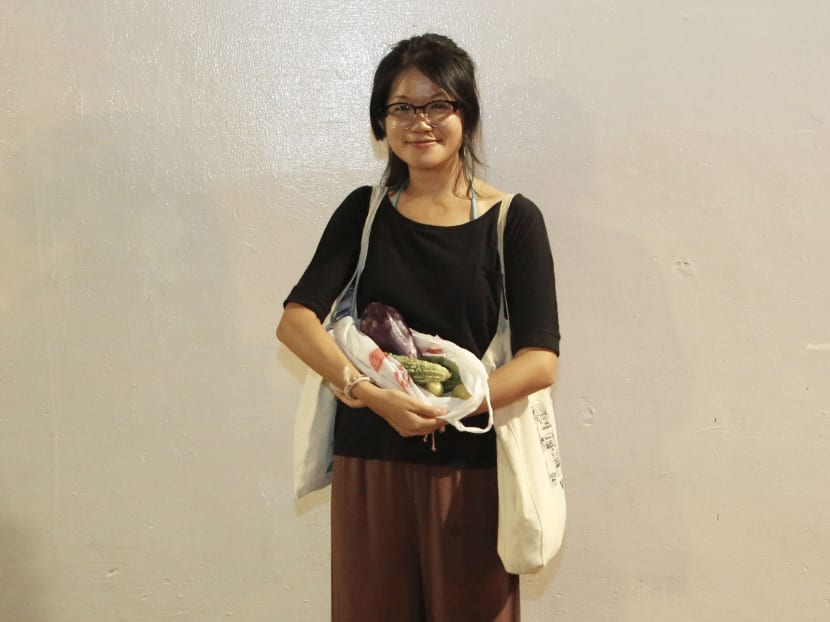 "She didn't like it… she said she felt like we were beggars," said Ms Ng, 26. "I told her it's okay, this is how people (view) such actions. But as long as you know why you are doing it, you don't have to worry about what other people think."
According to household appliances brand Electrolux's survey of 1,000 Singaporeans last year, more than half (52 per cent) said they would rather throw away "ugly food" although they knew it contributed to food waste. One in four said they would never eat misshapen, discoloured or bruised fruit and vegetables.
Mr Tay's educational efforts have inspired others to spread the word. They include sustainability interest group Lepak in SG, which organises monthly sessions called "Shopping for Sustainability" to supermarkets. Those leading the trips share about cosmetic filtering, food miles, plastic packaging and other environmental issues.
"We hope people can be less fixated (on) the appearance of groceries by explaining that whatever is on display is already the winner of the 'cosmetic lottery', so there is no need to poke and pinch fruits, for example. We also encourage them to buy locally or from sources around the region," said Mr Ho, who co-founded the group.
Ms Toh has used the produce collected from dumpster diving to whip up hearty hotpot meals at public events, such as the Association of Women for Action and Research's free market on Saturday (Oct 28) and the Urban Redevelopment Authority's PARK(ing) Day last month, which saw parking lots transformed into temporary community spaces.
Such events serve as opportunities to raise awareness and recruit more troops in the battle against food wastage.
SUPERMARKETS PITCHING IN
For individuals and small community groups, the journey to cut food waste — Singapore generated 791,000 tonnes of it last year, of which 14 per cent was recycled — is no longer as lonely.
The National Environment Agency launched a Food Waste Minimisation Guidebook for Supermarkets this month, which included case studies of best practices. Singapore's largest supermarket chain, NTUC FairPrice, threw out 1,278 tonnes of food last year, 3.6 per cent less than 1,326 tonnes in 2015. Fruits and vegetables make up about 60 per cent of its food waste.
FairPrice introduced an initiative in 2015 where slight blemishes and bruises on fruits and vegetables are sliced off and the produce is cut into smaller pieces and sold at marked-down prices.
Each month, it also donates about S$20,000 worth of unsold canned food and groceries that are still fit for consumption to non-profit organisation Food from the Heart.
Dairy Farm's supermarkets — which include Giant, Cold Storage and Market Place by Jasons — have sections at outlets that sell food products approaching their expiry dates at lower prices.
NOT JUST A FOOD WASTE ACTIVIST
Few among Singapore's small but growing community of environmental advocates take the cause of waste reduction to Mr Tay's level.
The "freegan" does not stop at food waste.
He first began salvaging others' trash late last year as a way of saving money. It opened his eyes to the extent of wastage here and he now obtains his food and daily necessities – including clothes – without forking out a cent. He has spent only S$8 on food in the past 10 months.
Besides "veggie hunts", he organises "freegan hunts" where participants root through piles of discarded items in various neighbourhoods for usable items.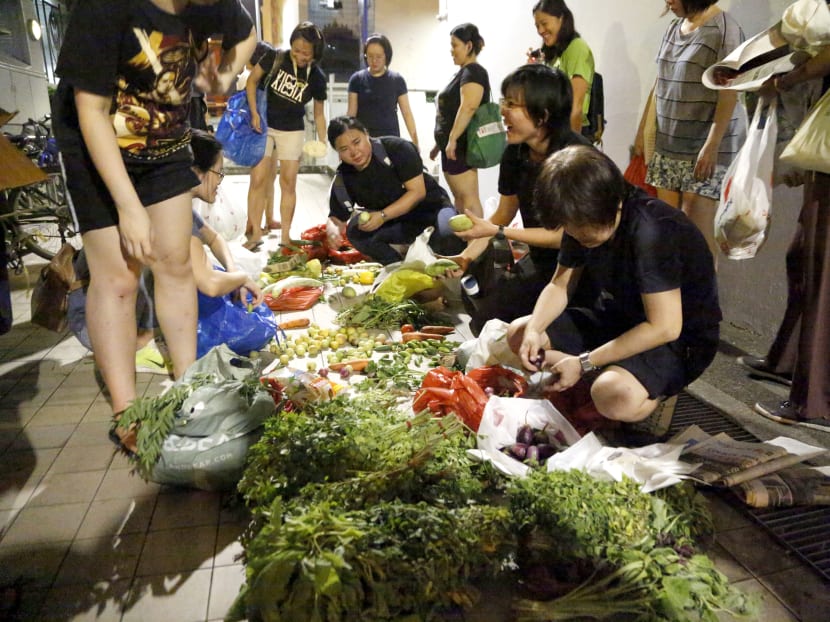 "Participants must be willing to get their hands dirty," said Mr Tay. "Sometimes the plastic bags may look dirty or dusty but you'll be surprised at how much stuff you can find once you open them up, including things that are still well-packaged and as good as new."
He has amassed a smorgasbord of appliances, toiletries, bags, clothes and shoes at home from the hunts, but is no hoarder. He set up a Facebook group and blog in January, posting pictures of items that are up for grabs and would meet with interested parties to pass them the loot at no charge.
Items picked up are also shared with migrant workers and on occasional Sundays, the participants invite domestic workers to their homes to pick out anything they want.
"As the saying goes, one man's trash is another's treasure," said a "freegan hunter", media professional Mindy Ng, 54. "We hope our small efforts to save the environment can also assist others who are in need."