Sungei Road Thieves' Market to shut for good on July 10
SINGAPORE — Bargain-hunters who enjoy shopping at the oldest and largest flea market here, popularly known as Thieves' Market, will have until July 10 to do so.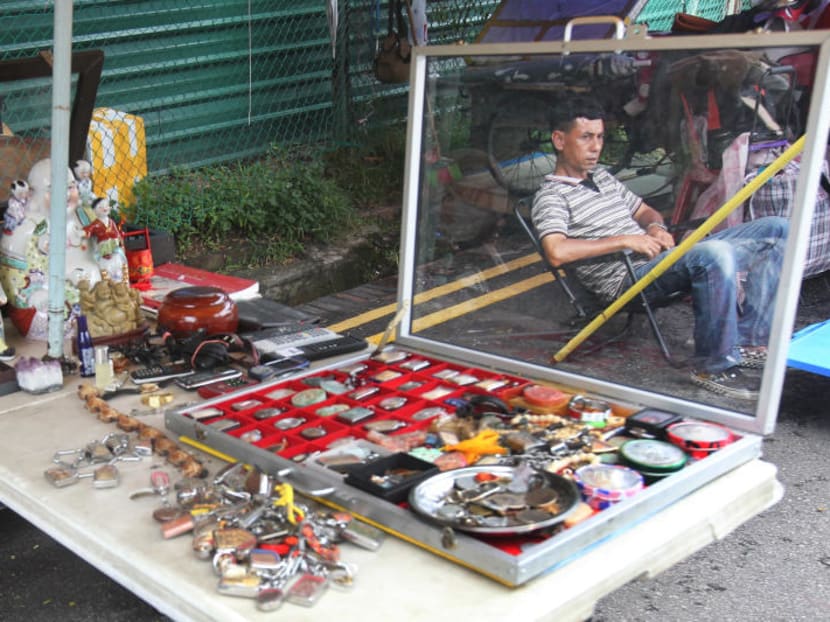 SINGAPORE — Bargain-hunters who enjoy shopping at the oldest and largest flea market here, popularly known as Thieves' Market, will have until July 10 to do so.
Located between Jalan Besar and Rochor Canal Road, the flea market, which has been a venue where sellers have peddled second-hand bric-a-brac since the 1930s, will shut for good on that day, with the site being needed for ground preparation works for future residential development use, a multi-agency statement said on Tuesday (Feb 14).
A unique hawking zone with a colourful, decades-long history, including a reputation as a spot for trading stolen, smuggled and illegal wares, Thieves' Market had, in 2011, been shrunk in half to make way for the construction of the new Sungei Road MRT Station.
In anticipation of impending closure, hawkers there had also banded together several years ago to propose possible new sites for the relocation of the iconic bazaar — but to no avail.
The statement issued on Tuesday by the agencies said that, while the area has had a long history and holds special memories for many Singaporeans, "the Government has assessed that such street trades should only be allowed to continue in designated venues like trade fairs and flea markets, rather than on a permanent basis, to minimise disamenities to the public".
But hawkers holding permits to operate there — 11 out of the original 31 remain — will be given the option of relocating to lock-up stalls at Golden Mile Food Centre and Chinatown Market at subsidised rents, the statement said. Stalls will be allocated by ballot.
These permits had been given in the 1970s to 1980s to rag-and-bone men who were not included in the massive programme to resettle street hawkers into purpose-built markets and hawker centres with proper amenities.
Other vendors who use the site, which has more than 300 lots, do so on a first-come, first-served basis. Those registered with the police under the Secondhand Goods Dealers Act will have to provide a new business address if they wish to continue to ply their secondhand goods trade elsewhere, the statement said.
Should there be hawkers who need financial or employment assistance, Social Service Offices and Workforce Singapore will make the arrangements, the statement added.
The National Heritage Board has also started research and documentation efforts on Thieves' Market and its vendors to preserve memories of the site. Some of these efforts are showcased on Roots.sg.
Mr Koh Eng Khoon, who has been hawking there for the past 40 years and is president of the 70-member Association for the Recycling of Second Hand Goods, said he felt a "deep sense of shame and disappointment" when he was notified of the authorities' decision.
Sitting on a suitcase containing his wares, the 76-year-old told TODAY: "This place has been like a second home for many of us ... Here we are all friends, regardless of our skin colour, age, or religion."
He added: "It has been around for almost a century, it's a precious piece of our tradition and heritage. And now it has to make way for development. What a shame."
Mr Alvin Sim, who visits the market once a fortnight — it operates daily from 1pm to 7pm — to scour for antiques and other collectibles, said it is a unique part of Singapore's urban landscape. Several other cities also have markets selling second-hand goods and it will be "a pity" if this piece of Singapore shuts down, added the 43-year-old. His "best buys" from the market include a jade pendant that cost about S$200.
Sisters Teng Soon Heng, 79, and Chan Ah Ling, 69, also said their fondest memories of the market centred on the friendships formed with fellow vendors and customers. 
"We like this place a lot because everyone is very relaxed — we laugh and joke with one another," said Ms Teng, who has been selling clothes there since the 1970s. "We hope the Government can give us an alternative site ... We won't have the skills they need to work elsewhere."
Ms Chan said they will decide their future plans when the closure draws nearer. "Right now, we will just live day by day."