Sweetlands Childcare director fined for colluding with parents to withdraw S$133,000 from CDAs
SINGAPORE — When the parents of children enrolled at Chan Chew Shia's childcare centres owed school fees, Chan came up with an illegal loan scheme to help them make payments.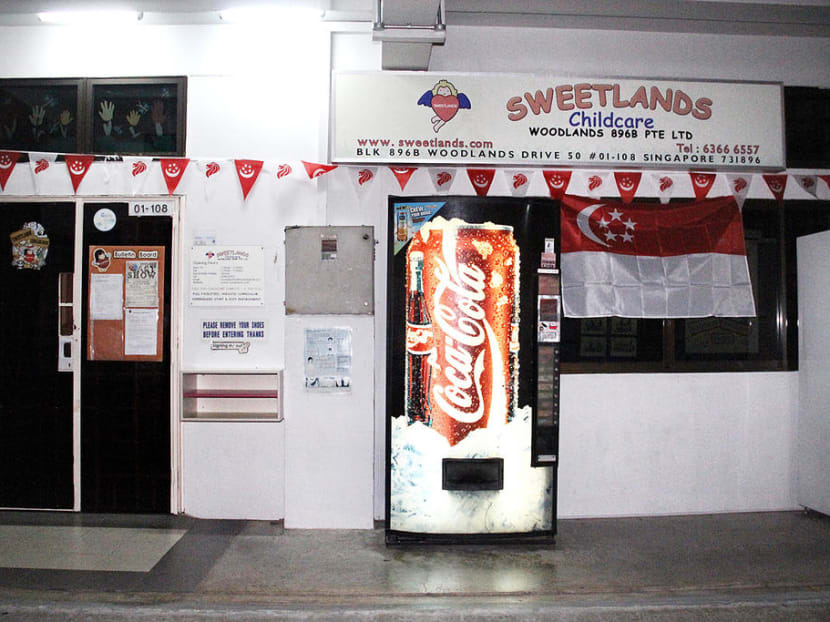 Chan Siew Shia, 58, was a director and overall in charge of the Sweetlands Childcare Centre chain
She came up with an illegal loan scheme in 2011 to help parents who could not pay school fees
She lent them the fees by depositing money into their children's Child Development Accounts
After the Government made matching contributions to the accounts, she withdrew the sums she had deposited as loan repayments
MSF officers told her many times not to operate such a scheme but she continued with it over almost four years
SINGAPORE — When the parents of children enrolled at Chan Chew Shia's childcare centres owed school fees, Chan came up with an illegal loan scheme to help them make payments.
Her scheme involved making unauthorised withdrawals from the children's Child Development Accounts (CDAs), which is a special savings account by the Government meant for parents to put in money for their children's needs.
The Government also matches the sums that parents put in up to a limit.
Chan made unauthorised withdrawals amounting to S$133,674 from 34 children's accounts to recoup her loans to these families. 
The 58-year-old was fined S$90,000 on Tuesday (Jan 25) for her offences from 2011 to 2015. She was then overall in charge of the Sweetlands Childcare Centre chain along with her husband Ho Boon Hong.
She pleaded guilty to 30 charges under the Child Development Co-Savings Regulations, in what was the first prosecution of its kind. Another 124 charges were taken into consideration for sentencing, after the prosecution withdrew 44 charges.
Those convicted can be fined up to S$20,000 for each charge.
When Chan was first charged in June 2020, Sweetlands Childcare, which started in 1987, still ran 11 centres.
WHAT CHAN DID 
In 2011, Chan began colluding with parents who owed Sweetlands outstanding school fees or other childcare expenses. She would extend loans to these parents who were trustees of their children's CDAs.
Parents can open the accounts under the Child Development Co-Savings Scheme, more commonly known as the Baby Bonus Scheme, which aims to reduce the financial costs of raising children.
Chan directed cash deposits into these accounts, so that the Ministry of Social and Family Development (MSF) would make a matching contribution into the accounts ranging from S$6,000 to S$18,000.
Chan did this by directing the withdrawal of funds from her childcare centres' bank accounts via cheques and depositing them into the CDAs.
After that, she prepared CDA deduction forms that detailed the deductions, recording the purposes as "top-up fees" or "loan to (child's name) chk exchange".
Finally, she made deductions from the CDAs — personally or through her clerk — as repayment of her loans to the families. 
Chan then used MSF's matching contributions to pay the outstanding school fees owed to her centres. She made the decisions for all matters related to the matching scheme, which involved 22 parents, the court heard.
It remains unclear if the parents will also be prosecuted.
IGNORED GOVERNMENT'S WARNINGS
Initially, in September 2010, a customer service staff member from MSF had erroneously advised Chan over the phone that what she was doing was permissible.
But in March 2011, MSF officers conducted an audit of Sweetlands and learned about the what Chan did and the phone call. The officers then told her that she should not make deductions from the CDAs for loan repayments.
A parent then complained about the matching scheme that Chan offered. An MSF officer reminded Chan that she should not make such withdrawals.
In April 2014, during an audit of Sweetlands following another complaint by a parent, MSF officers discovered that Chan was still offering the scheme and that there were deductions from CDAs for loan repayments. The officers told her again not to do it.
In October 2015, MSF announced that Chan and her husband would be stripped of their statuses as Approved Persons of Sweetlands Childcare — the first time the ministry had taken such action against those running childcare centres. 
Approved Persons are authorised persons of approved institutions registered with MSF who are allowed to make deductions from CDAs for the payment of childcare and related fees.
They also must ensure that the withdrawals are authorised by parents and used for purposes intended under MSF's rules.
'NOT PURELY ALTRUISTIC'
Deputy Public Prosecutor (DPP) Cheng Yuxi sought the fine imposed. She noted that Chan had claimed that she wanted to help families who could not afford the school fees, but her offences resulted in personal gain for her.
She also committed the offences over nearly four years despite knowing what Approved Persons must do, and after MSF told her multiple times not to operate such a matching scheme, DPP Cheng added.
The prosecutor also told the court that "much public resources" were expended to track Chan's actions. The ministry sent more than 20 staff members to the various Sweetlands centres to look into CDA-related issues, for example.
In mitigation, Chan's lawyer Julian Tay from law firm Lee & Lee said that her offences began when the Baby Bonus Scheme was in its infancy state. He added that the guidelines were not clear then and her end goal was to assist the parents.
When news broke of her actions in 2015, there was a "media frenzy" and the issue was aired in Parliament. Banks refused to give her loans and she was on the brink of bankruptcy, Mr Tay added.
In sentencing Chan, Deputy Presiding Judge Jennifer Marie told her: "Whatever motivated your course of action, it was not purely altruistic."
The judge then ordered her to pay S$45,000 and fork out the remaining sum over the next six months.