Take-up for mid-career attachments lacklustre but 'gaining momentum'; only 430 of over 13,700 positions filled
SINGAPORE — Even though there were more than 13,700 attachments available for mid-career jobseekers under a government initiative, only 430 of these opportunities had been filled as of earlier this month, at 170 host firms.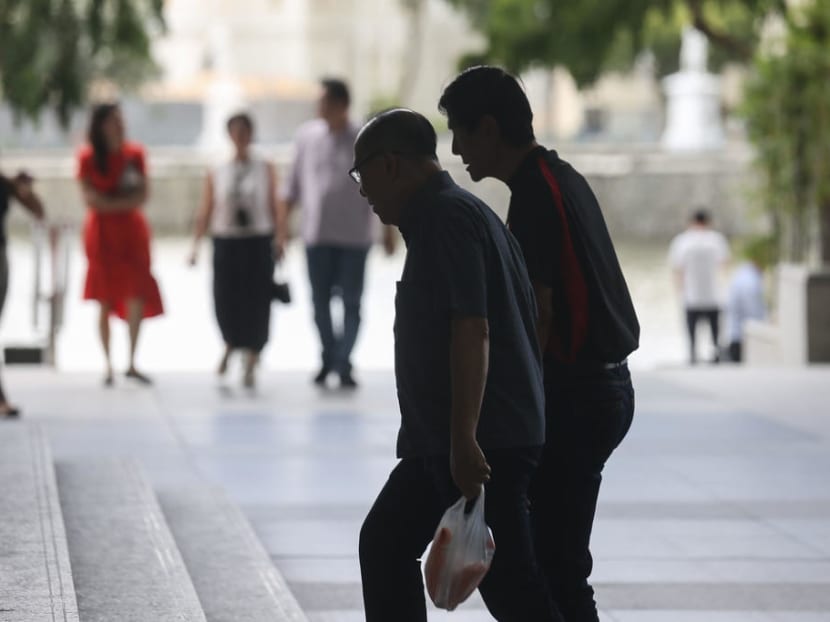 The SGUnited Mid-Career Pathways Programme kicked off in August, but the take-up rate has not been as fast as the authorities had hoped
Manpower Minister Josephine Teo said that mid-career jobseekers may not be used to the idea of attachments
Companies may also find it difficult to adjust their attachment programmes to cater to more experienced workers
One mid-career trainee under the programme said that she chose to take it up as she did not want to be "left redundant" amid the pandemic
SINGAPORE — Even though there were more than 13,700 attachments available for mid-career jobseekers under a government initiative, only 430 of these opportunities had been filled as of earlier this month, at 170 host firms.
On Tuesday (Dec 15), Manpower Minister Josephine Teo provided updates on the SGUnited Mid-Career Pathways Programme and the SGUnited Traineeships Programme during a visit to Singtel Comcentre, where some jobseekers have been placed. 
She said that while the Mid-Career Pathways Programme is "gaining some momentum", the take-up rate is not as fast as the Government would have liked.
The programme kicked off in August to help local mid-career jobseekers find attachments and traineeships to gain industry-relevant experience.
Participants receive a monthly training allowance of between S$1,400 and S$3,000, of which 80 per cent is funded by the Government.
In contrast, the SGUnited Traineeships programme, aimed at helping fresh graduates land traineeships, has placed 4,700 of them into such opportunities, Mrs Teo said.
In a written reply to a parliamentary question in October on both the SGUnited programmes, Mrs Teo said over 20,500 traineeship and company attachment opportunities have been made available.
Mrs Teo said the reason for the slower take-up for the mid-career programme is firstly that jobseekers may not be used to the idea of taking up an attachment over the prospect of a full-time job.
"On the part of the jobseekers very naturally, they would still prefer to get a job offer, rather than an attachment programme," she said. "So they took time to warm up to the idea of the (Mid-Career Pathway Programme)."
Secondly, Mrs Teo said that the job experience of a mid-career individual is often more specific compared to a fresh graduate.
"In some cases, host organisations have to adjust the programme content, to take into account the experience of the mid career individual," she said. 
"For example, a generic training programme that some fresh graduates may be put through — that is less relevant to a mid-career individual. He may already have skills and more likely in the (Mid-Career) Pathways Programme we put him into a specific role and you equip him with the skills (so) he can already begin to contribute."
She added that the awareness of the programmes needs to be built up. While the SGUnited Traineeship Programme was launched two months earlier in June, Mrs Teo said that more companies are starting to become aware of the Mid-Career Pathways Programme.
"So I would give it a little bit more time," she said. "But we would still like it to move a bit faster, we would like more companies to be aware of it, and we would also like jobseekers to consider this as an option while they are looking for a more permanent position."
Mrs Teo was also asked by the media whether the announcement on Phase Three of reopening Singapore would mean a further easing of workplace restrictions.
She said that the Covid-19 multi-ministry task force has been discussing "whether restrictions on returning to offices can be further loosened".
"Some announcements will be made in the near future," she added.
'NEED TO UPSKILL AND NOT BE LEFT REDUNDANT'
While some mid-career job seekers may be unwilling to take on attachments, Ms Michelle Wee has done so in a role as a digital executive at Singtel, using her attachment to gain job experience in the telecommunications sector.
The 54-year-old was in the travel and hospitality industries for the past 30 years, but this sector was severely affected during the Covid-19 pandemic.
"That was when I realised how vulnerable the travel trade is… I told myself that I need to upskill and not be left redundant even if I had to change career paths," she said.
She took up the opportunity at Singtel in November, and while the learning curve has been steep, she has since learned skills such as how to reach out to small and medium enterprise customers and provide them with relevant digital solutions.
She is one of 79 mid-career job seekers who have joined Singtel so far as part of the Mid-Career Pathways Programme.
Mr Mohamed Dzul'Aizat Mohamed Amin, who is also a mid-career trainee at Singtel, said that in his previous job he was an operations analyst in the hedge fund industry, but had left the role in August due to personal reasons.
He joined Singtel on an attachment as a sales system implementation executive because he was keen to become a business analyst, and was looking for opportunities to utilise his previous skill sets when he chanced upon the role.
However, he had to explain this decision to his parents, who had their doubts.
"Initially my parents were quite confused as they thought that I had gained full-time employment," said the 30-year-old.
"I sat down and explained to them properly in terms that they would understand better, and they understood when I told them that it was like an 'internship but on another level'."
Since beginning his role in November, he has learned technical skills in data visualisation and robotic process automation, and hopes to pick up new skills such as project management and stakeholder analysis in the coming months
Both Ms Wee and Mr Dzul'Aizat are open to staying on as full-timers at Singtel.
"We are open to converting trainees to full-time employment with us if they are a good fit and perform well," said Singtel group chief human resources officer Aileen Tan.
"Their stints with us will provide valuable experience for them even if they do not eventually take up permanent opportunities with the Singtel Group."
CLARIFICATION: An earlier version of the article and its headline stated that as of October, there were more than 10,000 attachments available for mid-career jobseekers under Mid-Career Pathways Programme. The figure has been updated to more than 13,700 based on the latest update from Workforce Singapore.