Tech-savvy S'porean teen played part in Trump campaign
It was "just another project" to pay for her own dental braces. And the project was to help create a Prezi presentation for youth as part of American billionaire Donald Trump's presidential campaign.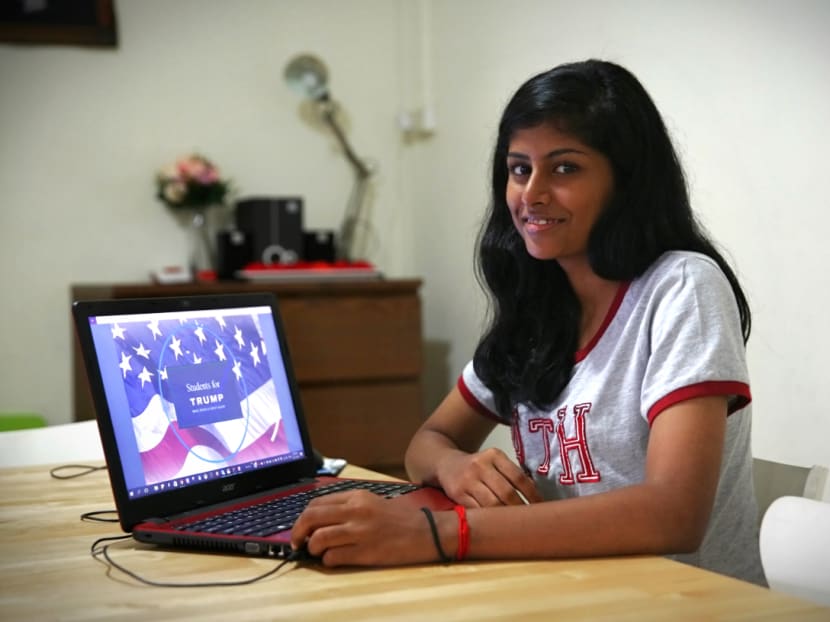 SINGAPORE — When the request came from American billionaire Donald Trump's campaign team to help create a Prezi presentation for youth as part of his presidential campaign last August, East View Secondary School student Hrithie Menon treated it as "just another project" to pay for her own dental braces.
Prezi is a presentation tool used as an alternative to traditional slide-making programmes such as PowerPoint. Hrithie, 15, told TODAY that it was one of the "easiest" projects she has had to do, because it was fairly straightforward and she completed it within two hours.
"At that time, I didn't really know who he was, so I didn't (think) it was such a big deal," the Singaporean student said. It was only when she heard news of the United States presidential election that she realised she did "play a part" in the event, even though she admitted that she does not follow US politics.
While she is unable to share too many details because she is bound to a non-disclosure agreement, she said that the slides were shared across various colleges and university campuses in the US aimed at capturing young people's votes.
Her parents consider Mr Trump, now the US President-elect, Hrithie's "biggest client" so far.
Her mother, Madam Shenthil Ranie, 44, who works in the media entertainment industry, said: "(I remember) my husband texting me to say, 'You'll never know who this new client is' … It was so hilarious ... That was a big moment for us, to think that my daughter's freelance work could actually get her such a big gig."
Hrithie, who learnt the skills herself, has done projects for 20 clients in the last two years, such as creating a Prezi on safety guidelines for the United States Polo Association and working with various brands in Spain and Vietnam.
Clients approach her on the website Fiverr — a marketplace for digital services — where they provide her with the content that she turns into a Prezi video. She charges about US$100 (S$140) a project and has earned close to US$2,000 to date.
The digital native uses with ease various software and tools such as Prezi, Adobe After Effects and VideoScribe, and completes these projects typically within a day.
Her interest in such work was sparked when her father first tasked her to create some videos during her school holidays, when she was in Primary 4. She went on to develop some 15 to 20 android apps, including a celebrity-inspired news app about artistes such as One Direction and Selena Gomez. She also used to buy in bulk various accessories or monopods for taking selfies from e-commerce site AliExpress, to sell through her own Instagram account.
Her father, Mr Haridas Menon, 49, founder of the Singapore Internet Marketing Academy, said: "She somehow has the knack of picking up trends, she has her ears to the ground."
While she excels in the technical area, Hrithie sometimes has to turn to her parents for help when clients are not as clear in their briefs or when she encounters language difficulties. Even so, her parents are amazed at her abilities and resourceful nature.
"When I see her on this path and what she has achieved, it is mind-blowing for me, to think that she's so young," her mother said, hoping that schools may nurture students with similar talents to do more digital work or for them to build new products online.
In her spare time, Hrithie is keen on learning how to help businesses tighten their cyber security on WordPress. Cyber security is an area she is looking to study in a polytechnic in future to enhance her skills.
On how others may pick up skills like hers, Hrithie said: "You just have to have the initiative to go and search for (them) on YouTube. Everything is on the Internet."