Amos Yee released after 4-week jail term is backdated
SINGAPORE — Teenage blogger Amos Yee was handed a four-week jail sentence today (July 6) but was released on the same day as his sentence was backdated to June 2, when he was already in remand.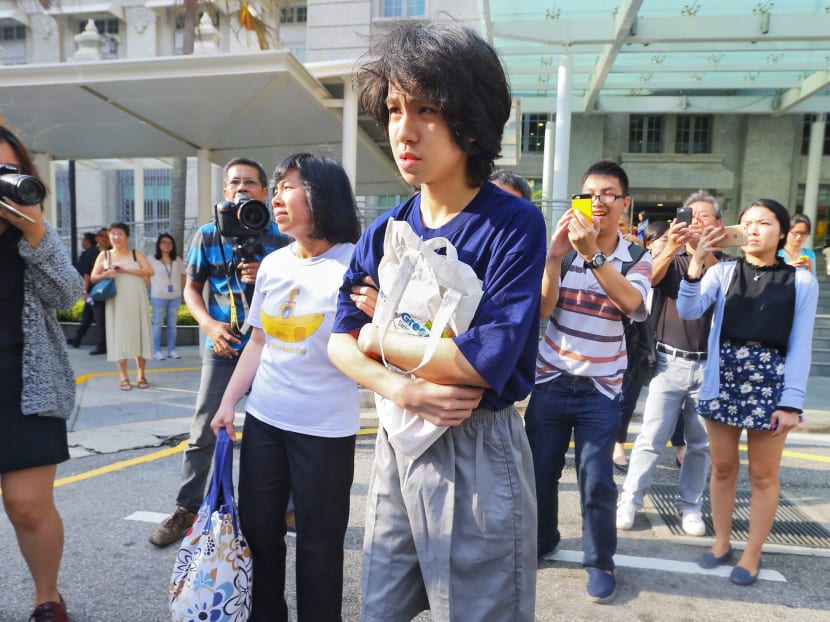 SINGAPORE — Teenage blogger Amos Yee was handed a four-week jail sentence today (July 6) but was released on the same day as his sentence was backdated to June 2, when he was already in remand.
But Amos could return to court again, as his lawyer Alfred Dodwell told the media he intends to appeal against Amos' conviction and sentence for the two charges of posting an obscene image online and posting content intended to hurt the religious feelings of Christians.
When he was freed today, Amos' demeanour differed sharply from during his previous few court appearances, where he flashed smiles readily for the media pack. Instead, Amos wore a frown on his face and kept his head bowed most of the time while being led away by his parents, Ms Mary Toh and Mr Alphonsus Yee.
Earlier, members of the public and international media queued for hours to attend the hearing and some broke out in cheers when Amos entered the courtroom.
In calling for the judge to impose a jail term of one day, the prosecution cited the "seismic shift" in Amos' attitude in the time he has been held. Amos had voluntarily removed the offending materials that he had re-posted after his prosecution and had given the court a written undertaking not to re-post these. In contrast, during the course of criminal proceedings, Amos had repeatedly breached bail conditions.
Institute of Mental Health child psychiatrist Cai Yiming, who interviewed Amos, also reported that the teenager admitted to his guilt and has "realised what he has done was against the law and could disrupt social harmony".
"We see this as no less than a significant repudiation of his previous posturing, and it is an important acknowledgment that he has finally accepted the gravity of what he had done and that he was or is willing now to make amends by undoing it," Deputy Public Prosecutor Hay Hung Chun told the court.
"I think given that seismic shift in thinking and attitude, Your Honour, the prosecution would then be asking for a one-day term of imprisonment."
The Attorney-General's Chambers had previously argued against incarceration, saying it would not have a rehabilitative effect on Amos. It called for a probation term, but after Amos refused to cooperate, went on to argue for reformative training — a more severe sentencing option for offenders aged below 21 where they are kept in an institution for at least 18 months to undergo structured rehabilitation programmes, including foot drills and counselling.
Subsequently, the court sent him to be assessed for mandatory psychiatric treatment after it was found that he could have an autism spectrum disorder but Dr Cai said Amos did not suffer from any mental illness.
Defence lawyer Alfred Dodwell noted that Dr Cai had suggested mentorship and counselling for Amos. He told the court that Dr Lim Yun Chin from Raffles Hospital has agreed to take charge of these for his client.
During sentencing, District Judge Jasvender Kaur noted Dr Cai's finding on Amos' usage of the Internet.
"It states that due to his young age and inexperience, he is unable to discern the untruths in the cyberspace and believes that one has complete freedom of expression without any responsibility," she said, adding that Amos has much to learn on how make decision wisely so as to not break the law.
Besides having someone mentor Amos on the proper use of the internet, the psychiatrist also recommended family counselling to improve interaction and relationship, noted the district judge. These "would give him the best chance to respect the law and others," she said.
Ms Kaur also told Amos to "rethink long and hard" his decision not to continue with his formal education. "There are a few drop-out success stories, but they are the very lucky few. For the large portion of us, it would be foolhardly," she added.
Although Amos' offences are "not the most serious offences, they are not trivial ones", said the judge, who also took into account his age and lack of maturity of thought.
Speaking to reporters after the hearing, Mr Yee said they respect the court's decision. "At least there's a chance now for (Amos) to come out and know he can get help," he added, in Mandarin.
The court's sentencing today closes a chapter in a saga that began more than three months ago after police reports were filed against Amos for his disparaging remarks about Christians and a tirade against the late Mr Lee Kuan Yew on YouTube.
The case attracted national and international interest, and even gave rise to an unprecedented incident in which a man took matters into his hands by slapping Amos outside court on April 30. The man's actions were swiftly condemned, with Law Minister K Shanmugam saying vigilante justice cannot be condoned.
Neo Gim Huah, 49, a businessman, was arrested less than 12 hours after the incident, charged with voluntarily causing hurt and sentenced to three weeks' jail.
There were others who supported Amos and called for his release, with groups such as Amnesty International questioning the need for court action.
Just last Saturday, a group of 77 individuals sent an open letter to Prime Minister Lee Hsien Loong to express their concerns about the State's handling of the case, while a rally held the following day attracted about 500 people.