Terror group Jemaah Islamiyah poised to make a comeback, observers say
SINGAPORE — While efforts to dismantle the regional networks of Jemaah Islamiyah (JI) have met with some success, the terrorist group is slowly consolidating support and beefing up its militant wing, on the brink of emerging as a threat again, analysts cautioned.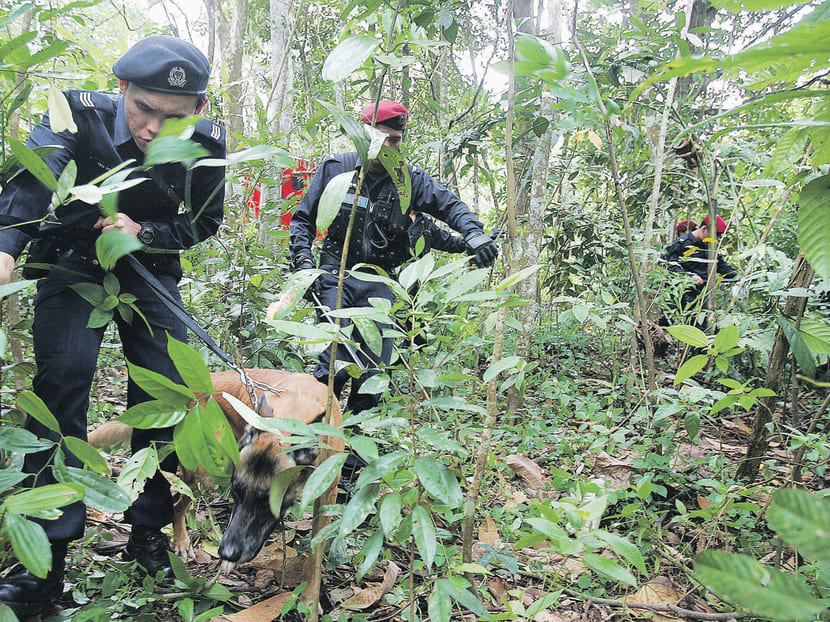 SINGAPORE — While efforts to dismantle the regional networks of Jemaah Islamiyah (JI) have met with some success, the terrorist group is slowly consolidating support and beefing up its militant wing, on the brink of emerging as a threat again, analysts cautioned.
The arrest of Abu Thalha Samad, a 25-year-old Singaporean member of the group, puts JI under scrutiny — even though the high-profile Islamic State (IS) has been getting more attention in recent years.
On Thursday (Nov 9), the Ministry of Home Affairs (MHA) announced that Abu Thalha — one of three radicalised Singaporeans who had been arrested since September — is a member of JI.
The authorities here, working with a regional government, deported him to Singapore in August. He was put under a two-year detention order in September.
For 15 years, Abu Thalha had been living away from Singapore and attended several schools overseas, MHA said. He has family here and abroad.
Information on his involvement with JI surfaced in the middle of the year, the ministry disclosed. He had been studying and undergoing paramilitary training in JI-linked schools in the region, having taken an oath to be a JI member in 2014.
He pledged to carry out instructions issued by its leaders, including sacrificing his life and waging jihad (armed struggle) for the group, MHA added.
The threat of JI in Singapore is not new. The group's leader here was Mas Selamat, who remains under detention after plotting to hijack a plane and crash it into Changi Airport.
Mr Jasminder Singh, a terrorism expert from the S Rajaratnam School of International Studies (RSIS), told TODAY that many of the group's members, who were imprisoned and released, have reconnected with the JI networks they used to know.
Although JI has largely been under the radar, it remains a huge threat, he added, pointing out that it is now at a preparatory stage, waiting to strike when the time is right.
The senior analyst from RSIS' International Centre for Political Violence and Terrorism Research said: "The rise of JI has been ongoing. Due to the focus being on (groups affiliated with IS), the JI-affiliated groups have been given the space to grow and consolidate."
RISE AND FALL OF JI
In a report published in April this year, the Indonesian-based Institute for Policy Analysis of Conflict (IPAC) said that at its peak, JI had networks across countries, including Singapore, Malaysia, the Philippines and Australia, though the group's influence has been largely confined to Indonesia of late.
After the 9-11 attack in New York in 2001, the group made its presence felt keenly in South-east Asia.
In 2002, for example, the authorities here revealed that 13 Singaporean JI members had hatched a plot to plant bombs near Yishun MRT Station, with other similar plans that targeted commercial centres.
The same year, it carried out bombings that killed more than 200 people in the Indonesian tourist island of Bali.
Crackdowns by Indonesian authorities in the aftermath gradually depleted JI's financial resources, and splinters within the group also caused its influence to wane.
The arrests of JI's leaders later, including Abu Bakar Bashir, dealt a huge blow to the group's leadership structure, the IPAC report stated.
Around the same time, some of its members, including the Malaysian JI leader Noordin Top, broke away to form his own association and "some of JI's smartest militants" followed him.
By 2005, the group was already in "financial dire straits", the report said.
CHANGE OF STRATEGY
Three years later, the revival of JI was set in motion when its remaining senior leaders decided to shift its strategy, focusing more on garnering community support through religious preaching, and less on violence.
It started to be more involved in grassroots activities and the Indonesian political scene. Some JI members even took part in demonstrations, demanding that Jakarta's governor Basuki Tjahaja Purnama (also known as Ahok) be ousted after he was accused of blasphemy against Muslims.
This did not mean that the militant group had abandoned jihad, the IPAC report noted, pointing to the revival of JI's military wing in 2010, which was a "strategic calculation for the future".
"The purpose of the new military wing is not to deploy it in acts of terrorism, but to build a capacity for producing and using weapons in preparation for an eventual confrontation with the enemy — or bid for power," it added.
In 2012, JI started acquiring arms and weapons, relying heavily on the skills of members trained in Mindanao, the Philippines, to produce homemade firearms and knives.
The group also sent some of its members to Syria so that they could "acquire combat experience and more in-depth military training", the report said.
It added that after a period of decline, JI is set to make a comeback as it builds up influence through religious outreach and preaching in some 40 JI-linked Islamic schools in Indonesia.
Describing JI's move away from violence as just a "facade", Mr Singh from RSIS said that should the group use this as an approach to appeal to Singaporeans, it is unlikely to be successful.
"It remains a terrorist organisation and Singaporeans know this; they won't try to attend the sermons (given by its preachers)," he said.
The "jihad aspect" is part of JI's makeup, Mr Singh stressed. "Violence is still an essential ingredient in its ideology."