Singaporeans urged to be alert as terror threat level 'remains high'
SINGAPORE — The terror threat to the Republic remains at its highest in recent years, the Ministry of Home Affairs (MHA) said on Thursday (June 1) as it issued its first-ever national terrorism threat assessment report.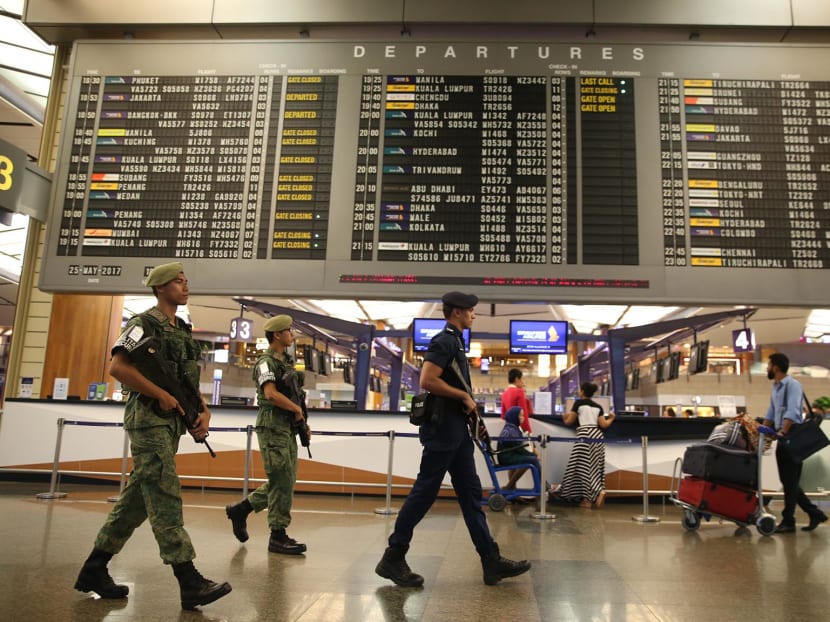 SINGAPORE — The terror threat to the Republic remains at its highest in recent years, the Ministry of Home Affairs (MHA) said on Thursday (June 1) as it issued its first-ever national terrorism threat assessment report.
The report is aimed at giving the public "a better understanding" of the factors behind the Government's assessment of the terrorism threat, an MHA spokesperson said. "Through this report, we hope Singaporeans will better appreciate the seriousness of the terrorism threat, and to be alert and prepared in the event of an attack," the spokesperson added. 
The ministry will issue further reports "when necessary, based on a careful assessment of the prevailing threat environment". While there is "no credible intelligence of an imminent attack", the MHA stressed that Singapore's security agencies remain on high alert, and urged Singaporeans to be vigilant and prepared.
"Singapore was specifically targeted in the past year and the regional threat has heightened," the report added. "Singapore has been cited as a target in jihadist publications and videos, by both the Islamic State in Iraq and Syria (Isis) and other groups."
For instance, an Arabic publication that appeared online around October last year named two potential targets here — the Singapore Exchange and an unspecified port, TODAY understands — that militants could strike in order to attack the international economy, and thereby hurt American and Western interests.
Previous propaganda material from Isis, including a video released in May 2016 and a publication released in September 2015, also named Singapore as among members of the "crusader coalition" fighting the militant group.
Given the high possibility of an attack, a strong community response is critical, the MHA stressed. To that end, the Government has launched the SGSecure movement to train and mobilise Singaporeans in the event of a terror attack.
The ministry said it was aware of two Isis attempts to attack Singapore. The first involved plans to strike the Republic in the first half of last year.
"The Singapore authorities acted swiftly but discreetly to mitigate the threat," the MHA said in its report without giving further details.
The second plot involved a Batam-based group that tried to hit the Marina Bay Sands with a rocket. The group had considered using a hill or an outer island of Batam as a launch point for the attack. But, it was foiled and the plotters were arrested by the Indonesian authorities.
Prime Minister Lee Hsien Loong was the first to flag the fact that there has been more than one firm plan to attack the Republic. Referring to the Batam plot during his National Day Rally speech last year, Mr Lee said it was "not the only definite plan by terrorists to attack targets in Singapore that we know of". "We know there have been others, we've quietly acted on the information, we've taken precautions," he said then.
On Thursday, the MHA said: "The terrorism threat to Singapore is thus very serious ... We will continue to be a target as Isis comes under siege in Syria and Iraq, and aims to export its fight overseas in a show of prowess."
Singapore is not immune to home-grown terror threats either, the ministry's report said, pointing to self-radicalised Singaporeans who have traveled to join Isis as well as foreign residents radicalised by online exposure to Isis propaganda.
While the self-radicalisation phenomenon predates Isis, the brutal militant group has exerted a far stronger influence compared with previous terror groups such as the Al Qaeda and the Jemaah Islamiyah.
The MHA noted that since 2015, 14 Singaporeans radicalised by Isis have had to be dealt with under the Internal Security Act. In comparison, a smaller number of radicalised Singaporeans — 11 — were dealt with in a similar fashion between 2007 and 2014. Since 2015, the authorities have also discovered over 40 foreign workers — two groups of Bangladeshi workers and eight Indonesian domestic helpers — who have been radicalised by online Isis propaganda.
While there is the possibility of an attack by organised groups, the MHA report said the "greatest concern" is the threat posed by radicalised individuals who "have been galvanised by Isis' relentless exhortation to its supporters to take things into their own hands". 
The report added: "(While) our security agencies will do what it takes to detect and prevent terrorist attacks, they cannot do so alone. Each one of us has a part to play in keeping Singapore safe."
Security experts interviewed by TODAY said the report was timely, as they reiterated the importance of keeping the public mindful of the threat.
Associate Professor Kumar Ramakrishna, head of policy studies and coordinator of the National Security Studies Programme at the S Rajaratnam School of International Studies (RSIS), said it was crucial to "sensitise" Singaporeans to a "significant threat". This will allow them to grasp the basis for security measures that may be introduced, he said. 
Agreeing, Prof Rohan Gunaratna, who helms the RSIS International Centre for Political Violence and Terrorism Research, said the terror threat cannot be contained without public support. "If the public is alert and vigilant, no successful terrorist attack can take place," he said. Other governments such as those in Malaysia and Australia also produce similar assessments from time to time to keep their citizens and other governments informed of the threat, he noted. 
Assoc Prof Ramakrishna noted that the SGX and Singapore's ports are "symbolic" economic targets, with the country being a major financial centre and port city. Any attacks on these entities would not only destabilise Singapore, but also the "wider global economy", denting business and investor confidence.
Political scientist Bilveer Singh from the National University of Singapore stressed that there are many possible targets on the island, including Changi Airport, hotels and the heart of the Central Business District, for example. Ultimately, he added: "Singapore, as a target, is there … It'll never go away for a long time."
Responding to TODAY's queries, an SGX spokesperson said it "takes physical security very seriously and constantly reminds our employees to remain alert and vigilant". 
"Over the years, we have stepped up our security measures and are in close contact with our regulator and relevant government agencies on this front," the spokesperson added. 
A PSA corporate spokesperson said it has "no comment". 
REPUBLIC A KEY TARGET FOR TERRORISTS
The Ministry of Home Affairs (MHA) noted that Singapore is a "key target" for terrorists, as she had taken part in international coalitions against terrorism and also represents "many things that are anathema to Isis". The ministry laid out possible threats from four sources.
Isis-linked plots 
- Foreign Isis militants were considering carrying out an attack in Singapore last year before the rocket plot against Marina Bay Sands that the Indonesian authorities foiled in August last year, the MHA revealed yesterday. The authorities moved quickly to "mitigate" the threat discreetly, the ministry said,  without disclosing specifics of the plot or target.
The rocket attack was a scheme by a group called Katibah Gonggong Rebus, acting on the instructions of Bahrun Naim, an Indonesian Isis militant based in Syria.
Terrorist targeting
- Singapore has been cited as a target in jihadist publications and videos, by both Isis and other groups, the MHA said.
For instance, an Arabic publication titled "The Fall of the Idol: External Action and Individual Jihad" was circulated online around October last year, naming two entities here — the Singapore Exchange and an unnamed port, TODAY understands — as potential targets.
In September 2015, Isis also released a publication naming Singapore as one of the members of the "crusader coalition" the terror group was fighting against.
Four months earlier, an Isis video named Singapore, Malaysia, Indonesia, Thailand and the Philippines as countries infiltrated by "disbelievers". Isis threatened action against the "tyrants" of these countries.
Home-grown, self-radicalised lone actors
- Isis has exerted a radicalising influence in Singapore well beyond what other terrorist groups, including Al Qaeda and Jemaah Islamiyah, have been able to muster, said the MHA.
Two Singaporeans have gone to Syria to join in the conflict while there has been a "significant" rise in the number of Singaporeans detained under the Internal Security Act for radicalisation — rising from 11 between 2007 and 2014, to 14 since 2015.
Two of the recently detained Singaporeans said they were prepared to carry out attacks in Singapore on behalf of Isis.
One of them, M Arifil Azim Putra Norja'i Arifil, a 19-year-old post-secondary student, wanted to assassinate the President and Prime Minister of Singapore so that the country could be turned into an Islamic state under the Isis caliphate. He planned to carry out attacks in public places using easily available weapons such as knives to strike fear in society, if he was unable to carry out the assassinations.
Radicalised foreigners living in Singapore
- Foreigners working here have been radicalised by Isis online propaganda too. Although none of those nabbed had plans to carry out attacks in Singapore, they supported the use of violence to pursue their extremist ideology, the MHA noted.
The foreigners include 40 Bangladeshi nationals — belonging to two different cells — planning to carry out armed violence against their government at home who were flushed out by the authorities since late 2015. All of them have been repatriated except for six who are still serving jail terms for terrorism financing offences.
Since 2015, eight Indonesian maids working here who were radicalised have also been deported. The ministry said that their radicalisation and association with terrorists overseas were of security concern.  ADDITIONAL REPORTING KENNETH CHENG