Terrorism in Myanmar's Rakhine state can have 'grave consequences' for region: Aung San Suu Kyi
SINGAPORE — Inter-communal violence will remain in Myanmar's troubled Rakhine state as long as terrorism persists, with the threat potentially bringing "grave consequences" not just to the country but other nations in the region, its leader Aung San Suu Kyi said.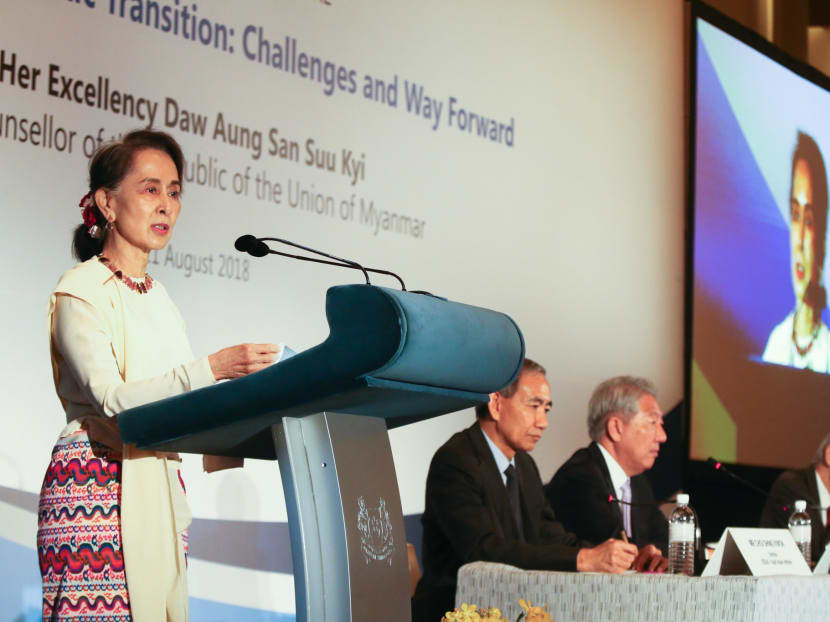 SINGAPORE — Inter-communal violence will remain in Myanmar's troubled Rakhine state as long as terrorism persists, with the threat potentially bringing "grave consequences" not just to the country but other nations in the region, its leader Aung San Suu Kyi said.
Speaking at a lecture in Singapore on Tuesday (Aug 21) held at the Grand Hyatt hotel, Ms Suu Kyi did not directly link the terrorist label to the Rohingya Muslims — an ethnic minority in the country, with most of them living in the Buddhist-dominated Rakhine state. However, Myanmar's government has defended its army crackdown in its northern Rakhine province as a response to the insurgency started by the Arakan Rohingya Salvation Army, which the country called a terrorist group.
More than 700,000 Rohingya people have fled from the violence and destruction of their homes in Rakhine state due to the military operations.
Ms Suu Kyi, who is on a four-day working visit in Singapore, said at the annual lecture organised by think-tank Iseas-Yusof Ishak Institute: "The danger of terrorist activities, which was the initial cause of events leading to the humanitarian crisis in Rakhine, remains real and present today.
"Terrorism should not be condoned in any form for any reason."
Her latest comments echoed previous remarks where she also blamed terrorists for a "huge iceberg of misinformation" about the violence in Rakhine state.
The military campaign and resulting clashes have received condemnation from the United Nations, for instance, which described the crackdown on the Rohingya people — who fled to neighbouring Bangladesh — as akin to "ethnic cleansing".
Ms Suu Kyi, who was awarded the Nobel peace prize for her struggles to bring democracy to Myanmar, has also been criticised for turning a blind eye to the plight of the Muslim minority living in a country where the majority are Buddhists.
DESIRE FOR PEACE
During the one-hour talk in Singapore, she did not address such criticisms, but repeatedly expressed Myanmar's desire for peace and reconciliation.
"Our people yearn for peace and security, for an end to unrest and strife, for material and emotional security, for a chance to contemplate the future of their children with tranquillity," she added.
To facilitate the return of the displaced Rohingya people, Myanmar has inked agreements with two United Nations agencies, and has also made a separate but similar agreement with Bangladesh on repatriation.
Ms Suu Kyi said that Myanmar's officials are working closely to speed up the repatriation agreement with Bangladesh, with a hotline to be established at the ministerial level between the two nations, so that political leaders from both sides may call each other directly.
Though the agreements are seen as a step towards peace, the Rohingya Muslims have questioned if these would guarantee their safety back home and stop the brutality long inflicted on the community.
'VERY DIFFICULT' TO DETERMINE WHEN CRISIS WILL END
Asked during a dialogue after the lecture on whether a time frame can be set to solve the Rohingya crisis, Ms Suu Kyi replied that it will be "very difficult" for Myanmar to do so unilaterally, since it has to work with Bangladesh on the issue.
Though Myanmar has moved towards democracy after decades of military rule and the first openly contested election in 2015, critics continue to question its democratic status.
The military retains influence, with a reserved bloc of 25 per cent of seats in the state assemblies.
On whether there are concerns of another military coup, Ms Suu Kyi pointed out that her relationship with the military is "not that bad".
"Don't forget that we have three members of the Cabinet who are military men, generals, and they're all rather sweet," she said.
Focusing much of her opening speech on the country's democratic transition, Ms Suu Kyi noted that Myanmar's citizens view the transition "differently from those who observe it from the outside and who will remain untouched by its outcome".
"For us, it is the broad, all-encompassing map of the future of our country as well as the small details of our everyday life," she said. "Our approach has to be holistic and inclusive. We necessarily have to prioritise, but we cannot afford to neglect even low priority issues.
"The outside world can choose the issues on which they wish to focus and, after Rakhine, the one that is attracting most interest today is foreign direct investment."
She added that Myanmar is trying to create a more business-friendly environment to attract investments.
ASEAN SUPPORTS THE SAFE RETURN OF REFUGEES
Speaking at the opening of the lecture, Deputy Prime Minister Teo Chee Hean acknowledged the complexity of the Rohingya issue, but said that there is an "urgent need to ameliorate the communal tensions and humanitarian crisis in Rakhine state".
He noted that Singapore and other member countries of the Association of South-east Asian Nations (Asean) encourage both Myanmar and Bangladesh to facilitate the voluntary return of the refugees in a "safe, secure and dignified manner and without delay".
"As a multi-ethnic society, Singapore understands that bringing together different communities is not an easy task. We know that maintaining harmony is a constant work in progress," Mr Teo said.
During her visit in Singapore, which started on Aug 19 and is her second official visit to Singapore as Myanmar's state counsellor, Ms Suu Kyi met President Halimah Yacob and Prime Minister Lee Hsien Loong.
In a statement issued by Singapore's Ministry of Foreign Affairs, both Mr Lee and Ms Suu Kyi reaffirmed bilateral ties and discussed issues ranging from the importance of vocational training to creating business opportunities in Myanmar.
On the Rohingya crisis, PM Lee expressed hope that Myanmar can bring about a long-term solution in Rakhine state, and for the country to work closely with the Bangladesh, the United Nations and the international community to provide humanitarian assistance to all affected communities and speed up the repatriation of the refugees.