S'pore sees first case of pregnant woman with Zika, local cases jump to 115
SINGAPORE — A pregnant woman living in the Aljunied Crescent-Sims Drive area has been infected with Zika, the first such case here, as the outbreak surges into new areas – namely Bedok North, Joo Seng and Punggol Way.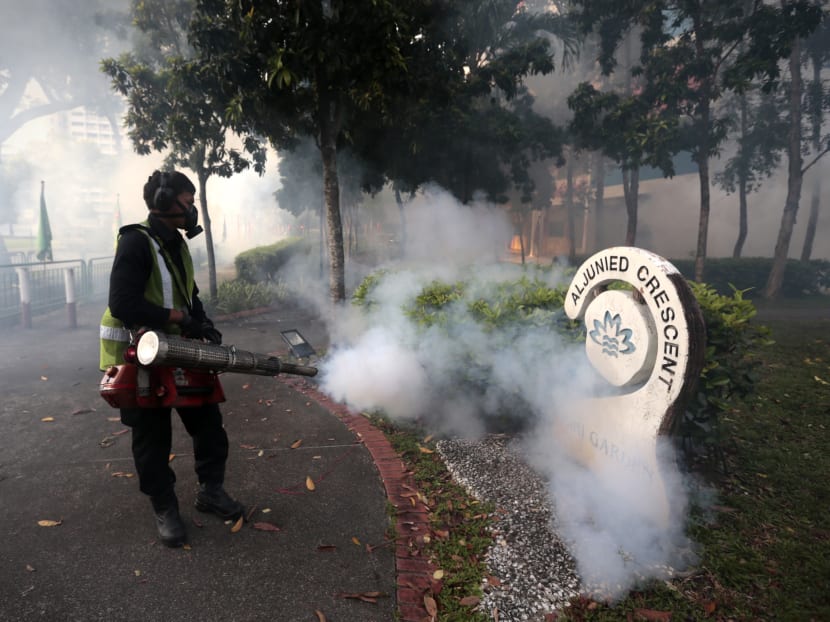 SINGAPORE — A pregnant woman living in the Aljunied Crescent-Sims Drive area has been infected with Zika, the first such case here, as the outbreak surges into new areas — namely Bedok North Avenue 3, Joo Seng and Punggol Way.
As of noon on Wednesday (Aug 31), there were 24 new locally transmitted cases of Zika, while the Ministry of Health's (MOH) "look-back" tracing — cases that were previously reported to have shown symptoms but were not tested for Zika — has turned up nine more cases. 
In all, there are 115 locally transmitted cases to date.
Of the 24 new cases, 22 are from the Aljunied Crescent-Sims Drive and Kallang Way-Paya Lebar areas. One patient lives on Joo Seng Road, and one lives on Punggol Way, and neither have known links to the initial affected areas. 
In the Bedok North Avenue 3 area are three cases, which were among cases that were confirmed on Tuesday, but their links to the Aljunied Crescent-Sims Drive cluster could not be ascertained then, said the MOH, which revealed these details during a press conference late Wednesday night.  
One of them works in the Aljunied Crescent-Sims Drive area, while the other two have no known connection to the area. The ministry said they had symptoms within four days of each other, and therefore did not infect one another.
The pregnant woman, who was referred for testing by her general practitioner, lives with someone who also tested positive for Zika, although the ministry declined to elaborate on their relationship. 
She has been sent for a review to KK Women's and Children's Hospital, and her baby's development will be monitored by her doctor, said the ministry, adding she was "generally well".   
Zika infections during pregnancy have been linked to microcephaly, where a baby is born with an abnormally small brain and skull. Amniotic fluid testing can done to screen for Zika, but the MOH has previously noted that a positive test does not mean a baby will be born with defects. 
A recent New England Journal of Medicine study found that the chances of an infected pregnant woman giving birth to a child with microcephaly was between 1 and 13 per cent.
The National Environment Agency (NEA) will be extending its intensified operations to stamp out mosquito breeding at Bedok North Avenue 3, which has over 6,000 premises. Apart from Housing Board flats, also in the area are Fengshan Primary School, Bethesda (Bedok Tampines) Church, and Fengshan Community Centre.
The agency has also activated partner agencies of the Inter-Agency Dengue Task Force — which comprises 27 government agencies and private organisations — to help with localised search-and-destroy efforts within the Zika clusters. For example, the town councils have stepped up on cleaning of potential breeding habitats, the Land Transport Authority has stepped up control operations in all work sites and flushed the drains in the Kallang Paya Lebar Expressway. 
The existing Aljunied Crescent-Sims Drive cluster now covers 7,000 premises, and the NEA has inspected 5,500 of them, the authorities said. Forty-five breeding habits were destroyed. The NEA has also served notices on more than 500 inaccessible premises, and will enter them forcibly if the owners do not respond.
The news that Zika cases had reached their neighbourhood left residents living around Bedok North Avenue 3 worried. "Zika virus can be spread very fast," said Mdm Selina Chong, a 37-year-old account executive, who said she would buy mosquito repellent as a precautionary measure. 
Mr Muhd Amirul, 21, added: "The best is to just stay indoors."
When TODAY went to Punggol on Wednesday, a group of NEA officers were seen, along with pest control companies like Rentokil Initial Singapore, Empire Cleaning and Pest Control. According to Madam Halimah Abdul, a mobile library assistant at Block 114 at Edgefield Plains, she saw thermal fogging being carried out around 9.30 am. 
Meanwhile, Indonesia joined the list of countries that have issued alerts against travel to Singapore, which include Australia and South Korea. Its Health Ministry has also assigned 193 officials to stand guard at eight Riau Islands sea ports that serve routes to Singapore, including those on Batam, Bintan and Karimun, reported the Jakarta Post.    
All passengers entering through the eight ports who have come from Singapore must also pass through a thermal scan to check their body temperature. ADDITIONAL REPORTING BY AMANDA LEE AND ILIYAS JUANDA